A few months ago I packed up an headed to Sandals Royal Bahamian Spa and Resort with some of the most amazing wedding bloggers from the Aisle Society.
Me. The consummate mountain girl. I went to the beach.
Aaaaaaannnnd…It's official. I love the beach. Especially the private beaches at the Sandals Royal Bahamian Resort and Spa, which, by the way, is a gorgeous all-inclusive resort.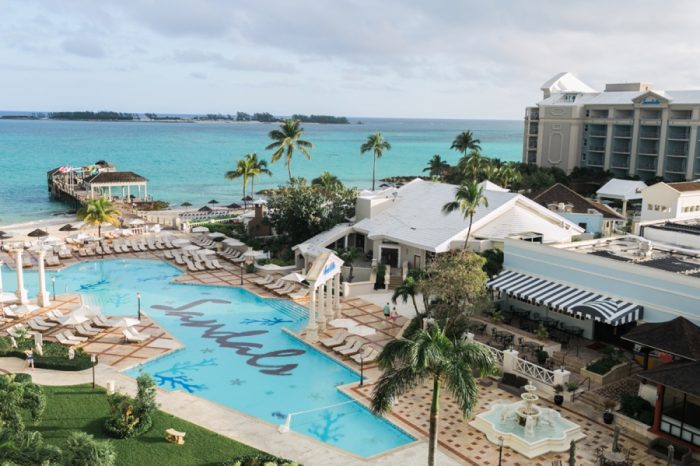 Sandals Royal Bahamian Spa and Resort
My time in the Bahamas was nothing short of amazing. That picture above this paragraph was literally the view from my room. In fact, I visited everyone's room to see if I had the best view (which I was sure that I had) and everyone's room had a gorgeous ocean view. I guess that's the one of the many magical aspects of staying on a small island.
For three whole days we were plied with champagne, delicious food and the most relaxing atmosphere your could imagine. Oh and did I mention it's all inclusive? That meant that the fine dining in the evening, the dance party on a private island, the cocktails by the pool, the room service and in-room bar, and even the activities like scuba diving, wind surfing, snorkeling, and kayaking, were all included.
Sandals, is all about couples enjoying "No Worry Moments" on their trip. And they deliver. You literally don't have to worry about anything. It was so relaxing and fun!
Here are some of the highlights from the trip. (And consider this the first in a new series on Honeymoons.)
The grounds feature a playful greek-inspired architecture, gorgeously manicured tropical gardens and secret walkways, and island kitties lounging in the sun and enjoying gentle tropical breezes.