Samantha + Pete are both traveling nurses! They got engaged on an epic adventure in Hawaii and started planning their elopement for when they would be in Washington for work. Initially, wanting to elope in Mt Rainier the late snow season caused us to look at back up plans. Their new elopement plan, just as beautiful and exciting as the first. They invited their parents to their intimate ceremony by the river. The rain on this June PNW gave me them a ton of privacy, it was almost like we were all in our own little world. After a bubble send off we headed for the forest with a hike just them two, well three really because Samantha was pregnant :) We arrived at the top at an overview of the mountains, river, trees and cloud inversions below us. They shared their personal vows with each other privately. It was so beautiful, and special. It was a monumental day, becoming husband and wife as soon to be parents together. It was the start of new and the end of an era before they moved back to Ohio ti start nesting for their little one. They took their road trip home as a chance for a honeymoon stopping at national parks and sight seeing together.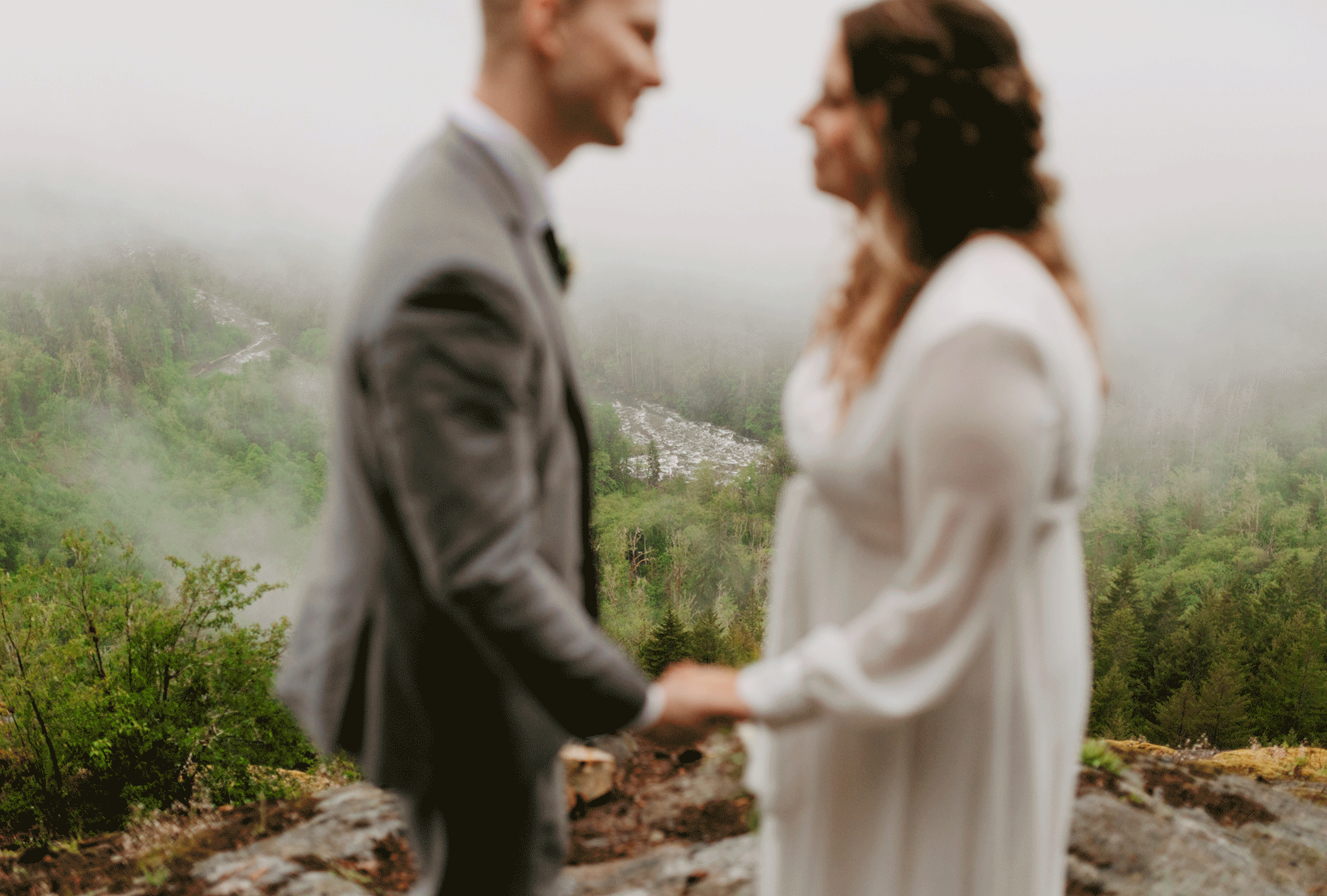 How did you meet?
We met both working as Registered Nurses at the biggest Emergency Department in Central Ohio. Pete jokes I started all his IVs for him in his first month there.
What is your proposal story?
We had just finished our first travel nurse assignment in Portland Oregon and took a trip to Maui to celebrate. We woke up before sunrise to be first in the Haleakala National Park. Pete had secretly hired a photographer to follow us and capture his proposal. It was beautiful and perfect.
Tell us about your attire choices.
We wore mostly The North Face
What were your favorite parts of the day? (memories and stories)
The fact that the rain only enhanced the beauty of the day. Getting ready together instead of not seeing each other all day. We played yard games in the morning sunshine. Our favorite part was after the ceremony we did a hike with just Traci & Bill and read our private vows to each other. It was so special and the hike had the most amazing PNW vibes. We loved every minute with Traci and Bill too. They made our day so special and stress free.
Do you have any advice for couples planning their weddings now?
My best advice is that this is YOUR day. You get to make it into whatever you want. Throw the idea of what a wedding day "should" look like out the window and do what you want and will enjoy. I look back with 0 regrets on my wedding day. It was rainy, beautiful, and perfect.
Credits
The below wedding pros made this amazing event happen. See more of their work by visiting their website.