When you get married in a place like Yosemite, your key details are taken care of. I'm not talking about the linens and dinnerware. I'm talking about Yosemite Falls as your ceremony backdrop. I'm talking beautiful, meandering rivers and  grand pine forests. And I'm talking classic stone and timber architecture. Nope, you don't need to add much to that spectacular lineup, and I love it how Ashley showed restraint for incorporating her wedding details. She added just the right pop of color and classically elegant stationary, allowing the natural beauty of the Park to wow and delight her guests.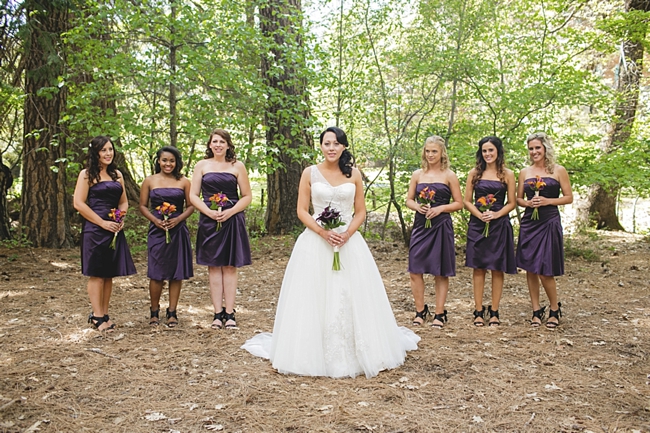 Why a mountain wedding?
We started looking to the mountains because we wanted our wedding to be near water but somewhere other than the ocean. We fell in love with Yosemite because we had so many options of where in The Park that we could get married and what elements of nature we could incorporate.
Where did you find your inspiration?
The hotel that we got married at has a very vintage feel to it, so I had fun incorporating some of that into the wedding.
What was your favorite moment of the day?
Standing at the altar. Everything was just so peaceful and serene.
Three things you're glad you did.
Photobooth- Our guest book is hilarious!

Seating chart- At first it was stressful but everything came together and it made things easier at the reception.

Wedding website- Since it was a destination wedding, it made it much easier to relay hotel information.
What was the best piece of wedding advice that you got?
Relax and try not to stress too much over the planning. Be prepared for some things to not turn out exactly the way you expected but try to make the best of it.
What piece of wedding planning advice do you wish you followed?
Don't worry about everything.
Anything you wish you hadn't worried about?
Ha ,everything! It really did turn out perfect and I wouldn't have changed anything.
How did you choose your vendors?
I was lucky enough to get some great referrals from friends and from the hotel where our service was. I went with my instincts and first impressions of people.
What is your very best advice to other mountain brides?
Have fun and don't sweat the small stuff! Also, you may want to stay away from organza on your dress. By the end of the day I had bugs stuck in between the layers of my dress.
Yosemite Wedding Vendors
Submitted via Two Bright Lights