Amanda and Josh had one of those serendipitous moments when they met in Baltimore. Josh was attending a bachelor party while Amanda was out to dinner with her roommate. Both ended up walking next to each other on the street and struck up a conversation, and the rest, as they say, is history!
When they began planning their wedding, Amanda and Josh decided that the most important things to them were that it was a fun party where they could feel close to their family and friends. Castle Ladyhawke in the North Carolina Highlands was the perfect fit in every way, providing the perfect backdrop to Amanda's vision of romance and whimsy.
A DIYer at heart, Amanda went all in when it came to her wedding décor. From the invitations, the programs, all of the signage, the boutonnieres, and the card box to the flower crowns and magic wands the flower girls had, she truly created a magical day.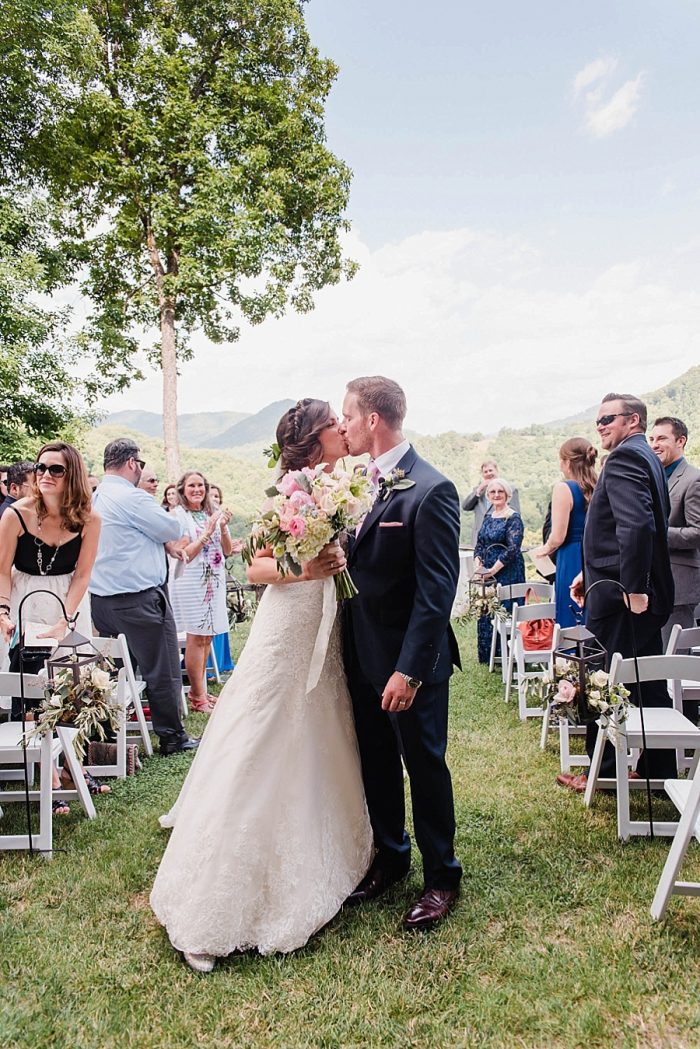 Amanda + Joshua
Castle Ladyhawke, Tusckaseegee, North Carolina
June 25, 2016
Wedding day weather: Sunny and Beautiful!
Number of guests: 140
Your budget: 25K
Biggest splurge: Videographer
Biggest savings: Making a lot of the decor myself/DJ
Why did you choose the Mountains for your wedding?
The mountains are where our relationship flourished – specifically the blue ridge mountains. We loved the stunning scenary
Wedding day theme:
Romantic & Organic. Color palette – was soft hues – blush, gold, rose gold, white, soft slate blue
Where did you find your inspiration?
romance/fairy tales, nature, mountains, the forest, some pinterest
How did you choose to personalize your wedding?
we both wanted romance – dancing under the stars, ceremony in front of the mountain landscape, castle as a backdrop for where we got ready. I did a lot of the decor myself and made everything very romantic in style
What was your favorite part of the reception?
Dancing with my new husband, and my dad. It meant a lot. Also, dancing with all our friends, and family. My nephews and nieces had the best time just dancing with everyone and it was so fun to hear how much fun everyone had at the wedding!
What are three things you're super glad you did?
dancing under the stars
having one of my best friends sing as I walked down the aisle
writing our own vows
Anything you wished you hadn't worried about?
just being overly stressed out
hadn't worried so much about the rain plan
worried so much about everyone else
What was the biggest challenge in planning your mountain wedding and how did you overcome it?
being in baltimore while planning the wedding – made it challenging to find vendor/verify info/etc. Having an amazing wedding planner. She know the vendors and we knew we could trust her!
How did you find and choose your vendors?
a lot of word of mouth. The castle – we could on a whim. but other than that, it was through our planner, or through knowing someone.
What is your best piece of advice to other mountain brides who are planning their weddings?
RELAX. it will all work out exactly as you'd dreamed. Anything that doesn't – you won't know, and it will still be perfect because all that matters is that you are marrying the person you are meant to be. Worry more about planning for a successful and wonderful life together :)
Tusckaseegee, North Carolina Wedding Vendors
Wedding Photography: Sunshower Photography | Venue: Castle Ladyhawke | Wedding Coordination: Michelle Nelson – Occasions by Emily | Videographer: Timm Young Films | Hair & Makeup Artist: Blushing Hair & Makeup | Invitations/Signage: Amanda Reed (Bride!) | Beer Tasting: Innovation Brewing | Men's Attire: Jos. A. Bank | Bridesmaids' Dresses: LuLus | Bridesmaids' Dresses: Amsale for BHLDN | Bridal Boutique: The White Flower | PhotographyAssistance: SMM Photography | DJ: Celebration Sounds Entertainment | Cake: Just Simply Delicious | Catering: Corner Kitchen | Rentals: Classic Event Rental | Transportation: High Country Travel | Wedding Dress: Essense of Australia | Rehearsal Dinner/Accommodations: Bear Lake Reserve