The rustic look is a timeless one for mountain brides. It's full of meaning with references to natural materials and a simple lifestyle. But all rustic isn't the same. We now have rustic designs for the Boho, the romantic, the traditionalist, and  the whimsical bride. As trends continue to evolve, here are my favorite picks from Invitations By Dawn
1. Picture Perfect
Photos are a great way to personalize your wedding invitations is by adding photos. It can be as simple and straightforward as using a photo from your engagement session with a cute Boho-inspired arrow overlay. But personalizing with photos doesn't have to be just about you as a couple. Consider using a photo of the mountains where you'll get married. You can use an image of an iconic mountain landscape in your area, or a shot of your ceremony site to give your guests a taste of what beauty awaits them at your mountain venue.
2. Barnwood Designs
Old weathered wood combined with sweet whimsical details like washi tape and sweet eyelet-inspired paper boarders will set the mood for your casual, down-home fete. Again, you can personalize your invitations with a picture from your engagement shoot, or just let the professional design speak for itself.
3. Birch Bark and Modern Faux Bois
You can't go wrong with wood. It's one of the most natural elements. It can speak to both your love of nature and your concern for the environment. Choose from a classic birchbark look (note: aspen trees in the west look similar to this, so it also works for Rocky MOuntain and Sierra Nevada Brides). Or go for a modern update on Faux Bois by adding color!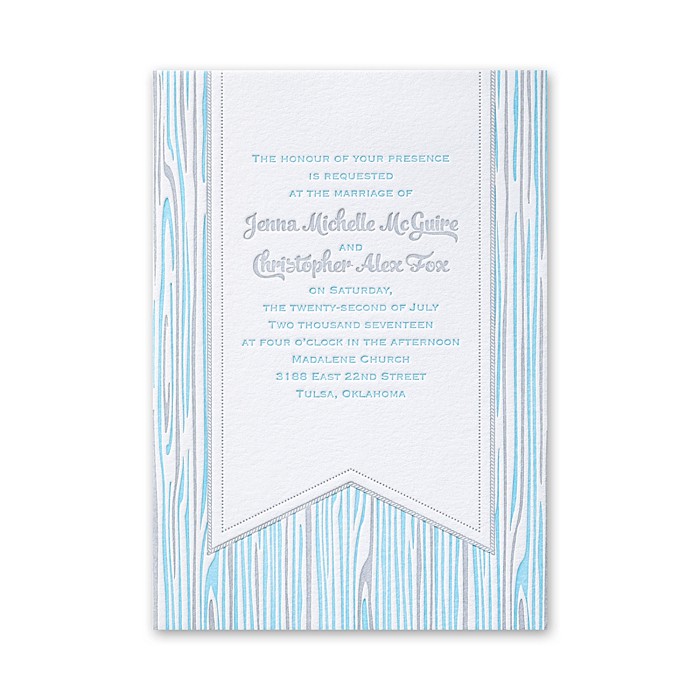 4. Traditional Lace
Rustic mountain brides can't go wrong with traditional lace. Whether you don it on your wedding gown or incorporate it into your details, lace is a timeless choice. Go for a casual elegant look with this whimsical  lace and burlap invitation, or opt for a more formal and refined look with lace-inspired florals and an old leather inspired look.
5. Traditional Mason Jars
Nothing says down-to-earth, country bride like Mason Jars! A staple to this day for canning and food preservation in the Southern Mountains, Mason Jars are the new traditional design element for rustic brides.
Want more? Invitations By Dawn offers a huge variety of wedding invitations to fit any budget. From high-end letterpress to more affordable seal-and-sends you'll certainly find a invitation that's perfect for your style and budget. View all invites HERE
A special offer for Mountainside Bride readers  –  Get 25% off your wedding invitations with code MSIDE25. This offer includes our premium collections such as Letterpress and Foil-Stamped invitations but does exclude Disney Invitations. Offer valid through 6/30/2014.