This post is sponsored by Fabric Creations™ The opinions are my own.
Cloth napkins are an easy and inexpensive way to personalize your wedding. You can get plain, cloth napkins (in any color) for around a dollar at a dollar or discount store. I got mine for 20 cents each at a thrift store. Fabric Creations™  makes a variety of fabric inks and you can mix and blend inks to create custom colors, so the sky's the limit for creating the perfect wedding look!
Fabric Creations™ makes affordable, but super high quality block printing kits and supplies, and the wooden block stamps come in a wide variety of designs.

You'll need: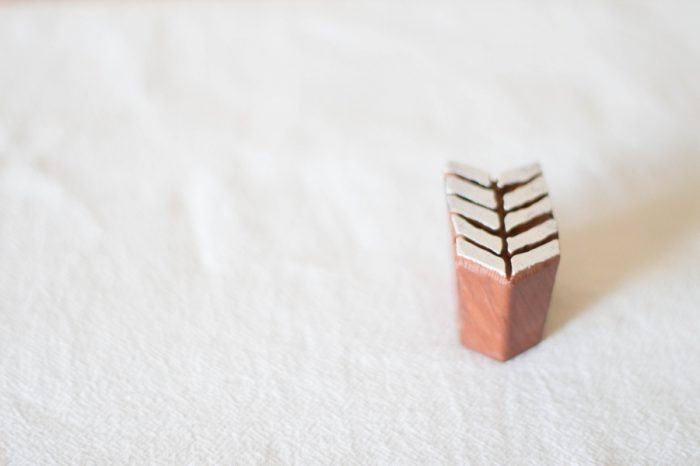 A block printing stamp. I used Fabric Creations™ Small Tribal Chevron Block Printing Stamp ($2.49);
A block printing mat. I used Fabric Creations™ Block Printing Mat ($4.99);
Sponges to apply the paint. I used Fabric Creations™ Sponge Cubes ($2.99);
Soft fabric ink. I used Fabric Creations™ Soft Fabric Inks in White;
Something to clean your stamps with after use. I used Fabric Creations™ Cleaning Brush ($4.99), and
Cloth napkins (about $1.00 each).
Step 1: Prepare your napkins
Before you begin, wash and dry your napkins. Do not add fabric softener or dryer sheets. Iron any residual creases or wrinkles out of your napkins. Do not use starch.
Step 2: Plan out where you'll put your design.
Place your napkin on top of your block printing mat for best results. I used two mats side by side to accommodate the entire length of my napkin. They're only 5 dollars each, so get a couple.
I used a metal ruler to position the napkin and to ensure my stamped line would be relatively straight.
You can use light pencil marks or a fabric marker to position position where your design will go. You may also want to fold your napkin before hand and stamp directly onto the folded napkin. Be sure to put your block printing mat between layers!
Remember: There's no going back once the fabric ink has been applied!
Step 3: Apply fabric ink to your stamp
Pour some fabric ink into a plate or palette and apply to the stamp so that the white area of the stamp is covered. I used Fabric Creations™ sponge cubes. They're inexpensive and reusable. You can also dab the ink on using a regular sponge brush. Just make sure to pounce the fabric ink onto the stamp. Don't rub or brush it on. Load your sponge by dabbing it into the ink, but be careful not to apply so much fabric ink that it fills the recesses of the design.
Step 4: Stamp your napkins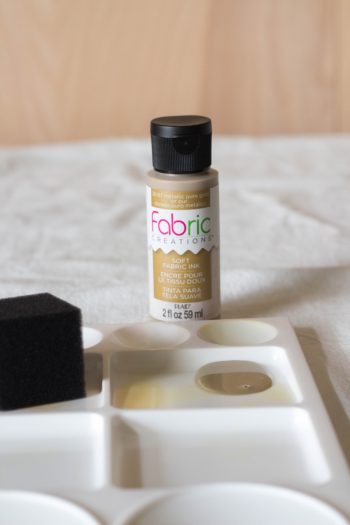 Once your block stamp is inked, press the stamp onto your napkin firmly and lift straight up. But sure NOT to rock the stamp back and forth, which will blur and distort the design.
Step 5: Clean your supplies.
If you're using wood block stamps, like I did, it's important to care for them properly so they maintain their design fidelity. To clean your wood block stamps, rinse them under cool running water and use a soft, light brush to lightly brush away the soluble inks. NEVER SOAK your block stamps. Also do not allow the fabric inks to dry on your block stamps. Clean your sponges with mild liquid soap and water.
Step 6: Cure and set your inks
Your stamped design should be dry within 24 hours. You'll want to let it totally cure by leaving it for 72 hours. Once your designs are cured, heat set the design with a dry, hot iron.
To heat set, iron the back of the fabric, making sure to use a pressing cloth such as a clean, dry rag under the fabric. Set your iron to the highest setting that your fabric allows and iron the design for 30 seconds. Do not use steam.
Additional Tips.
Practice, practice, practice. Find and old t-shirt, rag, or buy some extra napkins and practice so you get the feel for how much fabric ink to apply, how much pressure to use, and how to properly set and lift the stamp onto the fabric to achieve a crisp and consistent design;
For additional color options, Fabric Creations™ Soft Fabric Inks can be mixed and blended to create different colors and levels of saturation;
Use smooth, low textured napkins such as linen, cottons, and poly cottons;
Be sure to use a protective layer underneath. You want something soft, yet firm so your stamped designs stay consistent;
For consistent block prints, re-apply ink to the stamp with each individual block print. However, keep in mind that there will be natural variation in color and consistency with block printing. It's part of the charm;
Create a beautiful border, stripes, or chevron design by using painter's tape to mask off your design and pouncing ink directly onto the fabric using a sponge cube or sponge pouncer;
Use multiple block stamp designs to create a more intricate design or layered look. Use different colors for each design for a festive look;
If you plan on thrifting your cloth napkins, start looking early and look often. Sourcing four napkins is a lot easier than sourcing 100!, and
Don't worry if your designs aren't "perfect." Small imperfections add charm and personalization to handmade projects. Remember, you don't make mistakes, you only make design changes :-)