A 10,000 Mountain Wedding!
Carling + Scott
September 04, 2011
Mountain Ranch, California
Carling and Scott managed to have a $10,000 wedding  that included lodging at a ranch for their guests for the entire weekend. Can you believe it?! So How did the couple pull of this lovely mountain wedding for 10 grand? Location, location, location! That, and a smaller guest list. The mountain setting in the Sierra foothills meant that they didn't have to spend much on decorations, and keeping the guest list trim meant they could spend a bit more on each guest.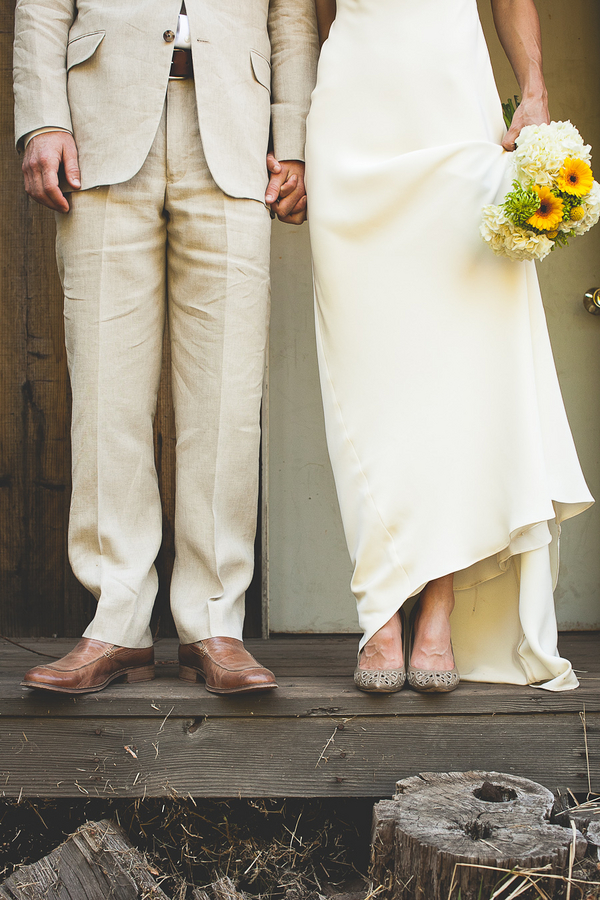 From the Bride
Why a Mountain Wedding?
We are really both mountain people (despite our current residence in central North Carolina :). We met in Tahoe when we were both on the snowboard team, our first dates were camping trips, and now we spend all of our spare time rock climbing. Being in the mountains just makes me happy, so I didn't really consider getting married anywhere else.
Where did you find your inspiration?
Definitely the location. We both really love the Sierra Nevada mountains, and so getting married in the western foothills was perfect. With such a beautiful backdrop I didn't really feel like we needed a ton of decorations, although we were lucky to have friends that made some pretty cool ones anyways! We really had an audibly babbling brook running alongside us, what more can you ask for!
Three things you wish you had done?
I wish I had at least loosely assigned seating for the dinner. We did completely open seating and ended up not sitting next to the people that are actually closest to us.
I also wish I had made a more concerted effort to get around and thank everyone. We were very informal about everything and there are a few people I didn't really get to talk to.
I also wish I would have set aside a little more bridesmaid time, especially for us to all get ready together. It was so much fun hanging out and swimming at the ranch that we didn't really spend that much primping time together, and I think that would have been fun.
Anything you wish you hadn't done?
Not really!
Anything you wish you hadn't worried about?
I definitely shouldn't have worried as much about the number of guests. We were trying to keep things small and a few people brought additional guests that were not invited. I was really bothered, but it worked out totally fine in the end and everyone had a great time together.
What is your very best hindsight advice?
My husband and I went on a short backpacking/climbing trip together a few days before our wedding. It was really wonderful to have some time just the two of us before all of the wedding events started. It was a good reminder of why were getting married in the first place.
Team Wedding