Whitney and Colin traveled from Kentucky for their destination mountain wedding at Spence Cabin. Spence Cabin is located in Elkmont, which is in the Great Smoky Mountains National Park. It sits on the banks of the Little River, and it's simply breathtaking.
Although it was the middle of August, and one of the hottest months of the year in Tennessee, their afternoon wedding was cool and breezy under the shade of the forest canopy with the Little River babbling behind them.
Whitney's gown had the most lovely lace sleeves, and her floral hairpiece by Lisa Foster Floral Design was stunning with her blonde locks. Whitney's bridesmaids wore pink lace gowns, and her mom was the matron of honor.
They chose a sweet rustic wedding cake had a rustic look to it with a heart and our initials in the middle of it. and Whitney carried a gorgeously whimsical and romantic cascade bouquet with pink roses and fern.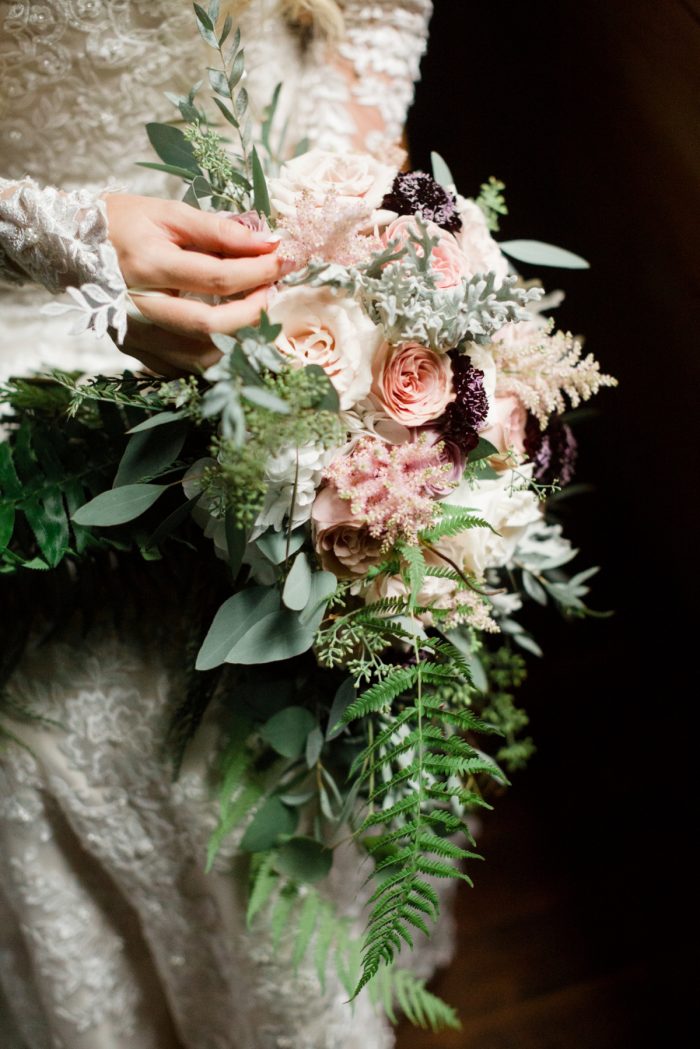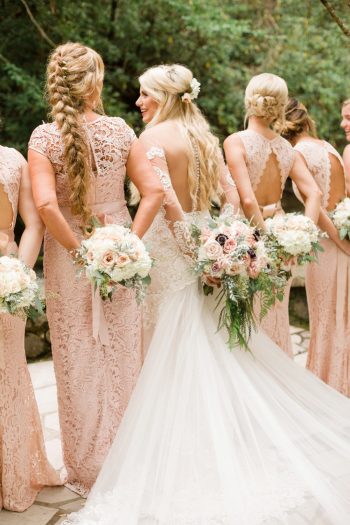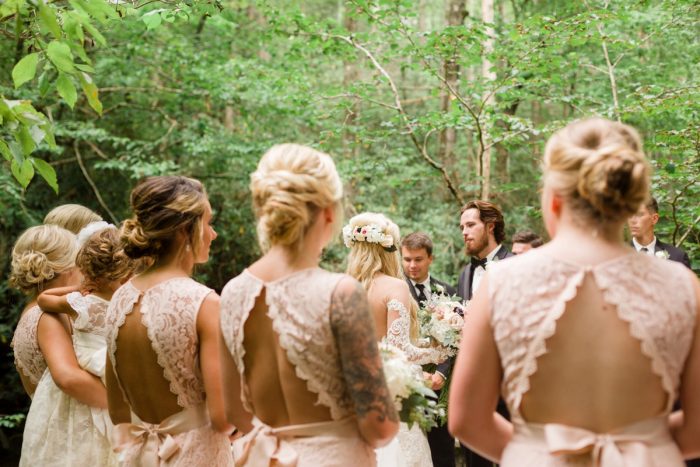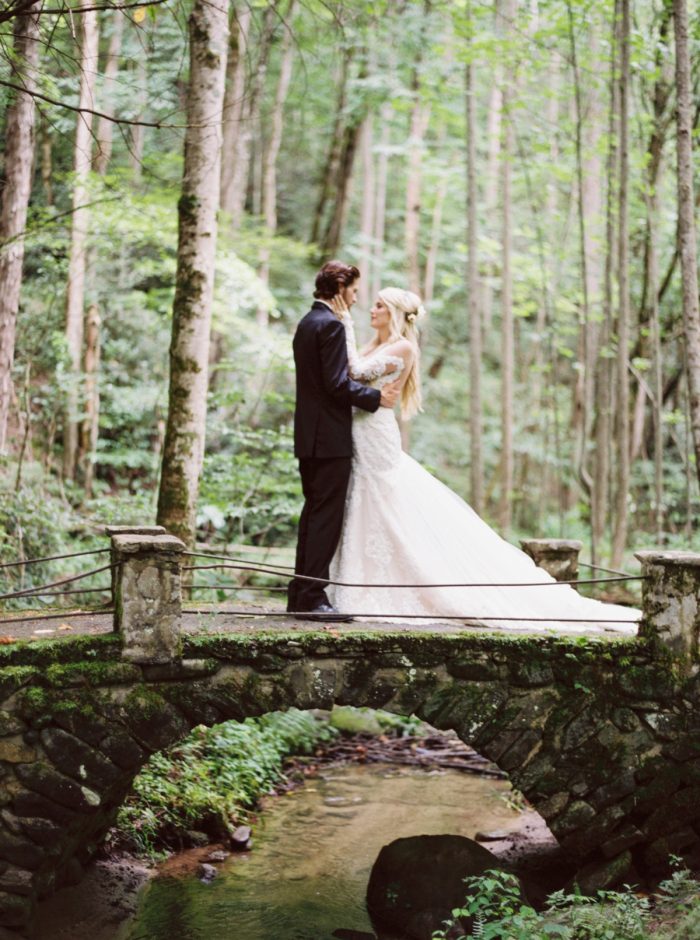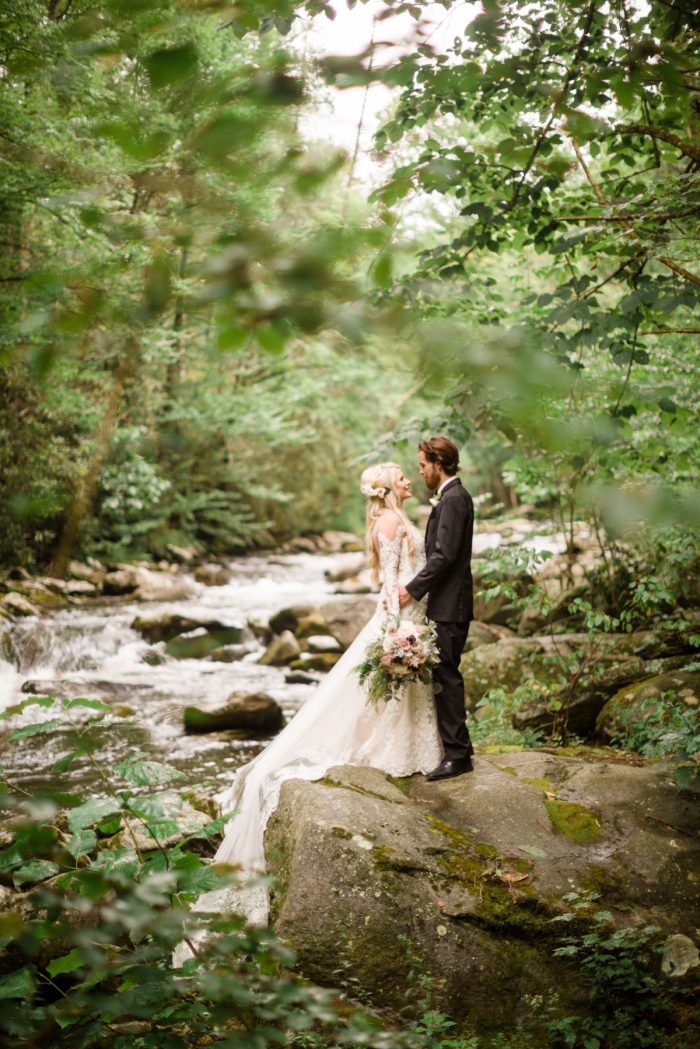 Why a Mountain Wedding?
We love Gatlinburg and visit every year to come to the mountains and enjoy all the beauty it has to offer! We knew we wanted to be married there.
Tell us a little a bit about your wedding.
We both love nature and being outdoors so when I came across Spence cabin in the middle of a mountain with a river running through it. It couldn't have been more perfect. I wanted a boho chic wedding and colors that blended well within the mountain nothing that would stick out. So that's why I went with the nude pink for my bridesmaids and picked an ivory wedding gown. It couldn't have been more beautiful!
Tell us about your attire.
I knew I wanted an ivory lace wedding gown for that boho chic look and it had to have lace long sleeves. My husband looks amazing in black so I knew he needed to wear an all-black suit with a bow tie. It gave off a sexy vintage look that he made look SO good!
What was the most important to the two of you while planning? Was there anything that you chose to splurge on or skip?
The most important thing to the both of us was having the most important people in our lives there from parents, great grandparents and our best friends. We didn't want a big wedding so that location was perfect!
What were your favorite parts of the day?
Reading our letters we wrote to one another before walking down the aisle. Seeing each other for the first time that day as I walked down the aisle and he cried looking at me making me feel like the most beautiful loved bride ever. He loved getting to walk down the aisle holding our daughter. Shoving the cake in each other's faces and he actually got it all in my eye. Most importantly celebrating our marriage with the most important people in our lives.
What did you do for favors?
We went simple with mints and bubbles for everyone.
Did you include any family heirlooms or special traditions?
My grandmother, may God rest her soul, before she passed had given my dad a handkerchief that she and her mother had walked down the aisle with so it was amazing to have that there.
What are three things you're glad you did?
I'm glad we didn't see each other until we walked down the aisle, I think it made it that more special.
I'm glad we took the time to write each other a note to read before the wedding that we get to hang onto forever.
I'm glad we kept it small it was so much more relaxing that way.
Is there anything you wished you hadn't done or hadn't worried about?
Honestly, there isn't anything that I wish I hadn't done or worried about I went with the flow of things and it turned out beautiful.
How did you find your vendors?
I found my first vendor, the amazing JoPhoto scrolling through Pinterest looking at mountain weddings. After seeing their work I knew I needed them to photograph my wedding and they were kind enough to introduce me to the other vendors. The only other vendor
What's your biggest piece of advice for other couples planning a mountain wedding?
I had to find was my cake lady who came highly recommended by someone that I know. My biggest piece of advice would be to hireJoPhoto to capture their day! They were so easy and great to work with.
Elkmont Wedding Pros
Photography: JoPhoto | Ceremony Venue: Spence Cabin | Reception Venue: Spence Cabin | Floral: Lisa Foster Floral Design Studio | Wedding Cake: Cakes by Bakin' Bishop | Officiant: Chaplain Fred Patterson | Hair: Southern Belle Beauty | Makeup: Southern Belle Beauty | Wedding Dress: Nancy's Bridal Boutique | Headpiece: Lisa Foster Floral Design Studio