Color, Candy, and a Castle in Asheville, NC
In the middle of late winter/ early spring when its still snowing, or raining, or flooding, or mudding, it's so refreshing to see a pop of color in anticipation of summer. I think that's what makes spring so special. Well I have more than a pop of color for you today! I have an explosion of color, candy, and all around playfulness. Uber talented Asheville wedding photographers Derek Olson and Galen McGee submitted this fun Biltmore Estate wedding through Two Bright Lights.
Galen and Derek describe the day this way:
Jess and Mike were married in the mountains of Asheville, NC at the Biltmore Estate. They incorporated details (many DIY) that had meaning to them – which were colorful and fun. LEGO, board games for guests, a candy bar, their cute dog (Charlie), vibrant flowers by A Flower Gallery, and more!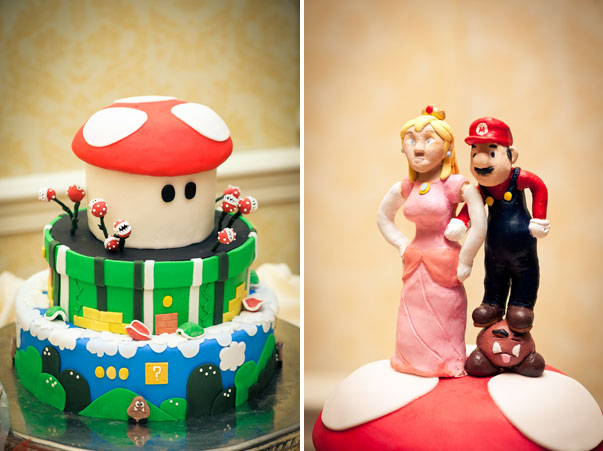 Hindsight Advice
What are three things you're glad you did?
* My DIY photo booth (with silly props) was so much fun
* Had both of my parents walk me down the isle
* There was no 'giving away' (I'm not property:) )
* Hired a day of coordinator – I was nervous about trusting someone else w/ control, but seriously she was amazing when push came to shove- she was always there
* Got a live band for ceremony and reception
* Instead of a traditional gift to/from each other- we wrote love letters to each other
* Hired amazing photographers :)
Three things you wish you had done?
* Got a wedding video
* Had an actual bachelorette party/bridal shower – I don't have many 'girl' friends so it would have been pretty small, but I still which that I had one. Instead we had a combined girl/guy party where we basically just had a BBQ at our house with our friends in the area. It was a lot of fun- but you can have a BBQ anytime.
Three things you wish you hadn't done?
* Had it in the middle of July- it was 95 degrees out (and it was outside). It was our 5 year (to the day) anniversary though so it made it special
* Sent out the invitations way too early- I sent them like 3 months in advance since most of our guests would need to make travel arrangements- I realized that it was way too early since some people forgot about it until I reminded them.
Things you wish you hadn't worried about?
* Making everyone happy- I really hate it when all the attention is on me so I tend to try and direct the attention on other people's problems.
What is your very best hindsight advice?
When the day comes- the only thing that really matters is that you are getting married to the love of your life.
Wedding Professionals:
Photographer: Two Ring Studios
Hair Stylist: The Secret Spa
Caterer: Biltmore Estate
Event Planner: Verge Events
Floral Designer: Flower Gallery
Reception Venue: Biltmore Estate
Other: The Party Pixie