From the southeastern state of Georgia, Haley and Mason traversed the country to the western-most state of California to profess their promises of love and unity. Amidst the towering old-growth redwood trees at Henry Cowell Redwoods State Park, the couple met with Jennifer Tan of Tan Weddings & Events who planned and officiated their elopement, and created the bout and bouquet. The florals were a mix of ranunculus, anemone, and protea bound in a spray of blue eucalyptus, olive branches, and the bride's request for magnolia leaves, a nod to the tree common in her home state. Its bold and wild arrangement matched the primeval nature of the red woods, some as old as 1,500 years. The couple used Wedwordy, an app created by Tan Weddings & Events, for the couple to write a custom wedding script. Written by the couple, in their ceremony: "This is our promise to be devoted and true, our mutual agreement to become one instead of two."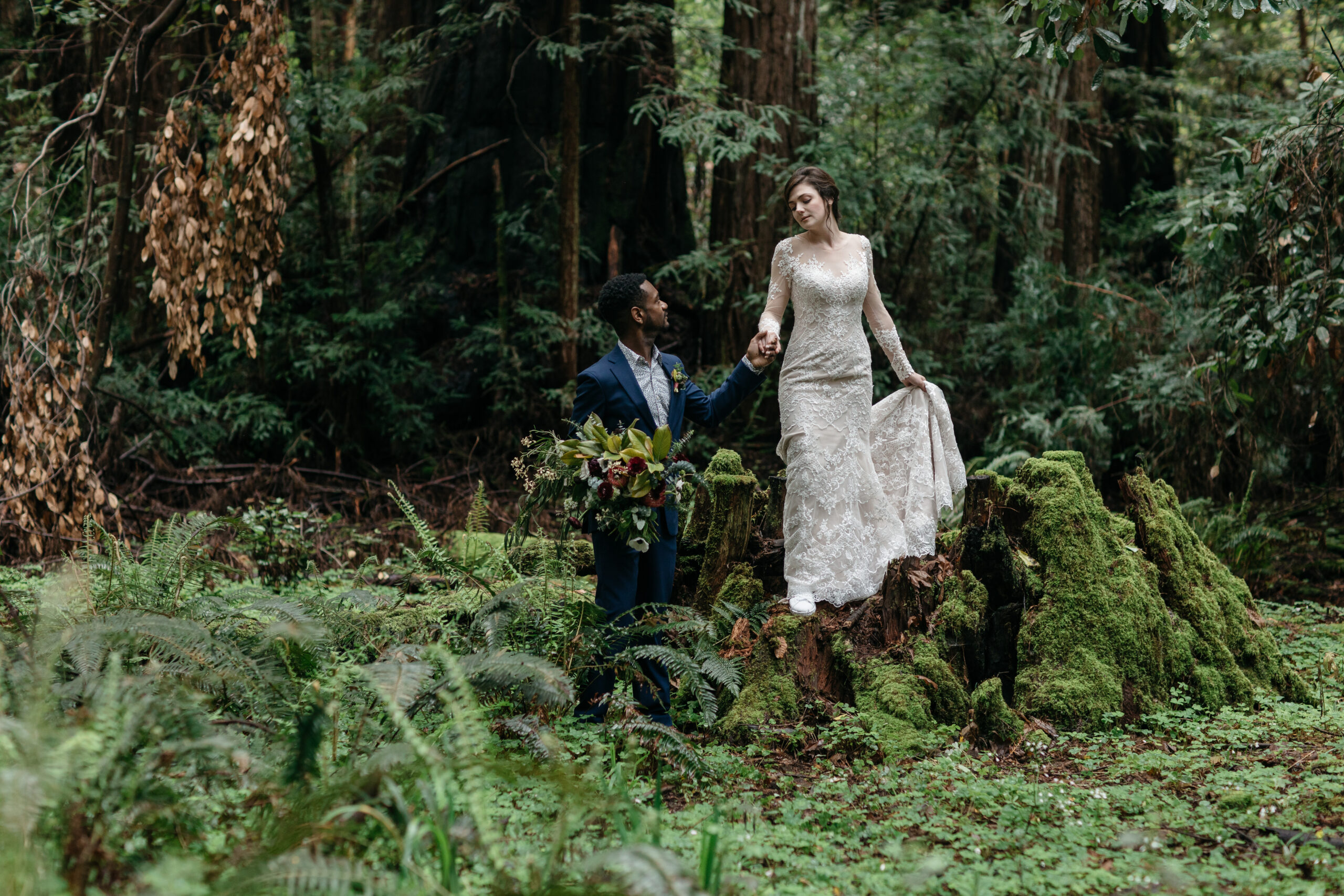 How did you meet?
Mason and Haley met in middle school band, sitting side by side, they played trumpet together.
What is your proposal story?
It was all about the element of surprise. After months of planning, no proposal seemed as surprising as Mason showing up,unannounced, to Haley's law firm waiting outside for her to leave for lunch. Taken completely by surprise, Mason took Haley's hand and asked if she would spend the rest of their lives together in love.
Tell us about your attire choices.
Mason and Haley's wedding theme was juxtaposition: traditionally, weddings are formal events based on momentous social and religious customs and held in palatial venues. Rather than be contained inside a gala or hall, Haley and Mason chose the naturally majestic Redwood Forest to be the backdrop to their formal wedding, complete with formal wedding attire.
What were your favorite parts of the day?
Due to a holiday celebrated in California and not in their home state, Mason and Haley only had the morning of their wedding to get their wedding license. Heading back to the gorgeous horse farm they were staying at, they stopped in a local Soquel bakery, Aldo's Italian Bakery, and enjoyed a quiet breakfast together until it began to rain. As each got ready for their wedding that afternoon, they anticipated that it would continue to rain, so Mason and his father, who along with his mother and sister joined the couple on their elopement, procured 4 giant clear umbrellas. It rained until the moment the bridal car entered the roadway and the sun shined brightly from then on while the couple were wed in the ancient forest.
Do you have any advice for couples planning their weddings now?
Your wedding, and therefore your marriage, is and will always be a celebration of the love you share with each other. Keep the commitment and promise of continual maintenance in mind while you plan. It will help keep you from being blinded to the magic of the moment.
Why a mountain wedding? What's your biggest piece of advice for other couples planning a mountain wedding?
Our wedding ceremony was meant to be for us, not for others. We chose a destination that invoked within us the same inexplicable feelings we have for each other. It seemed that after half of a lifetime together already, our wedding should celebrate our truly awesome love in an absolutely awesome place.
Credits
The below wedding pros made this amazing event happen. See more of their work by visiting their website.