One Edition Photography photographs all types of weddings but especially love elopements. Meg writes,
There's something about the stripped-down purity of an elopement that just really hones in on a couple, their love, and their story.  Elopements just stir deep within us that happy-nerves excitement that you get when you just know you're living a huge honour by witnessing something truly magical, beautiful, and awesome.

And so, what an incredible privilege it was to bear witness to such a sweet, intimate, and meaningful celebration of Sarah & Will in June at the Post Hotel & Spa in Lake Louise.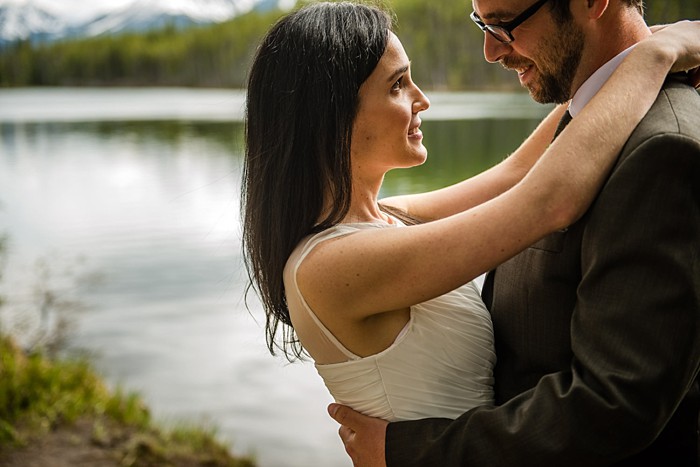 About Sarah and Will's Elopement From One Edition Photography: 
Sarah and Will were married in the Library, a gorgeous, rustic room presided over by the resident ornamental Moose. Joining them were a total of 6 immediate family members, who were meeting for the first time, making this an even more special and oh-so-memorable a celebration.
Barbara Parker of Threshold Ceremonies handcrafts her ceremonies, and WOW! what a beautiful,  oh-so-personal ceremony filled with meaning, love, and heart-filled dedication to and for one another.  Will played Sarah into the ceremony on the ukulele, and they exchanged favourite quotes and poems – their favourite being the Owl & Pussycat.
They also shared in a knot tying ceremony, creating a Carrick Knot, which joins in their case, 4 individual pieces of rope to make one knot to symbolize unity, strength, and the intertwining of their lives and families.
Sarah and Will said their ceremony is something they will cherish and remember for the rest of their life, simply due to the resonance and meaning it carried for them.
The couple's one and only request for photos was that they be imbued with the beauty of the Rocky mountains, set in and amongst trees, and along a lake or river. Fortunately for Sarah & Will, they had all that and more!   And given summer in the Rockies can be tricky with the weather, they were so fortunate for a break in the weather in the midst of what we affectionately call Juneary, what with the typical Mountain rains and chills.
Following celebratory toasts of champagne in the Library, it was off to the stunning yet often overlooked Herbert Lake; a gorgeous tucked away lake in the heart of the Rocky Mountains in Banff National Park.  The lush green wooded areas and the Natural greeny colours of the lake due to minerals in the glacier-fed waters complimented and played off Sarah's beautiful white and green bouquet, the pretty green sash she added to her dress post-ceremony, and Will's dapper look with a custom crafted hops and wheat boutonniere.  We so love the care and attention to details they put into their simple, classic, Natural look.
After Herbert Lake, they stopped for photos with the sacred Mount Temple in the background; a formidable peak noted as being the highest peak in the Lake Louise area.  They then enjoyed tender moments along the sparkling river and wooded area surrounding the Post Hotel & Spa before bidding adieu to go rejoin their guests for an intimate and oh-so-joyous dinner together.,
Lake Louise Wedding Vendors
Photographer: One Edition Photography | Celebrant: Barbara Parker of Threshold Ceremonies | Venue: Post Hotel & Spa, Lake Louise, AB  | Flowers: Post Hotel (they even have a florist on staff… amazing),  Hops and wheat boutonniere from StudioArdent, DIY bouquet and white hydrangea arrangements | Makeup: by Temple Mountain Spa, Post Hotel | Wedding Dress: Custom satin/chiffon dress from Mrs Dressy on Etsy,  Sash from Marie and Antoinette on Etsy | Bridal Jewelry: Silver pearl lotus flower earrings | Wedding Bands: Bride: Hand-engraved wedding band by Nathan Peterson Groom: Cobalt chrome wedding band by Steve | Groom's Attire | Ralph Lauren Suit in 'Olive'
---
Mountainside Guide
One Edition Photography is a distinguished member of the Mountainside Guide, an exclusive vendor directory featuring the best and most reliable mountain wedding vendors in North America. Mountainside Guide members are screened and vetted for quality of work, reliability, and professionalism, both among their peers and on review web sites.
See One Edition's portfolio HERE.
---