As you search for the perfect wedding venue, you might have a specific question stuck in the back of your mind: Should we get married indoors or outdoors? Of course, many couples must factor this in regardless of where they tie the knot. But if you're saying "I do" in the winter or in an area where chilly temperatures are the norm, you'll need to consider how to keep your guests nice and toasty throughout the wedding.
Luckily, we sat down with a handful of industry experts to hear their thoughts on protecting guests from the cold throughout your big day. Here's what they had to say.
Know your climate
If you're considering an out-of-state or destination wedding, you'll need a firm understanding of the climate before making major decisions. Keep your guests' comfort in mind, considering what most would define as 'too cold.' After all, Southerners may have a different opinion than those from the Midwest!
"Generally speaking, if the temperature is below 45 degrees Fahrenheit, it is too cold to host a wedding outdoors," notes Jaclyn Watson of Jaclyn Watson Events. "In addition, if there is any chance of rain or snow, it is best to select an indoor venue or inside options. Windy and wet weather can be very uncomfortable for guests and can make it difficult to enjoy the festivities."
Lilia Shatnaya of Plume and Stone Invitations agrees, reminding us that it's important for guests to have a good time no matter what they wear. "You want to ensure guests are comfortable and enjoying themselves in their open gowns," she states. "Women tend to have this issue a bit more since men wear layers when they wear suits. A nice and breezy ceremony is definitely different when the sun sets, and temperatures dip into the fifties."
It's best to familiarize yourself with the weather patterns of your wedding destination before deciding on your ceremony and reception locations.
Keep guests in the loop
No matter the weather, it's always thoughtful to inform guests of the expected weather for your wedding day so they can come prepared. Tell them what to wear and what they'll be most comfortable in at your venue.
As Sarah Jobe of Twickenham House and Hall explains, "it is essential to keep guests in the loop if all or any of your wedding day will be outside. Whether through the invitation, your wedding website, or a direct note, informing your guests of the wedding's location and dress guidelines is kind and considerate."
Remind your loved ones if they need to bring a scarf, jacket, or shawl to stay warm throughout the night! That way, they can stay cozy all the way through to the grand exit.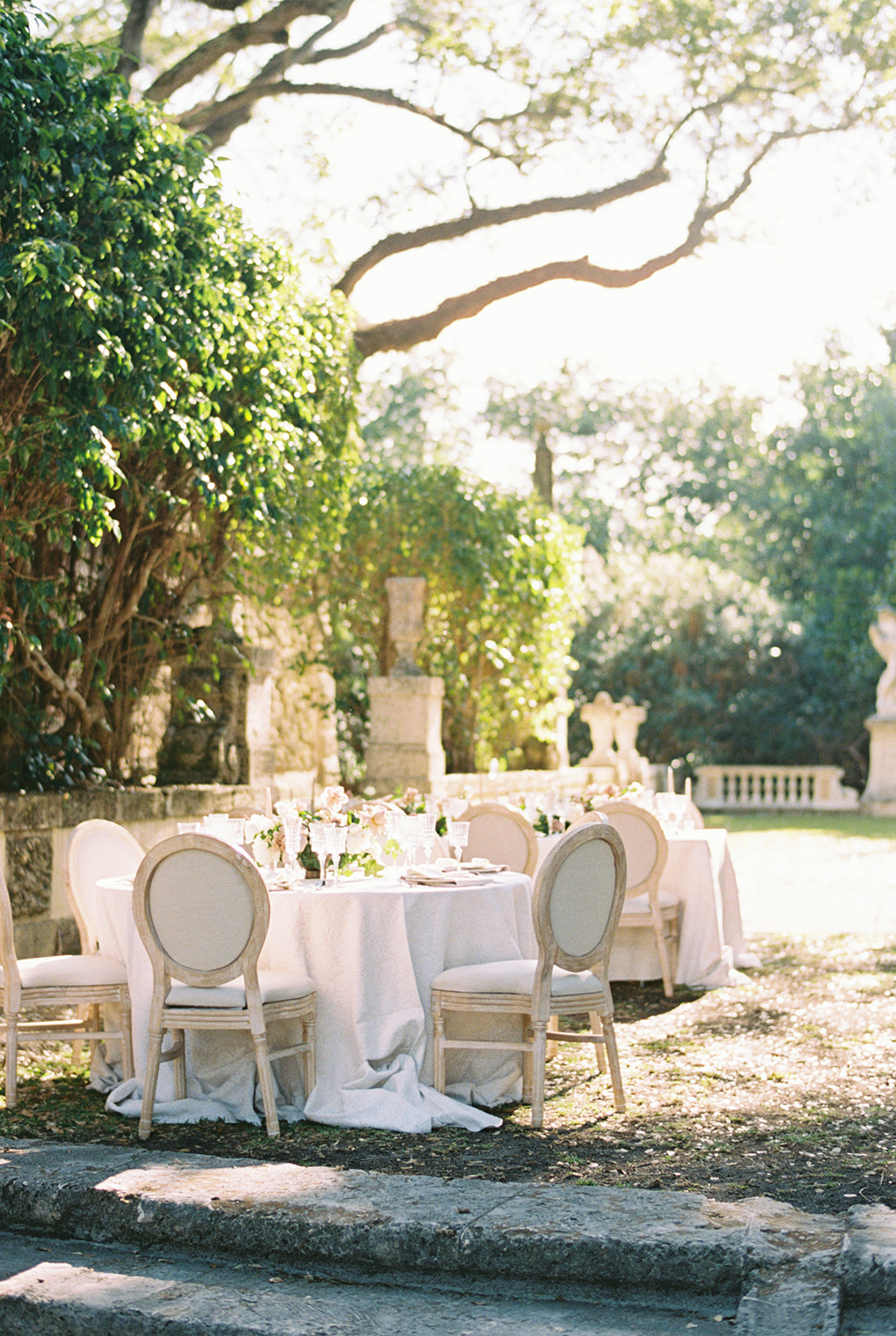 Track the weather
Once you've decided on an outdoor space, it's essential to keep an eye on the forecast in the days leading up to your wedding. Knowing what to expect will allow you to adjust accordingly.
"Track the temperature the week of your wedding," recommends Diane Kolanović-Šolaja of Dee Kay Events. "If you are getting married on Saturday and see consistent low temperatures starting on Wednesday and Thursday, I would make the call earlier rather than later to bring it all inside. All your wedding professionals will be prepared, and it will be an easier transition. Last-minute changes can be stressful."
Talk to your venue about the options they have in place should the weather take a turn. Then, once you have a backup plan in place, share it with your vendor team to ensure a seamless change!
Use hand warmers
If your guests are bracing for the cold, there are plenty of things you can provide them! In particular, hand warmers are a great option to keep your loved ones comfortable.
Nora Sheils of Rock Paper Coin and Bridal Bliss suggests, "Consider a hand warmer station! If you truly are expecting very cold temperatures, these warmers will keep guests comfortable (or at least more comfortable than they would be without them!). They are inexpensive and work very well for outdoor cold and/or windy ceremonies! In addition, you could customize them with your name, wedding date, or monogram."
Unique additions like this are sure to make your special day stand out! But staying warm takes more than some cute hand warmers — so keep reading for more cozy ideas.
Serve warm drinks
There's nothing like a hot drink on a cold day to warm you up from the inside out! Plus, offering toasty drink options means you can play around with menu options that your guests will love to sip on throughout the day.
"Serving hot drinks such as cocoa, coffee, tea, or cider can help guests warm up from the inside out," emphasizes Mary Angelini of Key Moment Films. "In addition, having a hot drink station set up near the outdoor ceremony or cocktail hour area can encourage guests to stay a little longer and enjoy the festivities, despite the chill in the air."
And if you don't want guests to get lost in too many drink options, consider turning those cozy drinks into your signature cocktails! Irish coffee, mulled wine, hot toddies, and spiked cocoa are all yummy beverages that pair warmth with a little buzz.
Pass out blankets
What better way to stay warm than a cozy blanket? Get creative and consider using blankets as a favor your loved ones can take home.
"Providing blankets is a must!" says Jacqueline Vizcaino of Tinted Events Design and Planning. "Not only is this a great way to keep your guest warm and cozy during the ceremony, but it also serves as a nice decorative element — think vibrant colors or knitted textures that add warmth and character to any setting."
Tonya Hoopes of Hoopes Events concurs, sharing, "There are so many ways you can offer blankets. If it is during the ceremony, you could order a blanket in a color that matches your colors or one with a logo on it. You can place the blankets on every or every other guest chair. Or if any part of the wedding is outside, you can have a basket of blankets tied with a cute note."
Opt for cozier fabrics, like flannel, fleece, or a chunky knit — blankets are a fantastic way to keep your guests warm, showcase your color palette, and offer a fun keepsake!
Take advantage of heaters
If a blanket isn't enough to cut the chill in the air, consult with your venue about putting out space heaters. Often an easy way to increase the temperature, heaters are an excellent option for keeping your friends and family warm.
"Like blankets, space heaters are a perfect way to liven up an area for outdoor portions," Jobe advises. "Whether your wedding is entirely outdoors or just cocktail hour, providing space heaters is another beneficial option to keep guests comfortable. We recommend speaking to your wedding planner and venue owner to create the best plans for accommodating cold weather on your wedding day."
If your venue doesn't provide space heaters, connect with your rental provider. Most offer several models, so work with them to determine the best solution for your event space.
Move guests around
Most of your loved ones won't notice the outdoor chill if they're breaking a sweat on the dance floor! Find ways to keep the party going so your guests aren't left standing around in the cold.
As Jamie Chang of Mango Muse Events explains, "The more you move, the warmer you feel, so where it's possible to create movement in the outdoor space, do it. Create stations, so people have to walk to get to each one. Have activities that are easy to participate in but also get their bodies moving. Start dancing earlier. Or consider a non-traditional ceremony where people are standing, moving, and participating, or ending in a group dance."
All it takes is a little movin' and groovin' for your guests to warm up! So get creative and incorporate fun opportunities for movement throughout the day.
Worrying about the weather is a normal part of the wedding planning process, but your guests will stay warm if you plan ahead! Talk to your venue, think outside the box, and know your loved ones will be excited to celebrate no matter what.
Meghan Ely is the owner of wedding PR and wedding marketing firm OFD Consulting. Ely is a sought-after speaker, adjunct professor in the field of public relations, and a self-professed royal wedding enthusiast.