Felicia and Brian wanted a wedding venue with a view that would wow their guests, and they definitely found mountain view perfection at Swimming in the Clouds. The literally name says it all. Felicia and Brian continued to delight their 18 guests with homespun details mixed and a pretty pink and white color palette. Jen & Chris Creed were on hand to capture every delightful moment.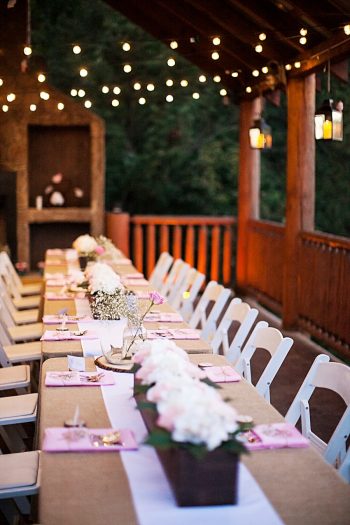 Felicia + Brian
Swimming in the Clouds, Sevierville, Tennessee
September 27
Wedding Day Weather: Warm and Sunny. Slight clouds in the morning but they cleared out
Number of guests: 18
Biggest Splurge: Photographer
Biggest Savings: Dessert, we had a delicious pie bar that were all homemade by a family member.
Why did you choose the Mountains for your wedding?
We really wanted a venue with a view! We both enjoy nature and the outdoors so the mountains just seemed to fit for our wedding.
I had been to Gatlinburg with my parents when I was younger and once we had gotten engaged I knew I wanted to get married in Tennessee. We never really wanted a traditional wedding.
What was your theme for your wedding?
Our theme was laid back, rustic, country/woodsy
Where did you find your inspiration?
I found most of my inspiration from pinterest, the weddingbee and wedding blogs. I also found some inspiration just walking through the craft store.
How did you choose to personalize your wedding?
We personalized our wedding by doing a lot of DIY. We coordinated everything ourselves.
From making the save the dates/invites ourselves to a lot of the decorations. We made and stained the wooden boxes for the centerpieces, arranged all of the flowers (except the bouquet) and boutineers. I recruited my mom, sister, cousin and friends to help me with stuff from folding napkins to making paper flowers.
We made our own arch and my mom made us the wooden ring holder.
What was your favorite part of the reception?
The night was beautiful, cool night with a lot of starts in the sky.
Our favorite part of the reception was when the bear crashed it..twice! Right after our first appetizer was server a bear showed up. Everyone enjoyed getting to see the bear..from a safe distance!
What are three things you're super glad you did?
Kept it small
Chose the location we did
Hired a chef rather than a catered buffet
What was the biggest challenge in planning your mountain wedding and how did you overcome it?
The biggest challenge for us was planning from so far away. We live in Pennsylvania and we booked the venue before seeing it in person. We went to Tennessee a few months before the wedding to take a look at it but since it was being occupied that weekend we only seen it from driving by and a quick look around. Our venue was not actually a wedding venue so we had to coordinate everything ourselves from the food to the rentals.
We received the dimensions of the deck where we had everything and just had that to work with. We were really unsure of how everything was going to fit, if it would at all and how to set it up. We did a lot of layouts and scenarios on paper. At one point we drew a chalk box in the street and used folding chairs to see how things would fit.
We really overcame that just by being open minded. Going into it knowing that plans may changed, things may have to be adjusted to accommodate everything and in the end everything went perfect.
How did you find and choose your vendors?
Most of the vendors we found through google and just read a lot of reviews.
What is your best piece of advice to other mountain brides who are planning their weddings?
The best piece of advice we could give is to be open minded. Don't stress for perfection. Enjoy your time planning because it goes quick!
Tennessee Wedding Vendors
Photographer: Jen & Chris Creed | Culinary: Fruitful Vintage Chef | Dress Store: In White, LLC (Lancaster, PA) | Floral Designer: Lisa Foster Floral Design Studio | Accommodations: Swimming in the Clouds | Rentals: Campbell Tent