Seven inspiring details
Kicking off the week is seven inspiring details I am loving, including painted wedding cakes, colorful ascots, vintage objects and furniture, great cake tables, and a DIY outdoor church
Painted Wedding Cake:
OMG! I mean seriously! I know that wedding bloggers are constantly saying OMG and loving different elements, and calling details lovely, sweet, and amazing. But seriously, OMG this painted wedding cake is amazing. Western North Carolina cake baker Debi Hall of Just Simply Delicious Cakes commented on this photo on my Facebook, saying artists use food coloring and alcohol to paint design on fondant. When the alcohol evaporates, the color is left behind. I love it! You could virtually do any design or tableaux you want.

Image from BrideTide
DIY Outdoor Church
This couple took the whole concept of the outdoors being God's church to new levels. What a wonderful setup. It is not uncommon for churches to sell off a fleet of pews when they upgrade. I have also seen old wooden pews for sale in western North Carolina at yard sales and flea markets. And they can also be found at auction houses. I wonder if you could "borrow pews."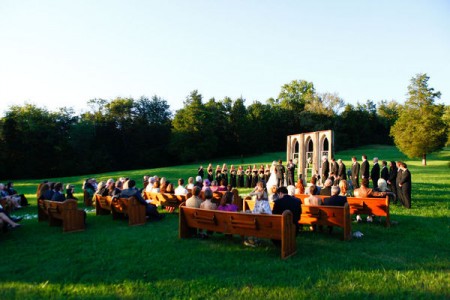 Image by Tec Petaja via Style Me Pretty
Colorful Ascot
This bright ascot walks the line between formal and elegant and relaxed and playful. The simple berry boutonniere, complement the bright colors of the ascot well. The seersucker striped ribbon adds contrast so the look doesn't become too matchy-matchy.

Image from Martha Stewart
Old Wine Box Cake Tablescape
First, I love purple and red together. Done well, it looks so modern. The vintage silver cake stand and old wine boxes add height and interest. And I love the whole candy apple thing.

Image from Stephanie Williams via Bridal Snob
Vintage Coat Hooks in an Old Tree
There are so many things you could do with this: Hang family pictures on them, hang cards that guests fill out with well wishes, hang your escort cards from them, hang lanterns or lights on them, the list goes on…
Image from Olive Juice Photography via Elizabeth Anne Designs
Vintage Furniture as Display Case
I am so happy to see all of the interesting ways people are curating objects for their wedding. Old furniture is especially au courant. Have an heirloom roll-top desk in your family? Use it as a table for the guest book? Find an old cupboard at a junk shop? Use it to display the candies on your candy buffet.
Image from Espana Photography via Ruffled Blog
Tiny Tastes of Heaven
I love small bursts of flavor and decadence. One of the things that makes the famous French Laundry so wonderful is that chef Thomas Keller is committed to creating a perfect food experience with one bite. I love that concept. That the most perfect moment is the one you are in. You can only get that food experience from exceptional quality and tiny servings. Think tiny truffles is sweet little jars–sweet!
Image from Once Wed