Valeria and Christopher's winter wedding in Park City was filled with soft romantic touches and fairytale glamour! The ceremony featured pink roses and white orchids with silver lanterns. And the mountains covered in snow provided  a million-dollar view!  The reception was filled with classic white florals and lots of sparkle. The guests were sent off with Smores favors, lovingly packaged in clear boxes tied with ribbon and custom made Beanies to remember the magical day in winters to come.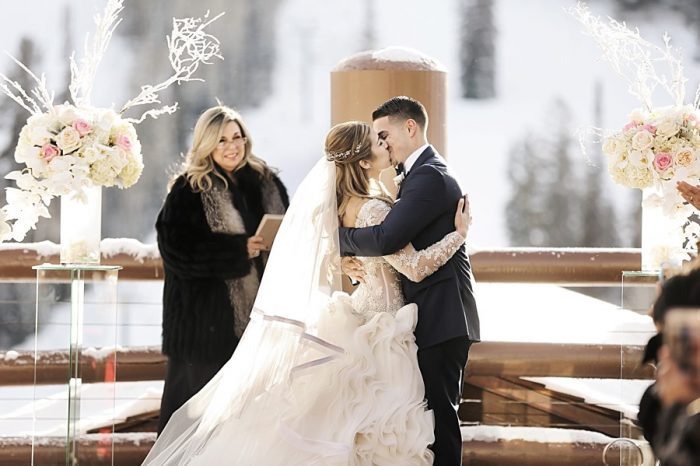 Valeria + Christopher
Stein Eriksen Lodge in Park City, Utah
Feb 21, 2015
Wedding day weather: The weather and how it fluctuated on our day had me in complete shock. The morning of there was a snow storm. Then, it stopped right on time for our first look on the deck. Then another snow storm came by and stopped right before the ceremony. Everything was covered in snow, as we wished for, but cleared on time for every event. We feel so blessed that it turned out that way.
Number of guests: 73
Why did you choose the Mountains for your wedding?
It's the opposite of the beach wedding we are used to. Beach weddings are also amazing, but we have attended so many that we wanted to do something really special, romantic, and different.
Wedding day theme:
We wanted a fairytale winter wedding. I bought almost everything on Etsy, the linens on wholesale, and seeing it all come together so beautifully was beyond amazing. The linens were silver and sparkling, with mirror chargers, white orchid centerpieces and fireplaces to give it the extra touch. The view from the reception of all 3 mountains in Park City also gave it that magical winter wedding feel. A lot of blues, silvers, greys, and whites.Where did you get the inspiration for your color palette and design? After doing my research on winter weddings on pinterest, I felt I liked the glamour winter wedding more than I did the rustic feel. It was just more me to have a lot of things shining that day.
Where did you find your inspiration?
A lot of Pinterest and my own personal preferences.
How did you choose to personalize your wedding?
We actually tried to make the garter game a little funnier so its not as awkward. Given that my entire family and friends are aware of my banana obsession (I eat them with everything) I thought it would be funny to have my husband remove a banana from underneath my dress before the garter. People laughed so much when they saw that because no one expected that.
What was your favorite part of the reception?
Chris grabbing the microphone before the garter game and signing me a song in front of everyone! I was in pure shock! My favorite part of our reception!
What are three things you're super glad you did?
Glad I bought the wedding dress of my dream (even though it wasn't a comfortable dress) I would not change it.
Also glad we picked a place with such amazing food (5 stars, the guests were shocked at how good the food was), and
We're glad we listened to our photographer and orchestrated a first look.
What was the best piece of wedding advice you got?
Plan the wedding you and your groom want. Everyone has their own taste but in the end you will be fulfilled and happy if you did everything the way you really wanted to. People back at home told us we were crazy for having a winter wedding compared to a beach wedding and that we were going to be so cold. It was perfect and sunny. A lot of people are now considering a winter wedding after seeing our amazing pictures and video. Glad we can inspire so many brides and groom to go for a winter wedding if they really want it.
Anything you wish you hadn't worried about?
The weather. That is what kept me up at night but there was no way to know until the day of
Anything You wish you had known about sooner rather than later?
That I was going to cry like a baby for our first look. I would see pictures and say "I won't cry, I'll be so happy" but Oh did I cry!
The most unexpected event on our wedding day was:
Chris singing to me in front of all our family and friends. That is not an easy thing to do so I love him so much more for doing that.How was your wedding different than you imagined it would be (less than 30 words)? It felt like a dream and as if we were in a fairytale movie. If you knew then what you know now… I would have not worried about the guests and making sure they were all having fun. They had fun without us having to do anything and I was so worried about being a good host at my own wedding.What brand new elements did you bring to the day? My custom wedding dress, pastel silk robes for my bridesmaids, their fur wraps as their gifts, and the grooms gift of boudoir photos, which he loved and a gold engraved wedding band.
How did you find and choose your vendors?
A lot of research online and social media reviews. Also, through pictures found from other weddings they worked with. Once I saw several pictures I liked of their work, I met with them in person and if everything clicked and they understood my vision, it was an easy decision.
What is your best piece of advice to other mountain brides who are planning their weddings?
Take your time and enjoy the planning. It's meant to be fun, not stressful. That way, when your wedding is over you can look back at how much fun the entire process was to marry the man of your dreams.
Don't stress on the day of either. Some things didn't know as I EXACTLY planned, but it's always okay! You and your groom will grow old side by side and that is all that matters.
Also, do a first look. You wont regret it and he will still look at you teary eyed when you walk down the aisle.
Park City Wedding Vendors
Wedding Photographer:  Pepper Nix Photography | Equipment Rentals: Diamond Rental | Equipment Rentals: Diamond Rental | Makeup Artist: Enizio | Hair Stylist: Enizio Inc | Floral Designer: Orchid Dynasty | Cinema and Video: Pointe Digital | Event Planner: Soiree Productions | Makeup Artist: Studio Enizio | Event Venue, Cake + Catering: Stein Eriksen Lodge | Videographer: Davey from Pointe Digital | Officiant: The grooms Aunt  | Dress designer: Ysa Makino. (custom sleeves added) | Groom's Attrire: Sand Copenhagen
---
Mountainside Guide
Pepper Nix is a distinguished member of the Mountainside Guide, an exclusive vendor directory featuring the best and most reliable mountain wedding vendors in North America. Mountainside Guide members are screened and vetted for quality of work, reliability, and professionalism, both among their peers and on review web sites.
See Pepper Nix's portfolio HERE.
---