You're newly engaged. The engagement ring is sparkling on your figure distracting you as you type, wave, shakes hands, and breath. Your excitement grows with every person you tell until excitement is replaced with stress the umpteenth time you're asked if you've set a date. You try to set a date but your dream venue isn't available. You try to book your photographer, but alas, they aren't available.
With the wedding industry continually growing, many brides end up setting their wedding date based on venue availability. They end up selecting vendors based on availability. They end up scheduling and planning their wedding around everyone else adding stress to what should be an exciting process. Mountain brides have an advantage here! One of our mountain couples set their wedding date based on when was best for the families and the activities they wanted to share. They didn't even finalize their ceremony site until the week of, when they saw what the weather and the snow was doing. They had their reception in a cabin with an in-house chef.
As unique alternatives to traditional weddings continue to arise there is no reason you can't get married off-the-grid so to speak. Just up the road from us is one of our favorite National Parks. Sequoia offers many great options for getting married in the beautiful Sierra Nevada. The park provides a wide variety of options for ceremony sites with just a $50-$200 special use permit based on group size. Few people take advantage of the more remote locations; few people probably even know where to start. We searched our archives for some of our favorite locations and hit the trail to discover new ones!
People visit Sequoia National Park for a variety of reasons: mountain views, giant sequoia trees, lush meadows, and gorgeous lodges. In today's post we'll focus on epic views and giant trees both the popular options as well as some off-the-grid ideas!
Popular Views: Beetle Rock
Located near Giant Forest Museum, Beetle Rock is a short almost non-existent hike to great views. The site can hold up to 75 people and plenty of nearby parking is available.
During the busy tourist season Beetle Rock is a popular destination so you might want to go "off the grid" for your Sequoia views.
Views Off the Grid: Sunset Rock
The one mile trail to Sunset Rock leads you through the forest, past a meadow, and out to stand on top of a granite dome. With views to the west, the rock is named appropriately and bringing a headlamp for the post-sunset hike home is a must. The site can hold up to 75 people with plenty of parking at Giant Forest. 
Views Off the Grid: Panoramic Point
Located near Grant Grove, Panoramic Point at elevation of 7,520 has great views of  Hume Lake and Kings Canyon. The site can hold up to 30 people with parking for up to 10 cars. The ¼ mile trail is paved making for easy access.
One of the unique offerings of Sequoia National Park is the Giant Sequoias. Like love, these giants leave many speechless making them the perfect mystical accompaniment to a wedding. There are many beautiful groves of Giant Sequoias and the park provides access to a few as ceremony sites.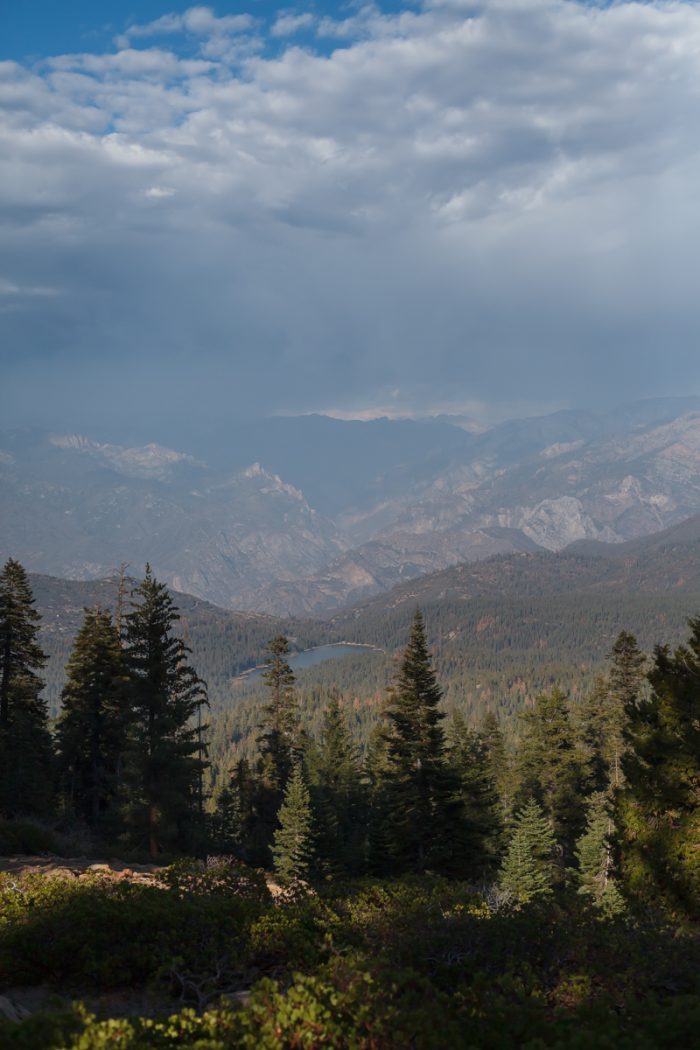 Popular Big Trees: Hazelwood Nature Trail aka Big Trees Trail
Located near Giant Forest Museum, this easy trail gets you instantly amongst the giants. The trail makes a 1 mile loop passing by Round Meadow and returning you to the Giant Forest museum. Max wedding size is 10-15 people.
Big Trees Off the Grid: North Grove Loop
From the Grant Tree parking lot you escape the crowds and head out on a lightly traveled 1.5 mile loop. The site allows up to 80 people and 20 cars. Much of the trail is a wide road winding through conifer and sequoia trees past meadows and creeks.
In Part 2 of Getting Married Off-the-Grid we'll share images from some of the beautiful meadows available for weddings as well as address the questions of where to stay and where to have a reception. In the meantime, love. adventurously.