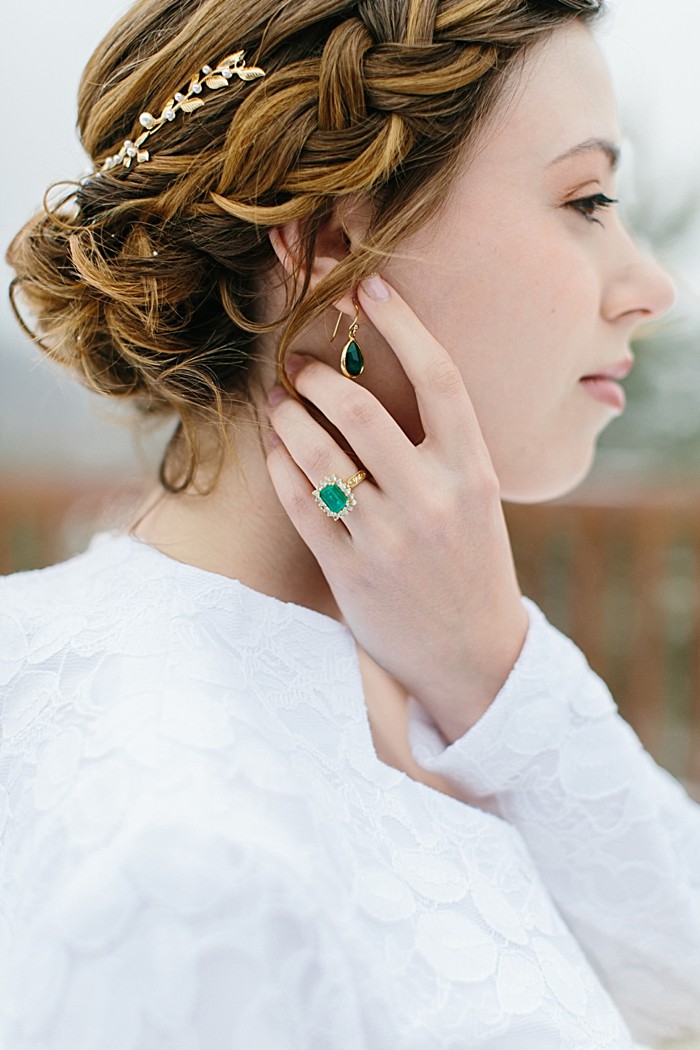 This enchanting rustic winter wedding, captured by Meg Ruth Photo, has all of the elements of a cozy winter's day in the mountains: fresh fallen snow, a warm lodge with a roaring fire and beautiful gold, white and emerald green details. Can you believe the bride designed her own wedding gown and her grandmother made it? And be sure to check out her best wedding advice where she talks about how she found this gorgeous wedding venue!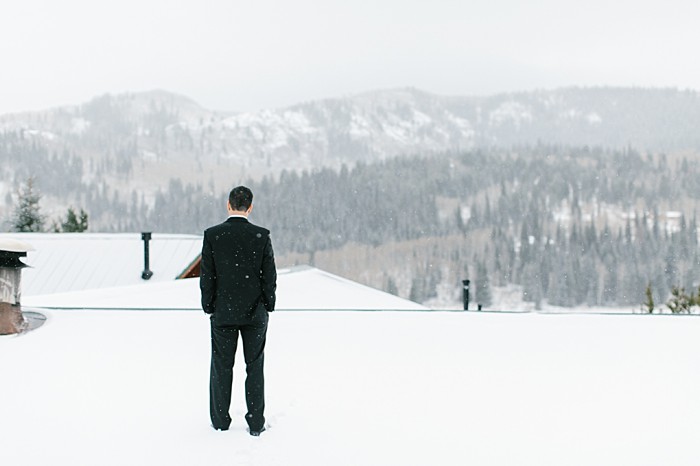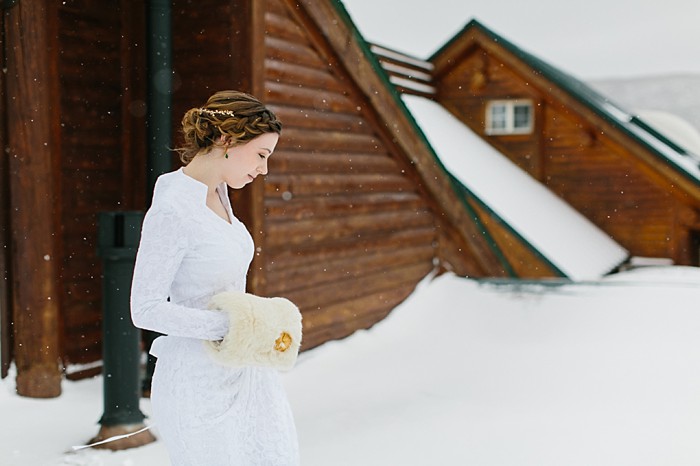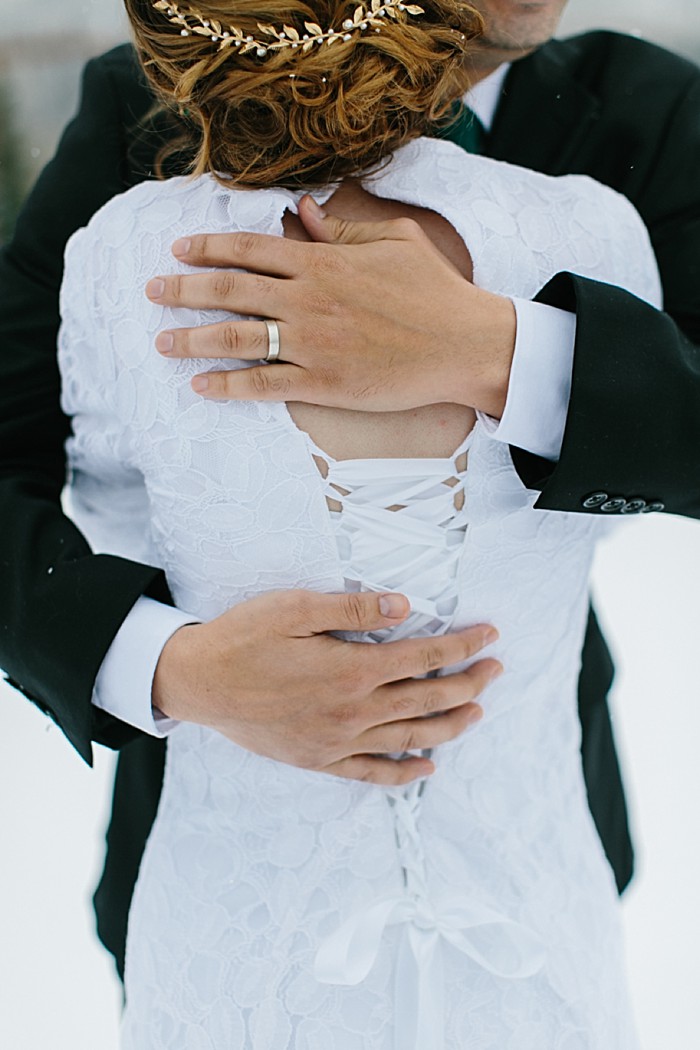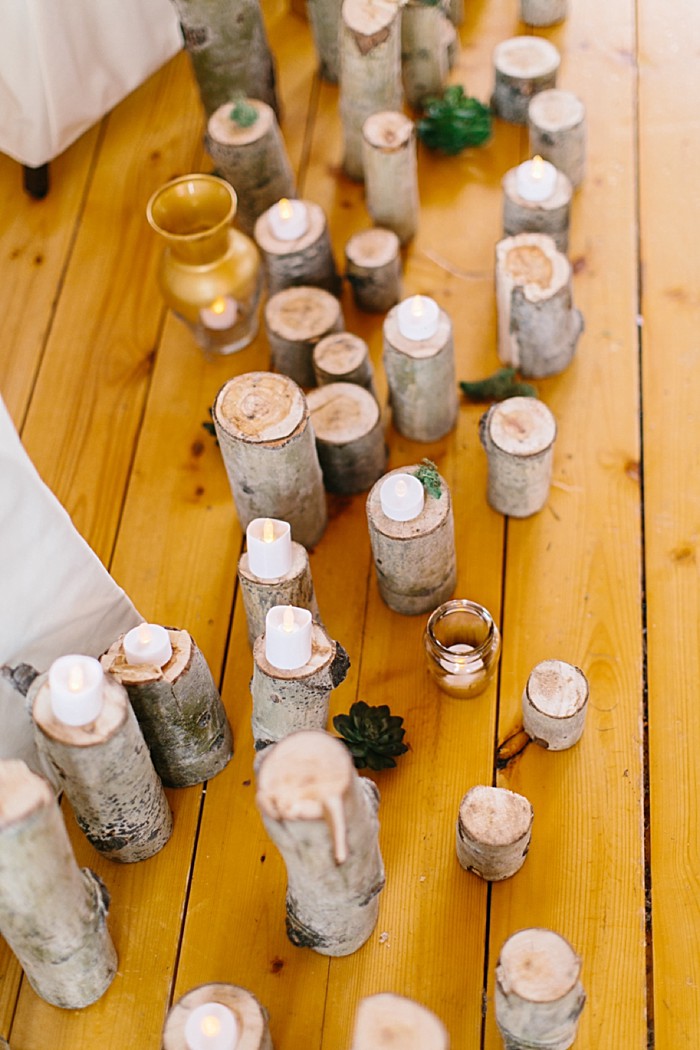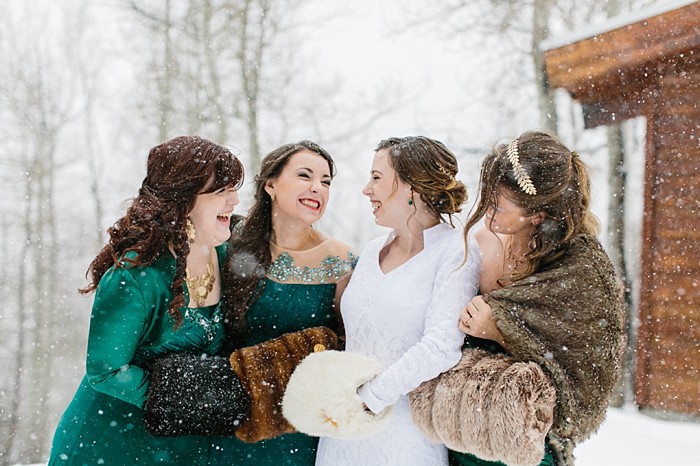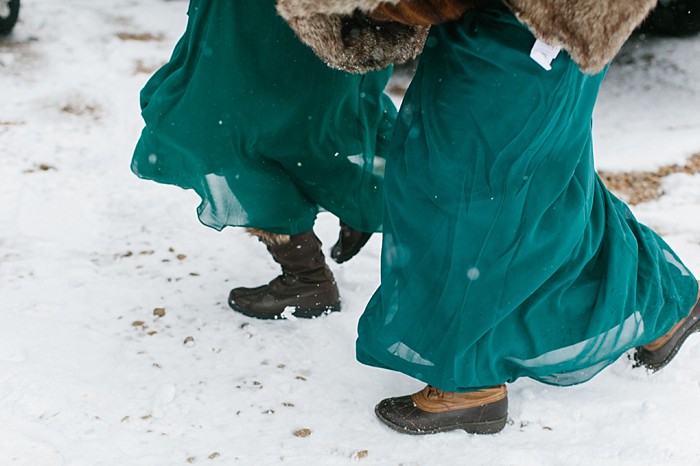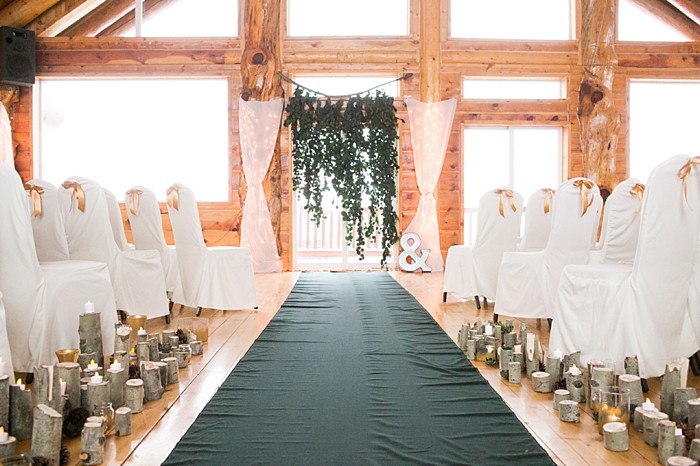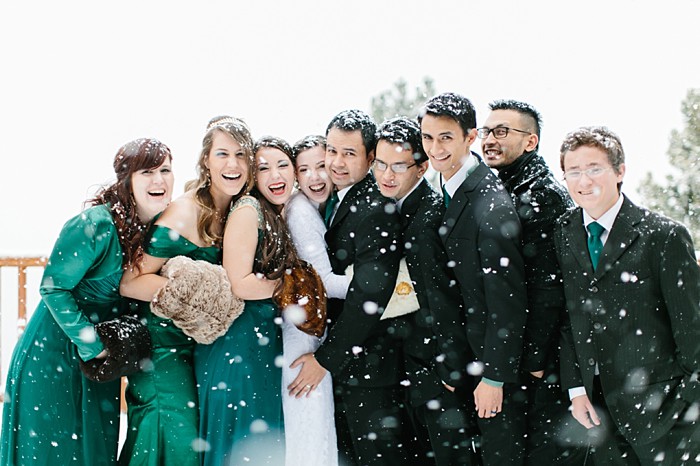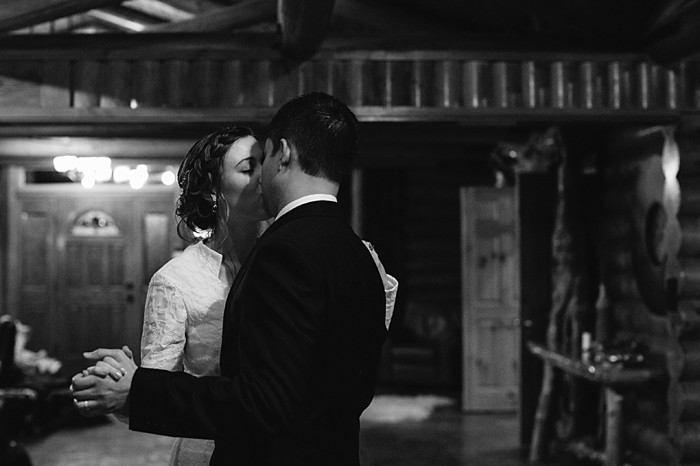 Kahla + Sam
Timber Moose Lodge
11/22/2014
Why did you choose the Mountains for your wedding?
I love snow, I've always wanted to have a winter wedding full of snow, and the only way to make sure I had the best chances of snow was to get married in the mountains, where there's almost always some snow on the ground. We got lucky and had thick beautiful snow the entire weekend. I also just love the mountains, I love how rugged and untouched they are. Even if you live in the mountains with neighbors and a town, it's hard to ruin the beauty. And weddings should be beautiful :)
Wedding Day Weather
Soft, thick snow
Number of guests that attended
55
What was your theme for your wedding?
My theme was rustic elegance. I wanted our guests to feel like they were being treated to the best nature had to offer. Beautiful wood and gold and cozy fires with delicious warm things to eat.
Where did you find your inspiration?
From the mountains, of course :) I drew inspiration from the mountains I'd grown up with, the Uinta and Wasatch mountains are the most beautiful things I've ever seen. I wanted our wedding to reflect them, so I chose colors and textures that were naturally beautiful., just like the mountains. Yellow gold, unfinished wood, dark forest green and fresh white snow.
Your budget
$4,000-8,000
Biggest Splurge
The food!
Biggest Savings
My dress and the photography, but I had family connections to help with those :)
How did you choose to personalize your wedding?
My dress was made by my grandmother, who also made my mothers wedding dress. My "something borrowed" was one of the pearl buttons from her dress. I designed my dress to reflect me and how I felt.
I also made sure me and my husband had our favorite treat available to everyone. We love hot chocolate, he loves white hot chocolate and I love milk hot chocolate, so we had a hot chocolate bar with our favorite flavors for the dessert.
What was your favorite part of the reception?
There wasn't really a reception, I wanted the wedding to be a place where the two families to interact and talk and relax, we had a feast instead with hot chocolate for dessert and a couple special dances down stairs. My favorite part was enjoying a delicious meal and watching my friends and family talk and laugh and enjoy themselves. It was very laid back, like the perfect family dinner where everyone gets along and is happy. Which can probably only happen at a wedding where everyone knows to behave themselves :)
What are three things you're super glad you did?
I'm very glad I married Sam:)
I'm glad I let my bridesmaids choose their own dresses, I gave them a color scheme and trusted them to get what they knew would make them beautiful and most comfortable and they each chose the most perfect dress and it looked amazing and not like they were wearing a uniform, I loved that.
I'm glad I spent the time and research finding a good caterer, one of the priorities of our wedding was to make sure everyone was well fed and Cherie from Mon Cherie Catering was a dream. She did the most incredible job and was more like a friend then anything else. She helped with more than the food, she even brought succulents from her garden because it went with my decor, I'm very very glad I found her.
What was the biggest challenge in planning your mountain wedding and how did you overcome it?
The biggest challenge in planning was finding the right venue. It was pretty difficult, I had a very specific look in mind and not a lot of money to find it with. I needed somewhere big enough for 50-60 guests but not a hotel, I wanted it to be a lodge or cabin with a fireplace and log cabin walls not stucco. Many lodges and cabins in Utah won't do weddings because it's against HOA (Home Owners Association) rules as well so that ruled out a lot of locations. I used VRBO (Vacation Rental By Owner) to find somewhere that would work and I found a place in Hobble Creek Canyon first but a couple months before the wedding they pulled out for family reasons so we were scrambling to find another venue and we came upon Timber Moose Lodge. It was a little more expensive than we were planning but we were running out of options and it was perfect, even my dad agrees spending the extra money on that venue was well worth it :)
How did you find and choose your vendors?
Well, a couple of them were already no brainers for me, I'm very fortunate my aunt is an amazing wedding photographer so of course I wanted her to do my photos. My sister-in-law is a genius at decorating so she did the decorations, all I had left to find really was a venue and a caterer since I decided not to use flowers. I went to a couple bridal shows just to see what they had to offer, and at the first one I met Cherie. I needed a caterer who could do a specific menu, there were a lot of restaurants offering catering but that wasn't going to work for me especially since they wouldn't travel to difficult locations so I had to find an independent caterer willing to do all that. There were only two who could do that and the first one didn't really impress me, so I approached Cherie and her samples were delicious and she was willing to go wherever the venue was, so we set up a meeting and hit it off and she was fantastic :) Everything else either me or family members did ourselves.
What is your best piece of advice to other mountain brides who are planning their weddings?
Use what you have, the mountains are pretty much limitless when it comes to scenery and decorations. Find a good photographer who knows how to capture the scenery because the mountains make the best pictures. In whatever season, mountains are always beautiful so use them and enjoy it :)
Utah Wedding Vendors