Nothing says romance to this couple like winter in the mountains. Kipp grew up in Gunnison, CO, close to Crested Butte (one of the best hidden treasure ski areas in North America.) Their love for the outdoors prompted Ana and Kipp to incorporate natural elements into their wedding theme. Their decor included incorporate antlers, pine cones, wood and and other outdoorsy elements, while they kept the event formal and serious. We're so grateful to Emily Gaines of Searching for the Light Photography for submitting this mountain beauty.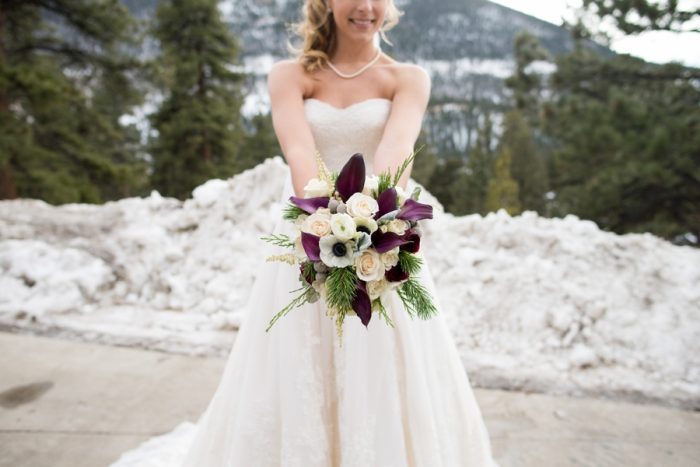 Jenni + Kipp
Della Terra Mountain Chateau, Estes Park, CO
January 10, 2015
Wedding day weather: Sunny, 40F, Snow on the ground
Number of guests: 150
Your budget: $25,000
Biggest splurge: The venue, it was more expensive than I had planned but it was the perfect mountain lodge
Biggest savings: DIY centerpieces–we even cut down the logs use in the ceremony and on the reception tables.
Why did you choose the Mountains for your wedding?
My husband and I both love winter and the mountains. He was raised in Gunnison, CO (a mountain town) so we knew we wanted to have a snowy mountain wedding to really capture our love for winter and the mountains.
Wedding day theme:
Rustic elegance. We wanted to incorporate antlers and other outdoorsy elements while keeping the event formal and serious.
Where did you find your inspiration?
A lot of my ideas came from things in our everyday lives… My husband loves to shed hunt (collect antlers the animals have already shed) so I knew we would need to have antlers in the decor. I also really wanted to stay with a wintery theme so I chose darker colors and minimal flowers.
How did you choose to personalize your wedding?
We used antlers that Kipp has collected throughout his life in the centerpieces and in the boutonnieres
He wore a snow-camo vest and bowtie
Most of the decor and favors were DIY which made it more personal for me
My sister and her (now) fiance used Spotify to DJ for us which was a nice way to have the music we wanted and know that our announcers were people who knew us personally and cared about us.
What was your favorite part of the reception?
The dancing. We love to swing dance and were so happy that most of our guests spent lots of time on the dance floor with us
What are three things you're super glad you did?
Just relaxed on the morning of the wedding. I knew if I was worried about setting up or organizing last minute details I would not enjoy the day
A first look. I really enjoyed having the time to spend with Kipp when things were still quiet on our wedding day. Otherwise I don't think we would have had much time to talk until after the reception.
Asked my Godparents to be host couple. It took a lot of pressure off of my bridal party and immediate family but allowed my guests to feel like they had people there to welcome them and answer any questions. They also took care of answering day-of questions for the venue and vendors
What was the biggest challenge in planning your mountain wedding and how did you overcome it?
Overall, we did not have any major challenges in planning our wedding. Our venue does a great job of helping couples prepare for their wedding day and providing a full list of vendors who are comfortable working at the venue in the mountains.
I think my biggest fear was the weather would cause problems for my vendors or guests. We wanted a winter wedding but knew that snow can be unpredictable in the mountains so it was definitely a concern.
How did you find and choose your vendors?
Della Terra (our venue) provided a list of recommended vendors which was really helpful.
I also did some internet searches and spoke to friends who had gotten married in the area for ideas as well
What is your best piece of advice to other mountain brides who are planning their weddings?
Have fun. Weddings are supposed to be happy days that you will always remember. Something is going to go wrong so just roll with it. Its not worth getting upset over. At the end of the day, you are still going to be married, and that is the important thing.
Estes Park, Colorado Wedding Vendors
Wedding Photographer: Searching for the Light Photography | Wedding Venue: Della Terra Mountain Chateau | Catering: Jubilation's Catering | Wedding Cake: Colorado Rose Cake Company | Floral Design: Boulder Blooms  | Hair: Debra J Styles