We're spellbound by today's woodland elopement in the Smoky Mountains. Taken with the poignant and marvelous video of Instagram influencer's Pacific Northwest elopement in the woods, Cristy and Jon decided to do their own, East Coast version in the Great Smoky Mountains. This simple, heartfelt and beautiful day was captured by Madeline Harper.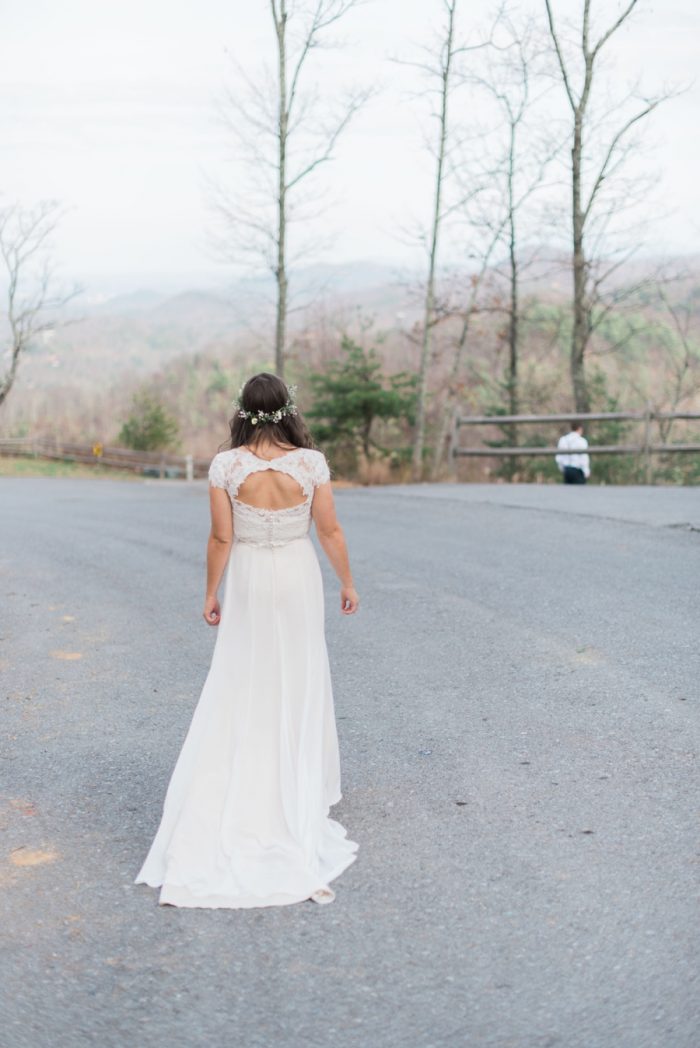 Cristy + Jon
Smoky Mountains
December 12, 2015
Wedding day weather: 73 degrees and PERFECT
Number of guests: 40
Your budget: $7,000
Biggest splurge: My dress!! Worth. It.
Biggest savings: The reception menu – homemade tacos, chips and salsa, and root beer floats
Why did you choose the Mountains for your wedding?
When Jon and I discussed our dream wedding, we knew it was out of the ordinary. We wanted an intimate setting representative of our personality types, a place of authenticity and simplicity. Some of our dating life consisted of group campouts, so a low-key ceremony in the woods sounded too good to pass up.
Wedding day theme:
Am I allowed to say our theme was "community?" Rather than a 350-person ceremony full of small talk and formality, we opted for a 40-person wedding weekend made up of corn hole games and tacos. We cared less about the aesthetic and more about moments with our closest friends and immediate family. Would you believe me if I told you our "rehearsal" took place two hours before the wedding, crowded inside the bathroom as I curled my hair?
Jon and I tried to stay away from traditional expectations and just planned a weekend hang out with our best people, and it just happened to include handwritten vows, a short time of worship, and a ring exchange.
Where did you find your inspiration?
Our original inspiration came from a wedding video of an elopement in the woods. If you haven't seen it…girl, go watch now. It's BEAUTIFUL. https://vimeo.com/112938820
Jon and I watched the video before we were even engaged. We exchanged a couple of words like "If it were us, we'd…" and from then on our dream wedding was in our heads. We knew we couldn't handle an elopement; we needed our closest friends as witnesses. Other than that, the simplicity and love captured our hearts.
How did you choose to personalize your wedding?
A few weeks before the wedding, Jon and I ordered hand-lettered wooden signs from a couple of friends. One of those signs was inscribed with "I love you more than tacos," a phrase my husband used in the middle of his proposal. We also ordered felt banners with TX and KY sewn on, representing our love for our home states. One final personal touch was a gigantic homemade banner with the words "Best Day Ever" on it. My sisters/best friends finished this banner the night before the ceremony.
What was your favorite part of the reception?
Eating! Good-bye carb-free diet. Hello tacos and soft drinks!
Joking aside, the best part of the reception was relaxing with friends and knowing I was officially the wife of my best friend. After slow-dancing to The Wine We Drink by Drew Holcomb and the Neighbors, our friends changed the playlist to whatever songs they wanted to dance to, our parents made sure everyone was full of food, and Jon and I took pictures with everyone.
What are three things you're super glad you did?
We kept the guest list short. This gave us ample time with every person that attended.
We created a wedding that was "us." Abandoning traditional expectations, we saved money where we could and invested in the things we loved. We said "no" to printed invitations, garters, boutonnieres, make-up artists, hair stylists, glass dinnerware, and expensive centerpieces.
We let the beauty of the mountains cover most of the decoration cost.
What was the biggest challenge in planning your mountain wedding and how did you overcome it?
We'd never done this before! For most brides, choosing dresses, food, theme, etc. can be a little overwhelming. Sometimes it's hard to know where to begin. With our three-month engagement and low budget, we had to ignore typical wedding checklists and just pay attention to what we truly cared about.
How did you find and choose your vendors?
This one is easy. We looked through our "favorites" in our contact lists.
We are blessed with extremely talented friends. The only vendor we used that wasn't a personal connection was our florist. To find her, I simply googled florists in Knoxville, TN and found one that The Knot recognized.
What is your best piece of advice to other mountain brides who are planning their weddings?
Find a dress you love and book a cabin that feels like home. Other than that, don't stress about the details. If your guest list consists of the people you love most and that love you the same, place cards, fancy cake, and metal forks don't really matter.
Smoky Mountain Wedding Vendors
Wedding Photography: Madeline Harper | Videography: Justin Wylie | Drone Videography: Kyle Dorsey |
"I love you more than tacos" sign – Sean Meloney – Inquire through Instagram (@shaloney) or [email protected] |
"Happily ever after" and "I have found the one" signs: Angie Poston | Hand-painted college logo corn hole boards – Pam Goodwin – Inquire through Instagram (@raeandroydesigns) | Dress Designer: Moonlight Bridal  |Dress Boutique: Blushing Bride |
Florals: Lisa Foster Floral Design