When Gretchen and Chris set out to plan their dreamy wedding in the Pacific Northwest, they had big dreams and even bigger expectations. They wanted a ceremony that would transport them to a magical wonderland where the trees were tall, the air was crisp, and everything felt just a bit dreamy. And boy, did they deliver!
It was a scene straight out of a romance novel, complete with blooming wildflowers, towering trees, and a love-struck couple. The result? A truly magical wedding that will live on in their memories for years to come.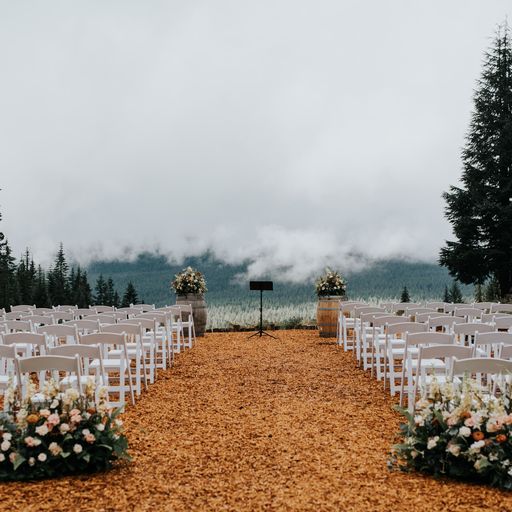 How did you meet?
We were introduced to each other via text message while the bride was out celebrating the birthday of a mutual friend at a brewery. Gretchen was sitting next to one of Chris' friends that she had never met. This friend suggested he might have a friend that would be a good match and decided to play matchmaker by starting a group text with between Chris and Gretchen. Eventually the whole table wanted in on the group text!
We weren't living in the same city at the time so we didn't meet in person until nearly 6 months later when our friends were hosting a summer barbecue. After a few failed attempts to meet for a first date, we eventually made it happen and the rest is history!
What is your proposal story?
On 9/1/2019, we had plans to wine taste at a local vineyard with some friends, who unfortunately had to cancel due to illness. Since it was a beautiful day, we still decided to go to anyways just the two of us to soak up the remaining bits of summer. Unbeknownst to Gretchen, Chris stuffed the ring in his pocket as they headed out.
As we ordered tasting flights, the host suggested we take a walk around the grounds and sample some grapes off the vine. When we returned to our table for our next tasting. the host suggested visiting the vineyard goats and dogs, so we ventured out for our second walk around the property.
After we finished our tastings, Chris suggested another walk down the main path in the vineyard. Gretchen questioned why he'd want to go on a third walk, but she was having such a good time that she obliged. At one point, Chris entered a row of grapes and picked one to taste. Gretchen followed suit and after she picked a grape, she turned around to see Chris knelt on one knee. He proceeded to ask Gretchen if she would marry him. Chris completely caught Gretchen off guard and successfully surprised her even better than she had hoped.
Tell us a little a bit about your wedding
We knew we wanted a wedding that was naturally beautiful so that we wouldn't need a ton of decoration. This was important to us for budget and sustainability reasons. We both grew up recreating on and around Mt Hood and have always been in awe of it's natural beauty – we loved how quintessentially Oregon it is! We wanted a wedding that was beautiful and elegant, but not stuffy. Having a fun wedding was a priority we kept in mind while planning. When we toured Mt. Hood Skibowl and saw the stunning views and experience our guests would get to enjoy, we knew it was the place we wanted to get married. At Skibowl, guests get to take the chairlift up to the ceremony site and then can either take the chairlift or ride the alpine slide back down to the reception!
Tell us about your attire choices.
For the most part, we wanted to err on the side of classic rather than super trendy. The bride chose a fitted lace dress with art deco details. I knew I wanted a dress that wouldn't be too cumbersome to fit into the alpine slide or on a chairlift! We knew we wanted earthy, natural tones with greenery and pops of color with pink gowns (Sedona and Desert Coral colors from David's Bridal) for the bridesmaids so we mirrored that in the groom's and groomsmen's ties. It worked well against their dark blue suits and brown shoes. As a fun touch, the groom and his groomsmen also wore playful socks with mountains on them.
What was the most important to the two of you while planning? Was there anything that you chose to splurge on or skip?
First, we knew we wanted a day-of coordinator, so we made sure to include that in the budget and we tell everyone we know it was the best money we spent! We also chose to splurge on food and beverages for the bulk of our budget. We skipped favors as we heard they're commonly left behind by guests and we keep decorations minimal. We relied on our amazing signage from The Scibblist to direct guests on the order of events, their seats, and the menu. But we kept paper products to a minimum – no programs on the seats at the ceremony, no individual menus at each place setting (which was easy since it was a buffet), and only used seating cards for the head table. Our invitations were also only one piece of paper and we had guests RSVP online, which we found worked best for us rather than having to track paper RSVPs.
What were your favorite parts of the day?
It was a great chance to finally celebrate after a year postponement and the pandemic.
We chose August because that's usually the best bet for good weather up at the mountain in Oregon. However, we woke up to drizzly rain and clouds. This unfortunately meant we didn't get the amazing mountain view background we had so hoped for. It also meant that taking a chairlift up to the first look location would've been a washout so we decided to punt and do it in the warming hut where the wedding party was getting ready before guests arrived. The wedding party all made their way outside and huddled under some shelter while we got to have our first look. We didn't know it but they could see our silhouettes from outside the cabin and when the groom turned around and kissed the bride, we heard the entire wedding party erupt in cheers outside. Such a good, fun moment even though it wasn't what we had originally envisioned for our first look.
The venue had to close the alpine slide due to the wet conditions, so we had to take the chairlift instead. We actually found this to be the most relaxing part of the day – we got a chance to soak up the moment and got 10-15 minutes together, just the two of us to reflect. It truly was the silver lining to the unusual wet weather.
Our DJ ended the night by playing "I've Had the Time of My Life" and we leaned into the Dirty Dancing theme by hoisting the best man up in the air. It was a great nightcap to a wonderful day!
Tell us about your wedding flowers.
We had stunning florals that were a great mix of neutrals and pops of color. We used them sparingly and our florist was great and helping us find ways to repurpose our ceremony florals at the reception. We wanted florals that would be in season and local to our area. The bride knew she wanted a large, bespoke style bouquet with romantic florals, fern (to fit the mountain vibe), and lots of texture and other greenery (such as eucalyptus). We really wanted the natural beauty of the mountain view behind us to be the main focus/centerpiece – joke's on us because we somehow got a cloudy, rainy day (in August)!
Tell us about your wedding cake.
Our two main requirements for our cake was something that was simple and beautiful in neutral colors, and also tasted delicious. The bride found images of an art deco fern motif online that complimented the art deco details on the bride's dress. This was the main inspiration and the baker was able to get the exact design so we went with a white cake and the fern motif in gold. The cake was 3 tiers with a different flavor for each tier – pumpkin with cream cheese filling, white cake with lemon curd and fresh berry filling, and German chocolate cake.
Please describe any DIY, handmade, or personal details.
Both of our moms worked together to create the veil – the groom's mom cut and sewed the edges of the fabric, while the bride's mother assembled the fabric on the comb. The bride's cousin's girlfriend handwrote the seating cards for the head table. The groom's sister plays the cello so we had her and her instructor play the entrance songs as the wedding party and bride walked down the aisle.
Did you include any family heirlooms or special traditions?
The bride's father passed away when she was a teenager. She wanted to represent him in some way on that day so she ordered photo bouquet charms from Etsy to tie to her bouquet that day. She also wore her father's wedding ring on her right hand that day as well to remember and honor him.
Do you have any advice for couples planning their weddings now?
Keep it simple! Your guests generally won't remember the minute details that weddings tend to have you fretting over. They'll remember the feeling of the day so make sure it's relaxed for them, provide them with clear direction, and give them plenty to eat and drink with good tunes to dance to! Also, remember to breathe – something will go wrong, but sometimes that can lead to the moments that you'll remember forever.
Credits
The below wedding pros made this amazing event happen. See more of their work by visiting their website.