First I want to say this was one of the most difficult weddings to curate this year! Swiss wedding photographer Sandra Marusic  sent over nearly 200 gorgeous, amazing, and perfect images from this wedding. It has taken me days to narrow them down to a mere 55 that I just HAD to share with you! So be sure to check out additional details and all around gorgeousness on her BLOG. Second, be sure to stop back by later this afternoon for Part Two of this delightful Swiss Mountain Wedding!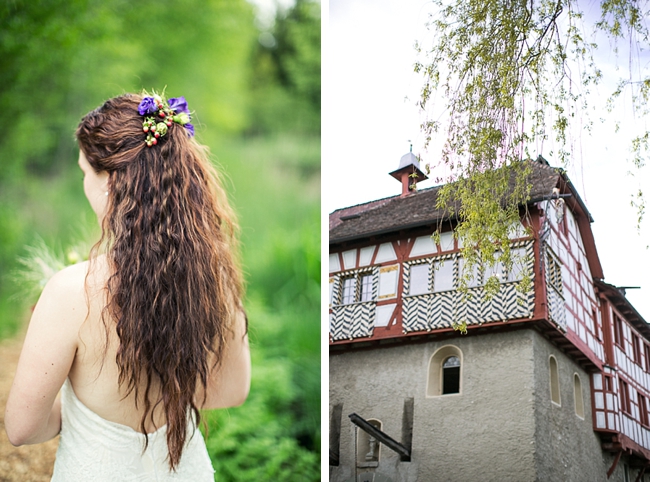 Why a Mountain Wedding?
We definitely wanted to get married outdoors, because we are both very much connected to nature and for our big day a church didn't mean as much. Due to the fact that we live in Switzerland it was an obvious choice to have a wedding at the foothills of the Alps.
Where did you find your inspiration?
In the summer of 2012 a couple with who we are friends with got married and we were part of the organising team. We visited a farm house to get relief supplies and Philipp got inspired by the location and the surrounding views. He therefore suggested this location to be the place for the wedding ceremony and reception.
What were some personal details you incorporated?
Your favorite moment of the day.
For me as a bride, the worship was the goosebumps moment. But the feeling i got when I was walking towards Philipp was also amazing. The ride with the car and the photo shoot were fantastic moments; just the two of us, without any stress – pure enjoyment.
Anything you're glad you did.
We took a big risk with our outdoor wedding. If you knew that in this week the weather was only nice on one day, the saturday at "pfingsten" it's even more impressive that things worked out exactly how we imagined them. We are more than happy that the weather forecast didn't scare us and we just let it happen by HIM. He blessed our trust!
Anything you wish you hadn't done?
It would have been worth it to have made some little changes for the reception or to force the groom to go to the hairdressers.
What was the best piece of wedding advice you got?
The best advice we've got was that we didn't need to do work or organise things, but had the right people around us taking responsibility for things. That's why we could just enjoy and we didn't need to worry at all.
What piece of wedding planing advice do you wish you followed?
To not take so many group pictures
How did you choose your vendors?
The florist and the make up artist were friends of ours and the photographer now too! ;) The wedding dress we (my mom and I) saw at a wedding fair, the suit was sponsored by a friend, who has an online suit shop.
What is your very best advice to other mountain brides?
Have a back up plan if there is the possibility of bad weather. Take sun cream with you and something to wear on top of your shoulders. Comfortable shoes to walk in as well as soft grounds. Be prepared for everything -anything can happen outdoors!
Swiss Alps Wedding Vendors
I just can't get enough of that Baumstamm Sägen (Log sawing) – I Swiss German tradition, the couple saws a log in half right after the wedding ceremony to symbolize the first tough tasks of their marriage and what they can accomplish together. How lovely is that? Sometimes the best details are the ones rooted in tradition and symbolism. What's your favorite detail?