A few years ago, I bought the Epson Artisan-830 and loved the print quality. I used it often in my home office, but was disappointed one day when I tried to make custom menus for a wedding inspiration shoot and found that the regular paper tray would not accommodate card stock. Still, I loved the print quality and all-in-one functionality of my printer. I used it often in my home office, even though I couldn't use it for my crafts.
Flash forward to 2016 and Epson released it's newest Premium XP-830 Small-in-One® printer — a beautiful, compact, all-in-one printer with a back feeder for card stock. In other words, the already awesome home office workhorse can now also be used in crafting.
Check out this Watercolour Wedding Suite I printed out. The colors are bright and true and the printing is crisp, even with the smaller and thinner fonts.
Pros:
The Epson XP-830 features a number of advantages, the best being that it can function as an all in one home office work horse and help with craft projects and DIY printing. This means that if you make the investment for your wedding invitations, you have an awesome home office tool for scanning, printing and even faxing (if you still do that kind of thing). Also, if you're a crafter like me,  you get beautiful printing for your next batch of labels and tags for homemade and home bakes goods or gorgeous custom birthday and holiday cards if cards are your thing.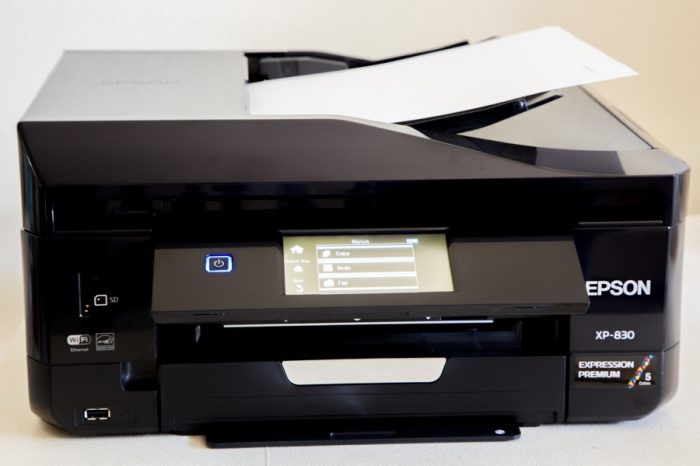 GORGEOUS printing. Looks professionally done with beautiful colors and crisp printing, even with smaller fonts.
Finally! A back feeder for smaller, custom paper sizes (like RSVP cards and menus) and thicker card stock. This is especially great for wedding invitations, ceremony programs and reception paperie like tables numbers and menus.
It's small and compact.
It's useful for all office and crafting needs.
Borderless printing on standard paper sizes.
Wireless, so you can set it up anywhere in your craft room or home.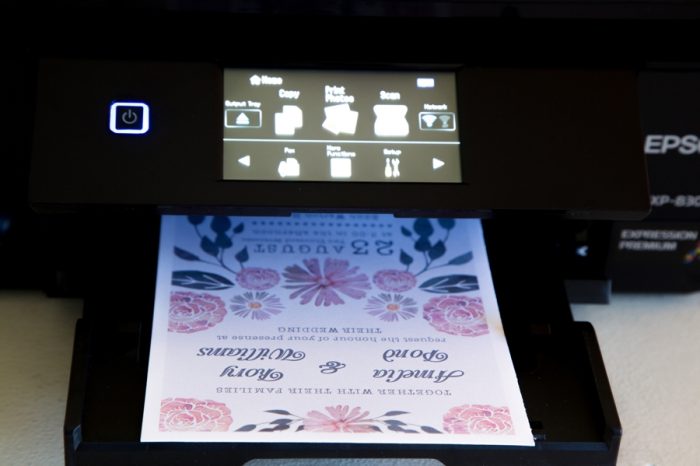 Cons
Nothing is perfect. And while I recommend Epson in general and am thrilled with this newer model with the back feeder, I did find some trade offs. Most of the disadvantages are minor and are likely due to the compact size of the machine.
Document feeder only accommodates 30 pages, so if you're doing larger projects, you'll have to refill the paper often.
When the output tray is open and the paper runs out, it's awkward to get to the paper tray at the front of the device to load more paper.
Rear document feeder only takes one piece of specialty paper at a time and you have to wait for a prompt to load it. This took me a while to figure out. At first I was frustrated that I would load the paper in the back and it would just feed through without printing. The friendly guy at Epson tech support told be to wait for the prompt on the printer's screen to load the paper.
Borderless printing only works on known sizes. It will not work on custom sizes. This isn't too big a draw back as I recommend printing on paper a quarter to a half an inch larger on all sides and then trim the paper down to exact, full-bleed measurements.
Tips:
I'll be honest, as with any new device, there was a learning curve with the Epson XP-830. On the one and, you can just plug it it, set up the wifi and start printing and scanning documents on standard 8.5″ x 11″ sheets of paper. On the other hand, if you're like me, and you have a bunch of specialty printing on non-standard paper sizes, it will take some time an effort to set up your printing properly. Here are some tips to get you started:
Test your designs on scrap paper.
Make sure your resolution is set to 300 ppi for crisp lines and fonts.
In theprint dialogue box,  choose the option to have your printer handle the color profile.
Set paper size to 1/4 to 1/2 inch larger that the canvas size and trim down for a "borderless printing" look
For smaller pieces, you may have to rotate the image you can print with the paper feeding the short edge first
Take some time to play around with how your design software talks to the printer and pay attention to boarders, which side prints up, etc.
Keep following Mountainside Bride for our 6-month series of DIY Wedding Crafts with the Epson XP-830
Find Printable Wedding Stationery
I loved the professional print quality I got from this little printer. Here are a few resources I love for finding beautiful, printable wedding stationery: