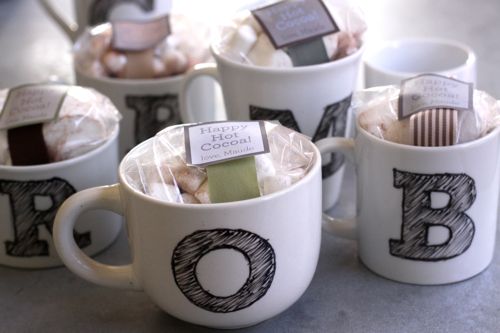 These DIY monogrammed mugs are inexpensive and relatively easy to make, but oh so cute and lovely! Perfect for guest favors/ escort cards. I think hot chocolate is a great guest favor for mountain weddings most of the time. Even summer nights in the mountains can get chilly. And let's face it, in the west, winter hangs on until Memorial Day some times. I've skied on the Fourth of July most of the years I've lived in Mammoth Lakes. In fact, it's still cold and snowy in the mountains, and it could stay this way well into when the rest of the country enjoys spring.
Step 1: Find a Bunch of Thrift Mugs
Get some thrift store mugs, find a cool, free font, and transfer the font onto your mug with graphite transfer paper, Black Pebeo Porcelaine Pen. You don't need to be an extraordinary artist, but you do need time.
Step 2: Print out Font and Transfer to Mug
Try to find a messy or imperfect font. That way, you don;t have to worry too much about being perfect yourself. Something like Urban Sketch or Quid Pro Quo. Print out big-assed versions of the first letter of each of your guests and transfer it onto the mug by sandwiching graphite paper between your print out and the mug. Trace the font with a pen to transfer the design.
Step 3: Draw in Your Monogram with the Black Pebeo Porcelaine Pen
Remove the graphite and trace over the impression with a Black Pebeo Porcelaine Pen. This is where a messy font is key. You can have an imperfect hand made look. Unless you're an exceptional artist, don't try to re-create a fancy, scripted font. It will likely end up looking amateurish and crappy. If you make a mess with a messy font, it will look hip, and cool in a handmade way.
Step 4-6: Sit, Bake, Wipe, and Fill
Let the mugs sit for 24 hours then bake them. Wipe the graphite off after baking and fill with hot chocolate bags/escort cards.
☛ Find complete instructions and more step-by-step images here
Hindsight Tips from a DIY Bride (me!):
Start gathering thrift store mugs early.
Create the mugs in stages. Do ten at a time a couple times a week.
Or, have a big DIY party with your 'maids.
Same goes for the hot chocolate bags, do this step in stages. Establish a daily or weekly quota.

OOOOOOORRR, you can simply place an escort card in the mug.

This can be a big project for a large wedding reception. If you're already DIY-ing a million other things, you may want to pass on this project.