Martina and Oskar's midsummer wedding at the Restaurant Alte Schule in Ferlach, Austria was a heartfelt fete where friends and family not only joined the celebration, but they also came together to help the couple create their wedding. Family and friends came together to create every sweet detail, from the handpicked florals to the sweets and treats. These self-proclaimed foodies served handcrafted coffee to their guests along with simple but delicious wedding cake. While it was a simple wedding, it was also quite pretty and Theresa Pewal artfully captured every sweet detail.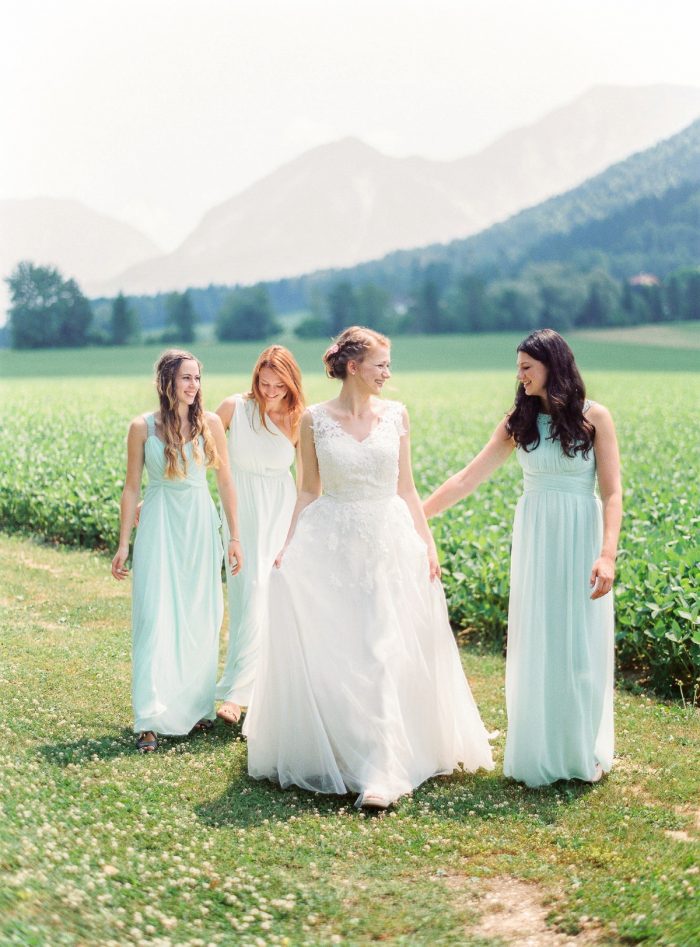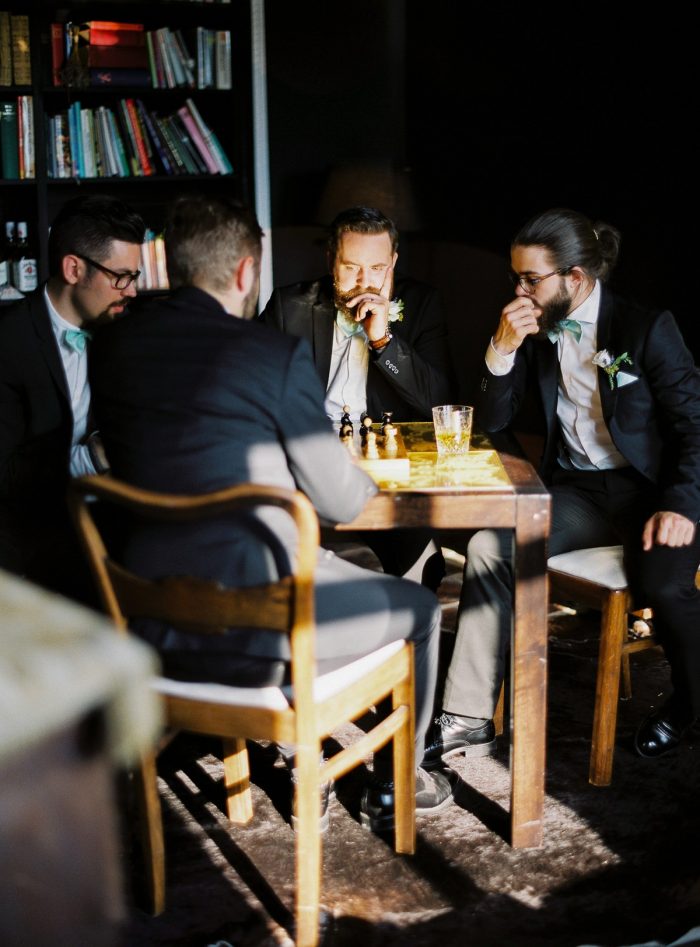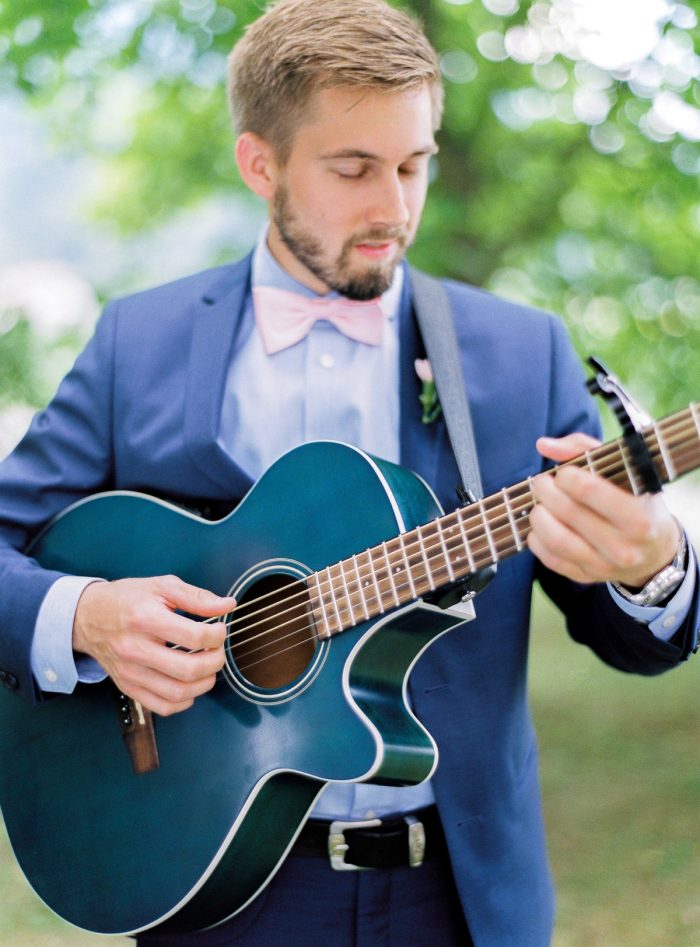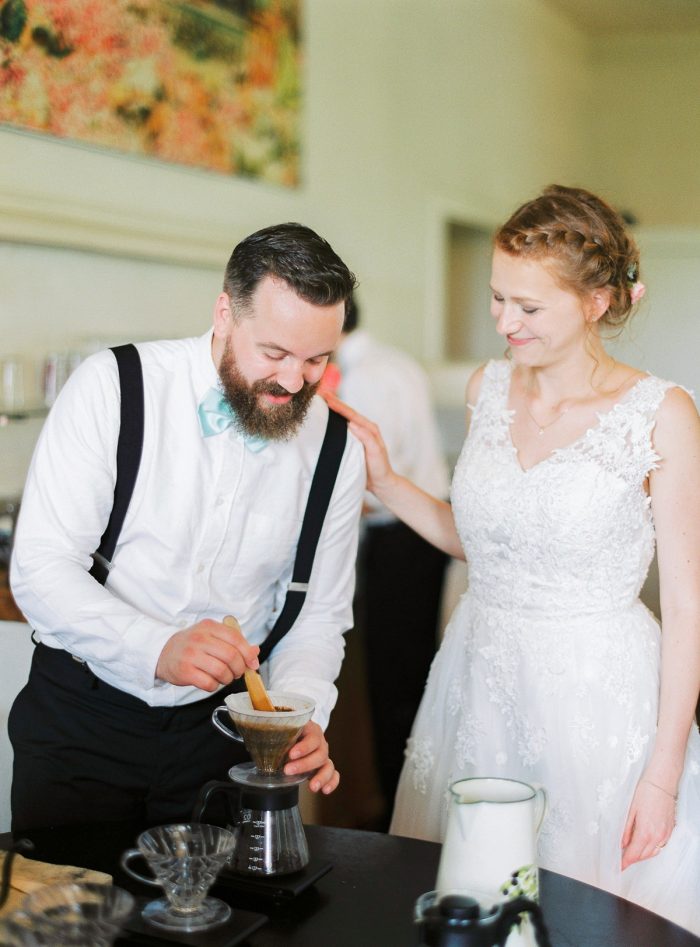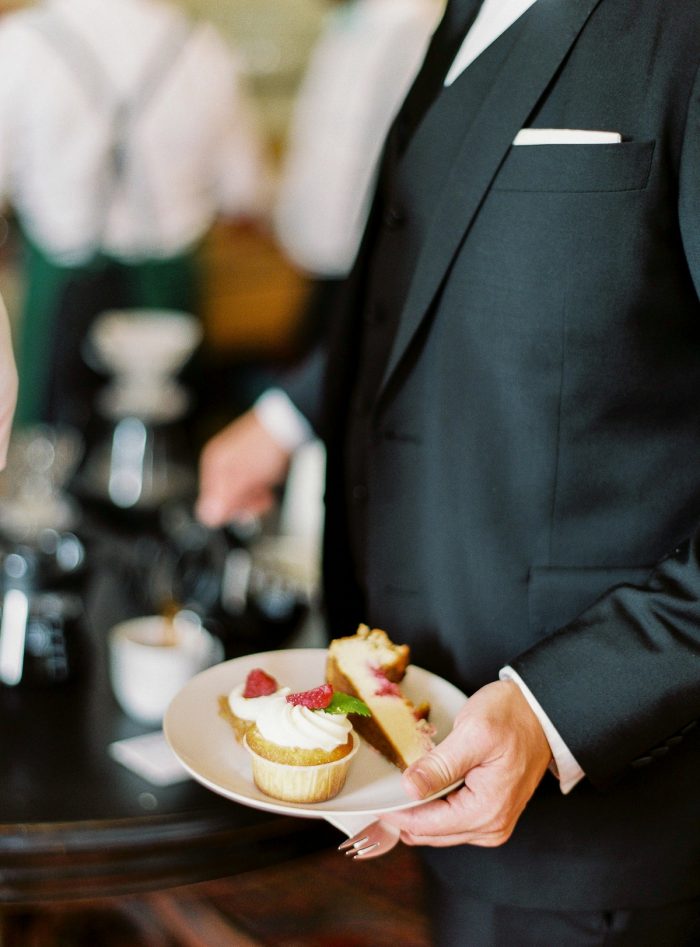 Martina + Oskar
Restaurant Alte Schule, Ferlach in Austria
June 2017 (the Swedish midsummer)

Wedding day weather:
It was very hot. It was around 30°C and sometimes a lite stormy but that was quite refreshing
Number of guests: 56
Your budget: 8,000 Euro
Biggest splurge:
The Food at the Location! My husband and I love to eat. But it has to be of good quality so it was really important to us to also serve something special to our guests because we wanted them to remember the awesome food we had and we felt like we really want to eat good food on our special day! The location serves locally grown and mostly organic dishes. Everything was delicious and the guests were super happy. We paid quite much for it but it was totally worth it :)
Biggest savings:
Everything except for the Food ;) Hard to say where we saved the most money but we basically tried to do almost everything by ourselves. Our families helped us a lot with decoration, flowers, the wedding cake and so on. It´s important to figure out together, what really matters to you two and what not. Out came that we care about food, location, and the wedding pictures the most. But it doesn't feel like we chose cheaper stuff instead. It just became really really personal since it was family and friends who supported us and helped us with their time and resources.
Why did you choose the Mountains for your wedding?
I'm from Austria and my dad has a farm in the middle of nowhere so I feel literally at home in the mountains. Now I live in Stockholm, the capital of Scandinavia how the Swedes like to call it. Oskar is Swedish and he wanted to get married in Stockholm, his hometown, but my heart was just longing for a cozy and private wedding in Austria. I'm so happy that we actually made it happen though it was tough to plan a wedding when you're not actually there.
Wedding day theme:
It was our "midsummer wedding" since we chose the 24th of June which is midsummer in Sweden. We wanted to mix the Swedish and Austrian culture a little so we basically tried to have an original Swedish midsummer party in Austria.
Where did you find your inspiration?
Some Pinterest, some blogs to get tips on DIY but I got lots of inspiration by researching the Swedish midsummer festivities.
How did you choose to personalize your wedding?
My mum secretly hung up pictures all over the location. I was walking around just finding familiar pictures of me and my family that usually are hanging at home in the living room, I loved it.
What was your favorite part of the reception?
I think I can not name only one. I loved everything. Right after the ceremony, we had a little buffet. So everyone would grab a snack, sit down in the garden and just enjoy the cozy afternoon with Swedish and Austrian fun activities like making your own midsummer wreath with flowers we picked the day before.
What are three things you're super glad you did?
My barista husband and his friends which all are baristas (which is awesome) were brewing the coffee for the Swedish "Fika". We were unsure if he as the groom would find time for it but it was really personal and everyone enjoyed it, he did as well.
We made the gifts for the guests ourselves. It was lots of work and took so much planning but it became one of my favorite things about the wedding.
The amount of work we put into it felt unnecessary when being right in the process but I'm so glad we went the extra mile and made it our very special day :)
Anything you wished you hadn't worried about?
I worried about everything, haha.
I noticed that it actually is quite important what the bride and the groom wants. Sometimes I didn't give clear and detailed information on how I wanted certain things to be.
What was the biggest challenge in planning your mountain wedding and how did you overcome it?
The biggest challenge was to plan our wedding from another country and we planned to fly to Austria ten days before the wedding day. It was tough to plan every little detail with the location manager just via skype and having seen the location only once. We had to wait with making most of the decoration until just before the wedding. But I tried to organize everything as early as possible and as detailed as possible so that others can help me with the realization.
How did you find and choose your vendors?
I checked out websites and asked people who know the area. Our location was really popular but still, not everyone knew about it so it but still be special :)
What is your best piece of advice to other mountain brides who are planning their weddings?
Make sure you and your fiancé are on the same page and keep each other updated during the wedding planning. Don't forget that it really is just YOUR day and the most important thing is that you and your better half can enjoy this day to the fullest.
Austrian Wedding Vendors
Photographer: Theresa Pewal | Florist: DIY by sister of Groom | Baker: Bride's Sister | Officiant: | Venue: Restaurant Alte Schule  | Stationery: DIY by Bride | Wedding Rings: Josefin Cummings | Groom's Attire: Tiger of Sweden