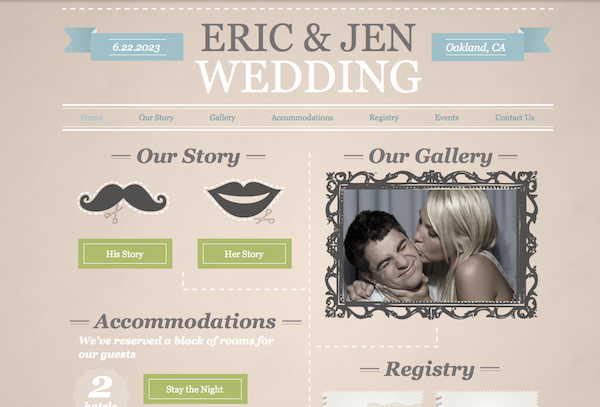 Welcome to the second installment of Build  your Wedding Website the right way.
Wedding websites have become such an important part of sharing valuable information with your guests, that I've teamed up with Wix.com to offer your a series of how to videos that will teach you to build your wedding website the right way.
Last week we discussed organizing your information and finding inspiration. This week we'll find a template and upload all information we organized last week.
If you haven't already, go sign up for a free account on Wix. The process is super simple. Just enter your email address and chosen password in the sign up field and you will receive an email with your login information.
By now you should at least have a list of what pages will go into your wedding website. Let's find a pretty template that pulls everything together.
Choosing the Right Template for Your Wedding Website
Step 1: Click on "Create Site Button"
  Wix's user interface is easy and intuitive. To start building your wedding website, simply log-in and click on the "Create Website" button.
Step 2: Navigate to the Weddings and Engagement Galleries

Go the left sidebar, click "Personal" >>"Weddings & Engagement." Here you'll find plenty of website templates that are good-to-go right out of the box. If you see a template that is perfect as-is, go ahead and select it. Otherwise, don't worry, all of Wix templates are super easy to modify! You can change the color, layout, and content without having to know code!
Step 3. Choose the Right template for your goals and content

Don't worry about the design or color scheme right now. What you're looking for in a template is its basic layout. Pay attention to what each layout highlights and emphasizes. Each layout will emphasize something different. You may want to have a big slideshow showing the progression of your relationship together, you may want to highlight your engagement story, or you may want guests to easily access travel and event info. As you look at each template, ask yourself, what content do I have that will go on each page and in each content element. Use the content you already have as your guide.
Step 4 Add or Delete Pages as Necessary
To add and delete pages, use the handy page editor, located in the upper left hand corner. Hover over the icon that looks like a page to reveal the page editor menu.
Watch this short how-to video for details
[vimeo]http://vimeo.com/59461490[/vimeo]
Once you've chosen your template, start adding all of your content. Don't worry about customization just yet. We'll do that after everything else is in place.
Next week, we'll get to know the Wix editor and customize the template.