Tying the knot in the beautiful Blue Ridge Mountains? Yeah, that's a picture-perfect recipe for romance already — but when you add a little British architectural flair to the mix, it becomes downright magical! If your idea of "tying the knot" includes lush vistas and romantic cobblestones beneath your feet, then take heart: no matter how far away London and its world-renowned buildings may sound to you, British architecture can still be part of your special day. We've got all the tips you need on throwing an unforgettable British-inspired wedding in this very American setting. Let's explore just what makes a classic English style suitable for mountaintop nuptials and get ready for some major dreamy vibes!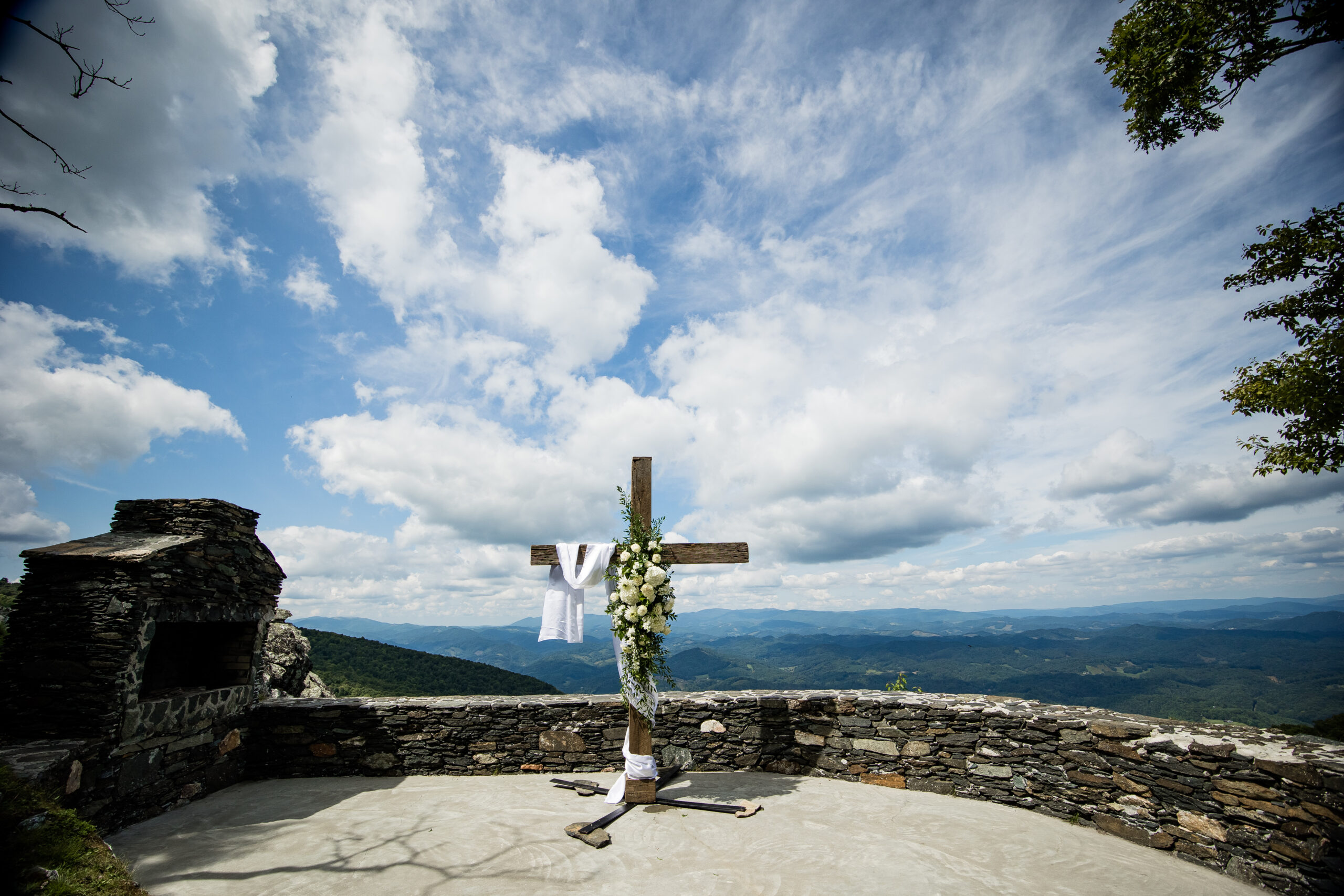 How did you meet?
Jasmin and Ryan met at a Veterans Dinner hosted at the Charlotte City Club. Ryan was standing in the Hornets Nest (grill area) with a friend, when a fellow member named Jim walked up with Jasmin and another friend named Rick. Almost immediately after introductions, the dinner bell rang, and everyone hurried to the Queen Charlotte Dining Room. After dinner and the festivities, many of the event's participants congregated in the cigar lounge. This is where Jasmin and Ryan were able to finally engage in conversation. They talked about their mutual interests in jazz, hunting, and travel among other things. After some time, Ryan suggested they go do some of these things together, and so they exchanged information. One week later, the two of them went on their first date and have been together ever since…
What is your proposal story?
After dating for 2 years, Ryan told Jasmin that he wanted to take her on a surprise trip to get away from the hustle and bustle of their busy lives. He booked a trip for them to head to Lake Lure, North Carolina for a weekend of rest and reprieve. During their first year of dating, Ryan had gotten Jasmin golf lessons, so the couple had an early morning tee time scheduled for that Saturday at Rumbling Bald Golf Resort. As they were finishing the 18th hole, Ryan finished his last putt just before Jasmin, and walked behind her before her last putt. After Jasmin drained her putt, she turned around and there Ryan was on bended knee asking her for her hand in marriage. As soon as she said "Yes", the Rumbling Bald Resort's Restaurant GM came out from behind a structure with champagne and glasses in hand, and Jasmin and Ryan's friend and photographer, Patrick Hood of Patrick Hood Photography was there to capture it all. To Jasmin's surprise, Patrick had been taking photos and video of the entire proposal.
Tell us a little a bit about your wedding.
Fast forward to their wedding day, September 4th , 2021, the couple shared their very personal vows in front of 150+ of their closest family and friends at Twickenham House & Hall on top of Phoenix Mountain overlooking a valley and the Blue Ridge Mountains. Regarding fashion, we wanted to design classic looks that were both modern and timeless, that paid homage to the British-styled architecture and grounds of Twickenham House & Hall. This was an event unique unto itself, due to foundational ties to Jasmin & Ryan's passions and heritage. These harken back to how the couple immediately fell in love with their venue, Twickenham House & Hall. Jasmin had always wanted to get married outside and her love for hiking and mountain biking in the great outdoors played a huge role. Ryan, being born and raised in North Carolina, and loving the Blue Ridge Mountains played a major factor as well. Additionally, Ryan's mother's and her side of his family is from Guyana, South America, which used to be a part of the British empire. And, Jasmin & Ryan love classic British architecture, so they were immediately drawn to the buildings and grounds at Twickenham House & Hall.
Tell us about your attire choices.
Regarding fashion, we wanted to design classic looks that were both modern and timeless, that paid homage to the British-styled architecture and grounds of Twickenham House & Hall. Jasmin wore an elegant but modern dress, named the Delphine, from London-based designer Susanne Neville. The bride's veil was equally a mix of traditional and modern flare from Ladies of Lineage, a women's bridal boutique located in Charlotte, NC. Her shoes were from Badgley Mishka. Ryan decided to wear a tuxedo from Nyoni Couture in Charlotte, NC. Having befriended the celebrity designer years ago, Nyoni provided a tailored tuxedo made in Italy, with a little wider shawl lapel. This tuxedo was matched with a shirt and studs by David Donahue, and four-leaf clover cufflinks to pay tribute to Jasmin being an alumnus of the University of Notre Dame. The groomsmen were outfitted in black tuxes from the TheBlackTux.com. With shawl collars, white shirts, and not a cummerbund in sight to create a simple and clean look with unobstructed lines. The bridesmaids dresses were a classic navy blue, (blue are both Jasmin and Ryan's favorite color). The groomsmen wore equally as  fitted traditional black tuxedos (selected from the BlackTux.com) 
What was the most important to the two of you while planning? Was there anything that you chose to splurge on or skip?
We wanted our wedding to be a blending of who we both are as individuals but also more importantly, to be reflective of who we are as a couple. Jasmin being a lover of the outdoors and all that comes with it; hiking, camping, hunting, etc. and Ryan also being a lover of the outdoors but also of history, tradition and heritage, they decided that an outdoor setting in the mountains for their ceremony was the most important aspect. Additionally, we chose to splurge on the photographer, flowers, and the music (both pre-ceremony band) as well as for the reception DJ to ensure that our friends and family experienced the love, warmth, and joy that we feel so strongly for one another. We wanted the emotion to slowly build as the day unfolded, starting with a warm, intimate and prayerful ceremony to a cocktail hour where the relaxing but upbeat music reinforced the joyful ambience as their guests sipped on great wine, cocktails and fellowship, to a full-on reception full of excitement, tons of dancing and lots of laughter.
What were your favorite parts of the day?
Our most favorite parts of the day were the first touch, our very personal and intimate vows and the fantastic speeches given by the MOH, the Best Man, the Guest of Honor, sibling speeches and also a speech and prayer given by Ryan's 97 year-old grandfather! We chose to do a personal touch instead of a first look in order to preserve the very special moment that Ryan would see Jasmin in her dress to be the same moment that their guests would. Additionally, we wanted to use the personal touch as an opportunity for us to read our Wedding Day letters and our favorite Bible versus to one another. Lastly, Ryan writes poetry – but had never shared his poetry with Jasmin all throughout their dating (despite her many requests). But then on their wedding day, he surprised Jasmin with his his special vows, written as a poem, bringing her (and many of their guests) to tears. It was a special moment that both of them will remember the rest of their lives.
Tell us about your wedding flowers.
Bridal Bouquet: Round, large & traditional. Bouquet was all white with coordinating dark greenery to define the individual flowers more and bouquet was wrapped in white satin. Flowers used were hydrangeas (bride's favorite flower), moonstone stone roses, white roses, football mums, stock and teacup roses. We wanted dark greenery to pay homage to the landscape and mountains that we were surrounded by.
Jasmin's kind request for bouquet: No babies breath. No filler. No carnations.
Flower crown for flower girl: Crown was coordinating light spray roses around & light airy greenery
Ring bearer: Petite single teacup rose
Groomsman, Father of the Bride, Father of the Groom, Pastor, and male honorary Guest: Double teacup rose
Groom: Larger full rose
Altar Arrangements: Large spray on the satin-draped cross was straight up and down at the center of the upper cross. Spray was a mixture of coordinating white flowers and dark greenery.
Table Centerpieces: Used silver chargers and alternating (8) tall trumpet floral arrangements on long farm tables using tall trumpet vases. Sprinkling bridesmaid bouquets in between tall arrangements in tall Cylinders. Arrangements were beautiful dark greenery with accents of coordinating white flowers and small mercury vase arrangements with round mound of flowers atop vases. Flowers were white hydrangeas (the bride's favorite flower) and greenery accents.
Head Table: Cylinder vases in a variety of sizes clustered together with floating candles & a variety of greenery lightly accenting cylinders down length of table.
Tell us about your wedding cake.
Our wedding cake was an elegant, classic, cake that was a blend of both Ryan and Jasmin's favorite touches. The cake was a three-tier wedding cake with vanilla buttercream icing (Jasmin's favorite) and raspberry coulis (the groom's favorite) in between each layer. The cake was adorned with a satin, navy  blue ribbon (the wedding color) on the bottom tier and elegant pearls (made with icing) all around. The cake embodied both a stately touch (Ryan) and a feminine touch (Jasmin) at the same time. 
What did you do for favors?
Nothing Bundt Cakes mini-cakes each individually tied with a message that read 'We wish you nothing bundt love. Thank you for celebrating our special day with us.' Love, Ryan and Jasmin
Ryan and Jasmin love Nothing Bundt Cakes and wanted to send their guests off with something that was edible that they could eat after a long night of celebration as they headed back down the mountain.
Did you include any family heirlooms or special traditions?
Jasmin was born in Germany when her father was there working on business. Her mother had lived in Germany a few times throughout her life and the country has always has had a special meaning to her (including being Jasmin's birth place). There is a German wedding tradition where the couple is supposed to drink from the same cup at their wedding reception and the tale goes that whoever finishes first rules the household. Prompted and led by her MOH and Jasmin's brother, Jasmin and Ryan followed the tradition –nevertheless, Jasmin won the race!
Do you have any advice for couples planning their weddings now?
Be sure to think deeply about who you are as individuals and what you also represent (or what you want to represent) together as a couple. Starting there, will be a great way to start brainstorming of what your perfect wedding day will look like and one that you both will be happy with. A wedding is supposed to be a representation of the blending of two people's lives into one. If you both keep that in mind throughout the entire planning process from start-to-finish, your ceremony will be one that is not only unique to you, but also one that you both will enjoy, love and cherish for the rest of your lives.
Post contains affiliate links
Credits
The below wedding pros made this amazing event happen. See more of their work by visiting their website.