Megan and Andrew hiked to their favorite spot on Mount Hood to exchange their vows in a private mountain ceremony with Andrew's best friend officiating and Megan's best friend capturing the photos. They said "I do," drank champagne and scotch, and had a private celebration and first dance on the mountain. Following this, they hiked back down to celebrate with their closest friends and family with champagne and sweet bites in a beautiful woodland setting. This day is truly how to do an intimate elopement the right way, with an emphasis on special details that have an important meaning in the couples' lives!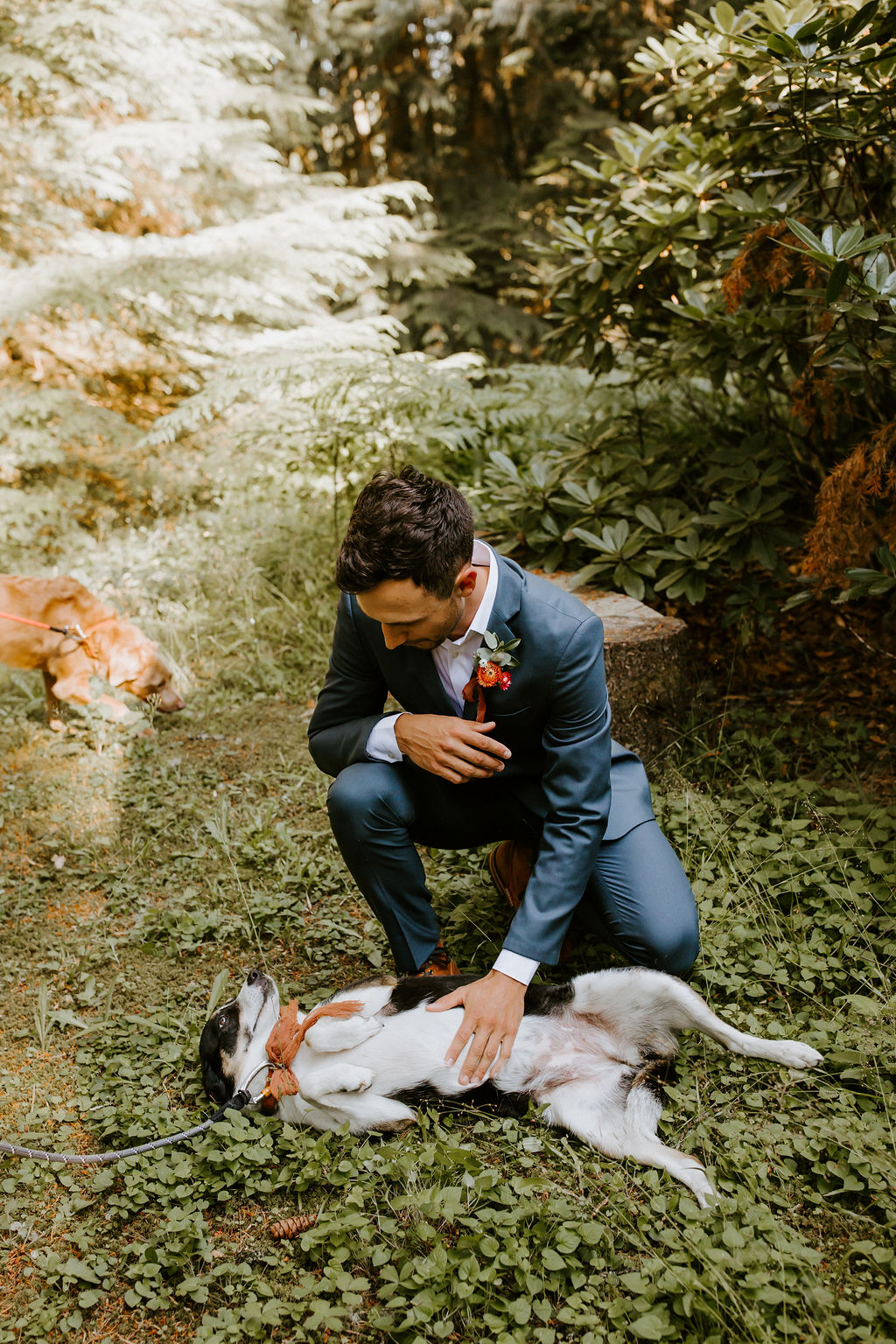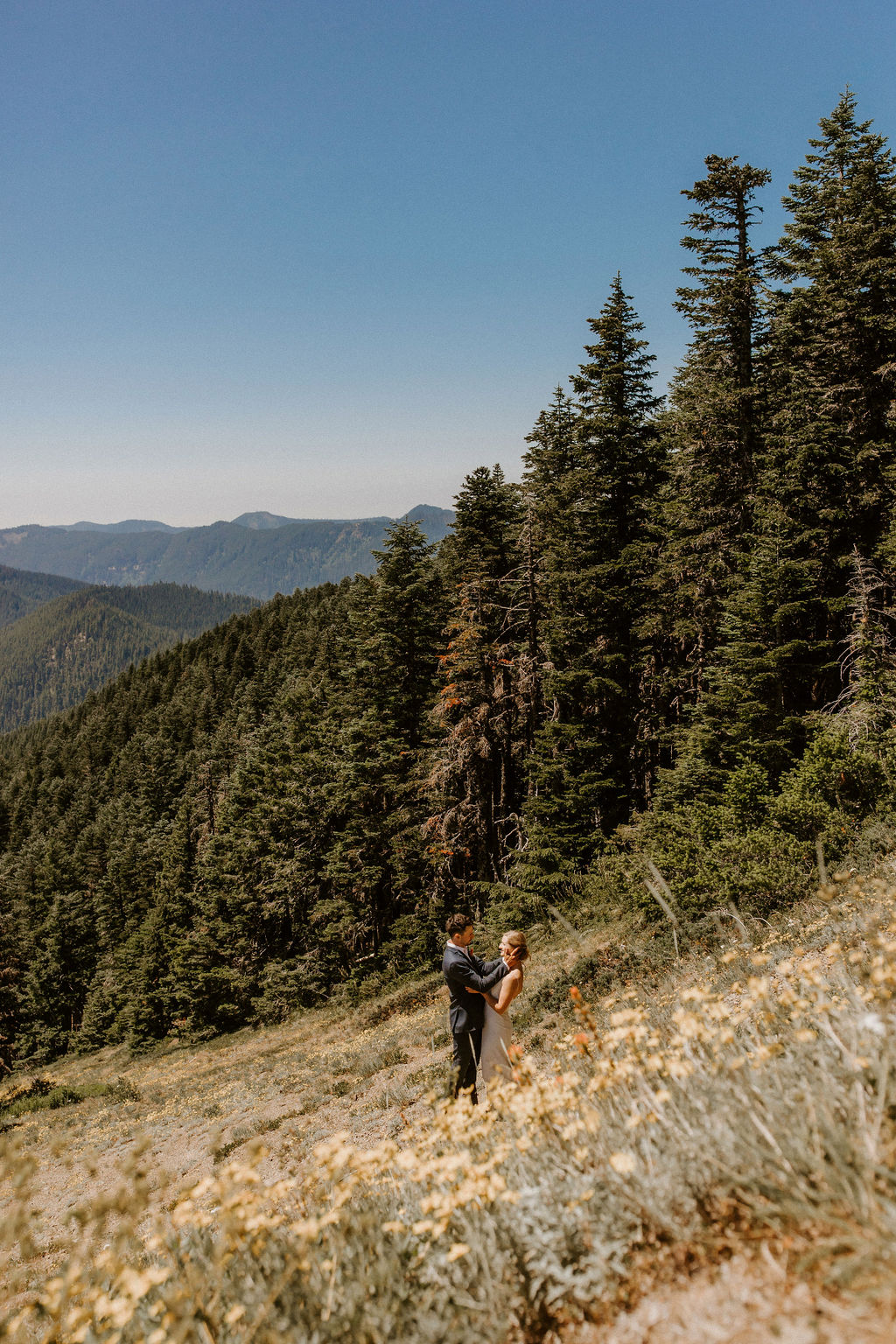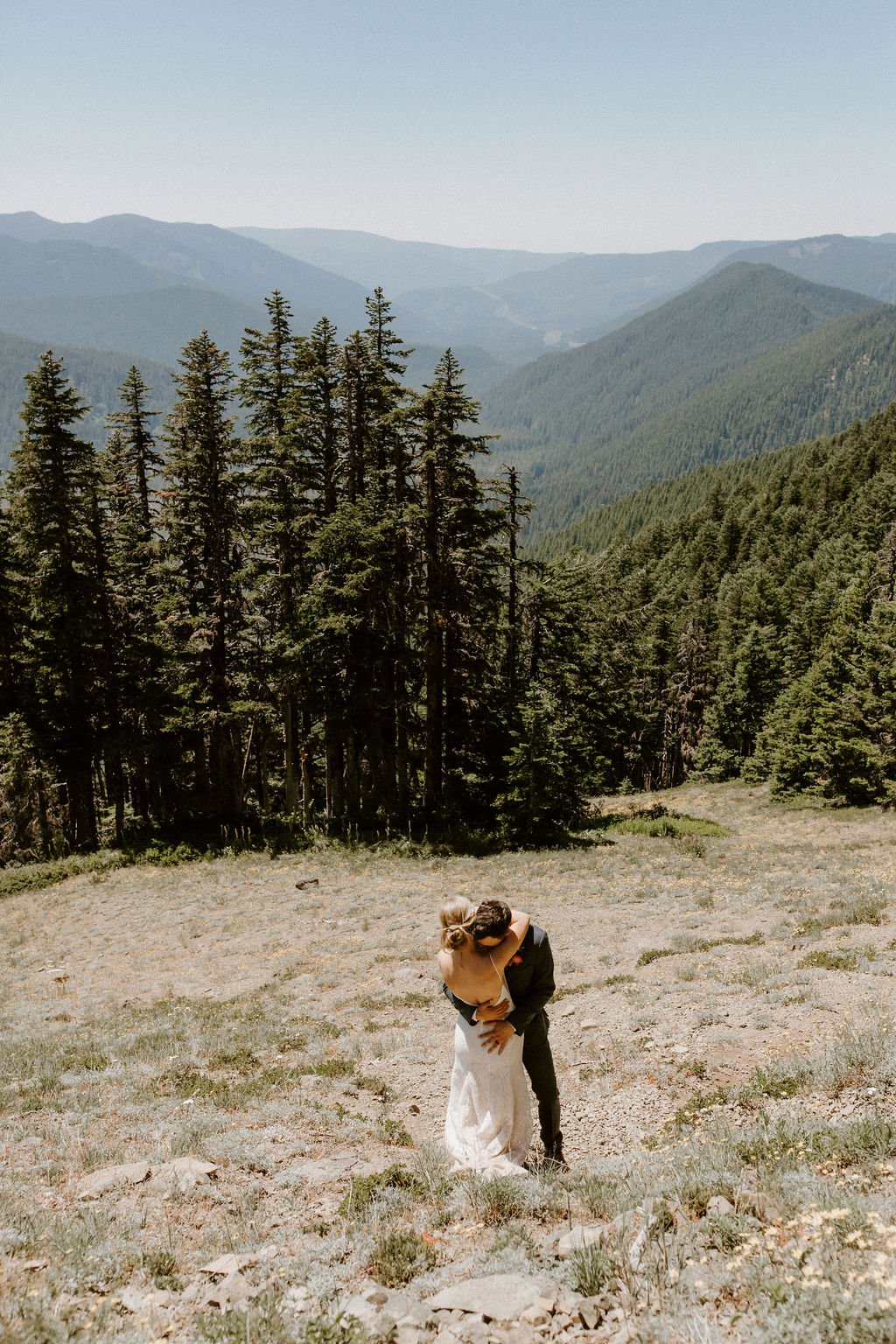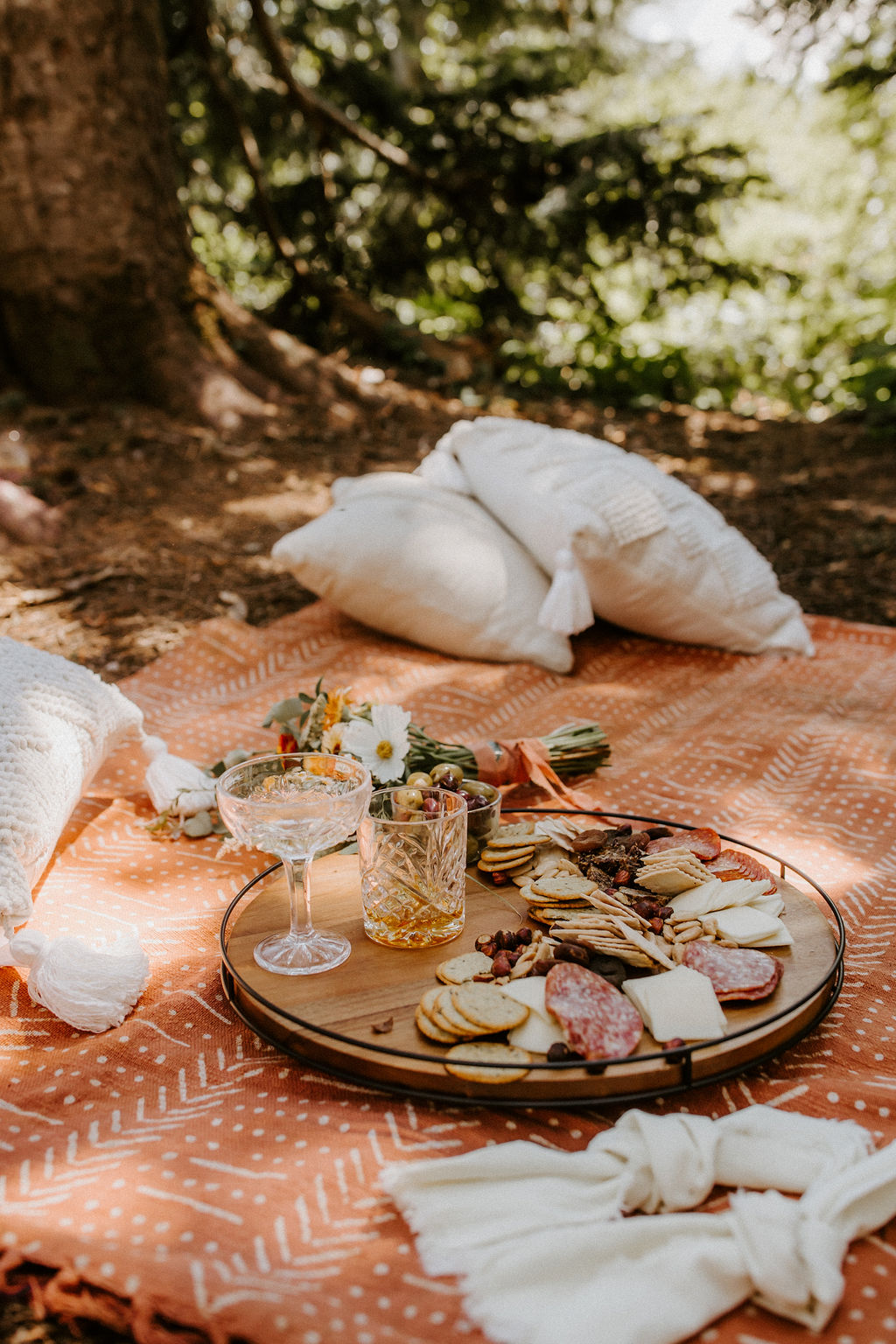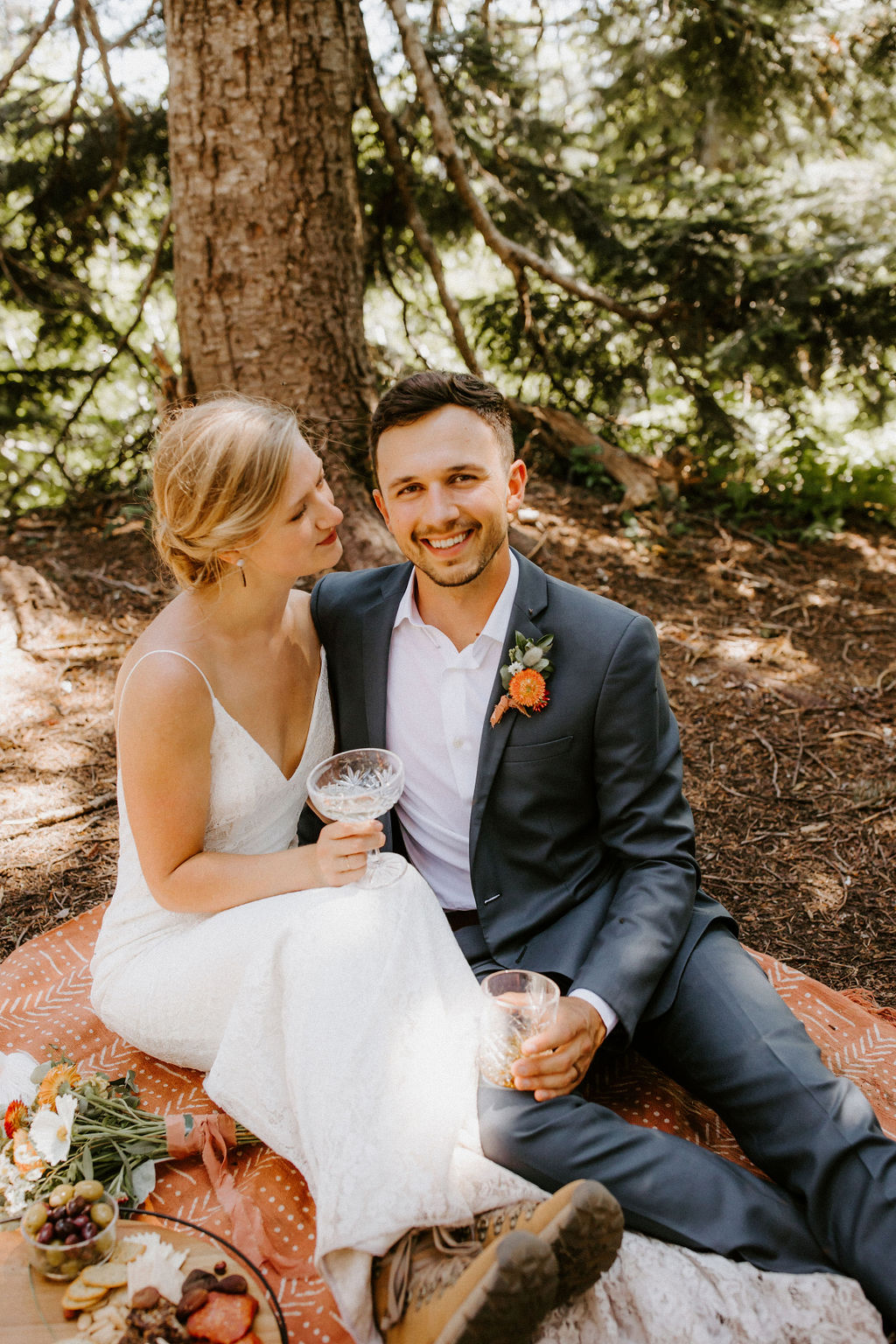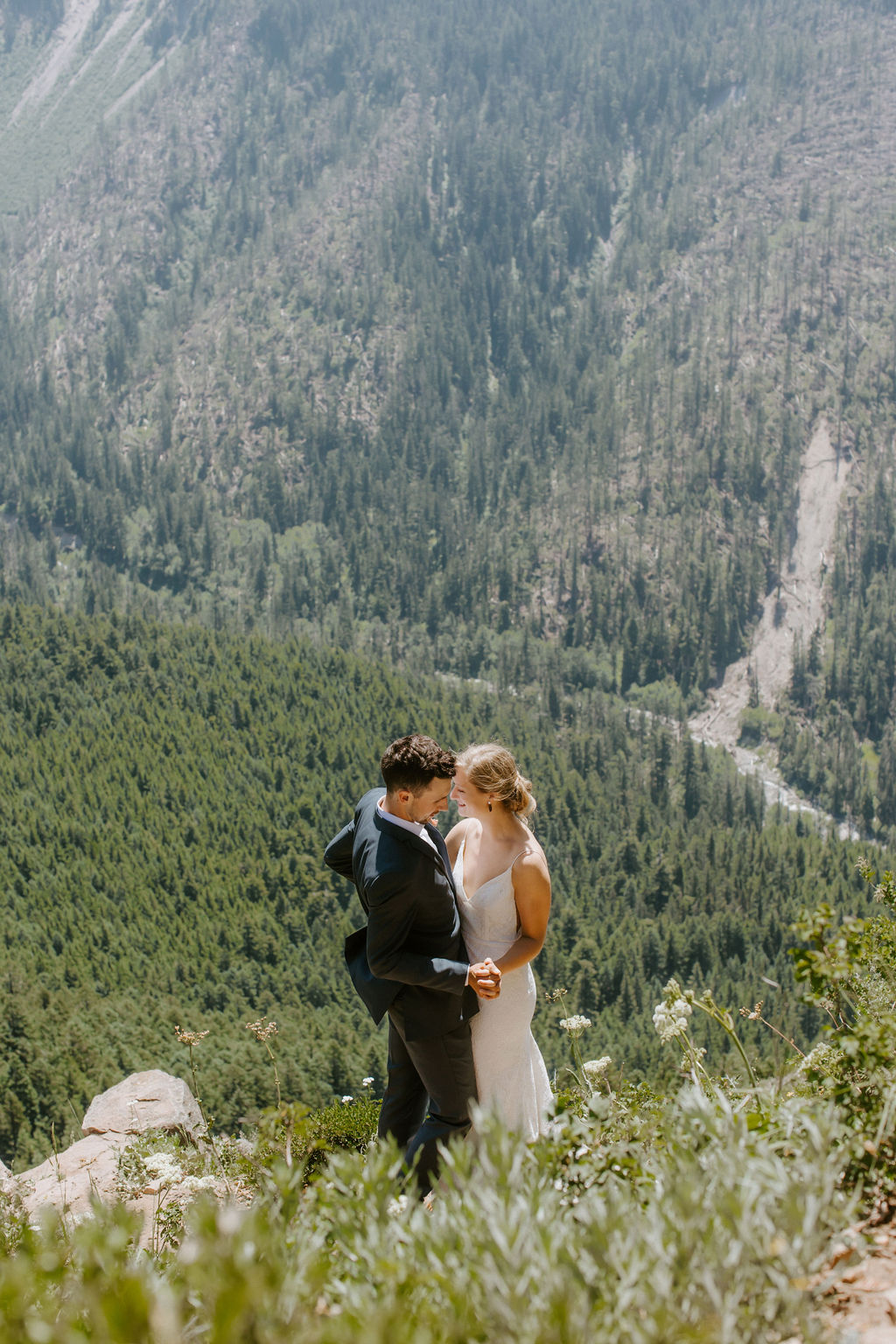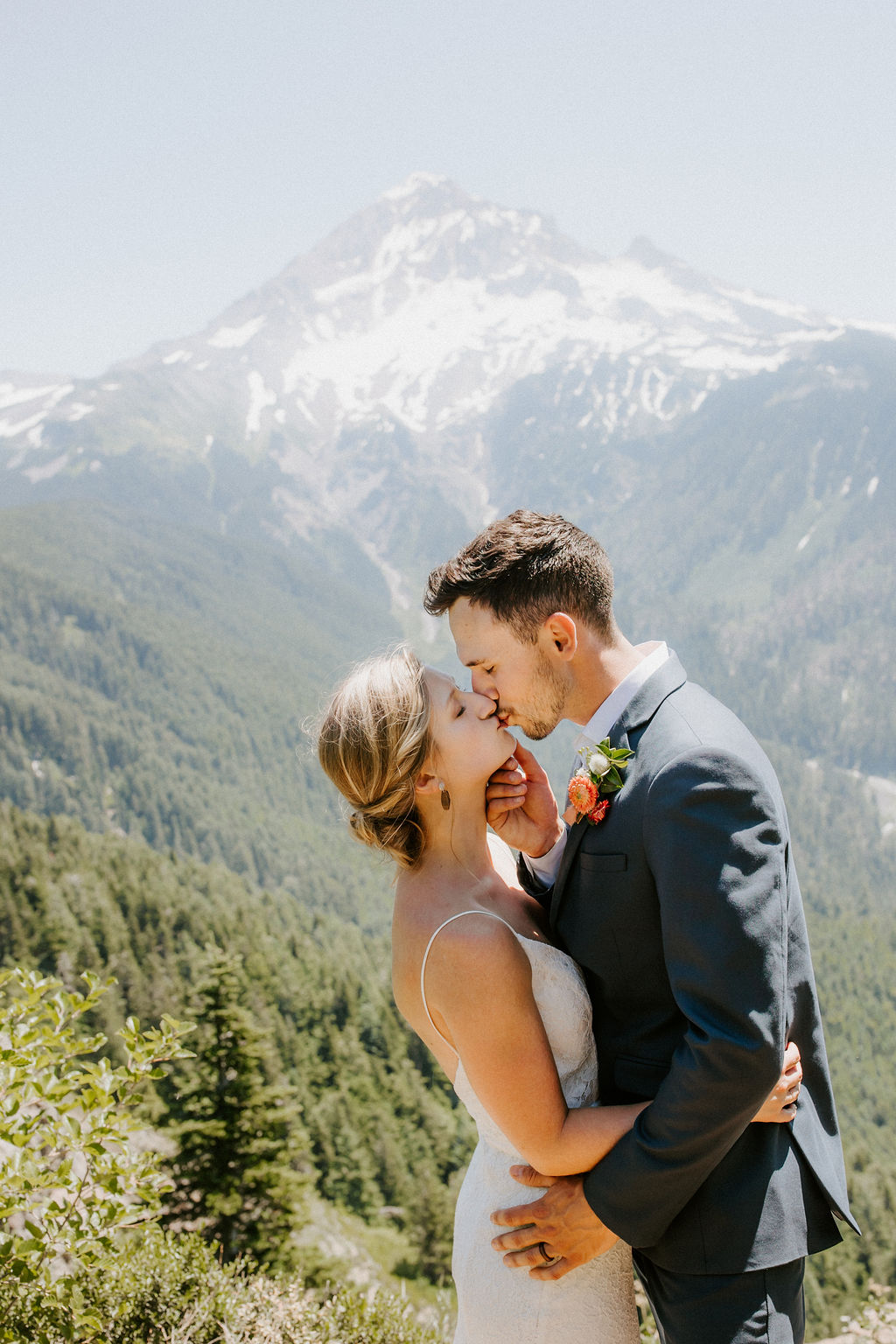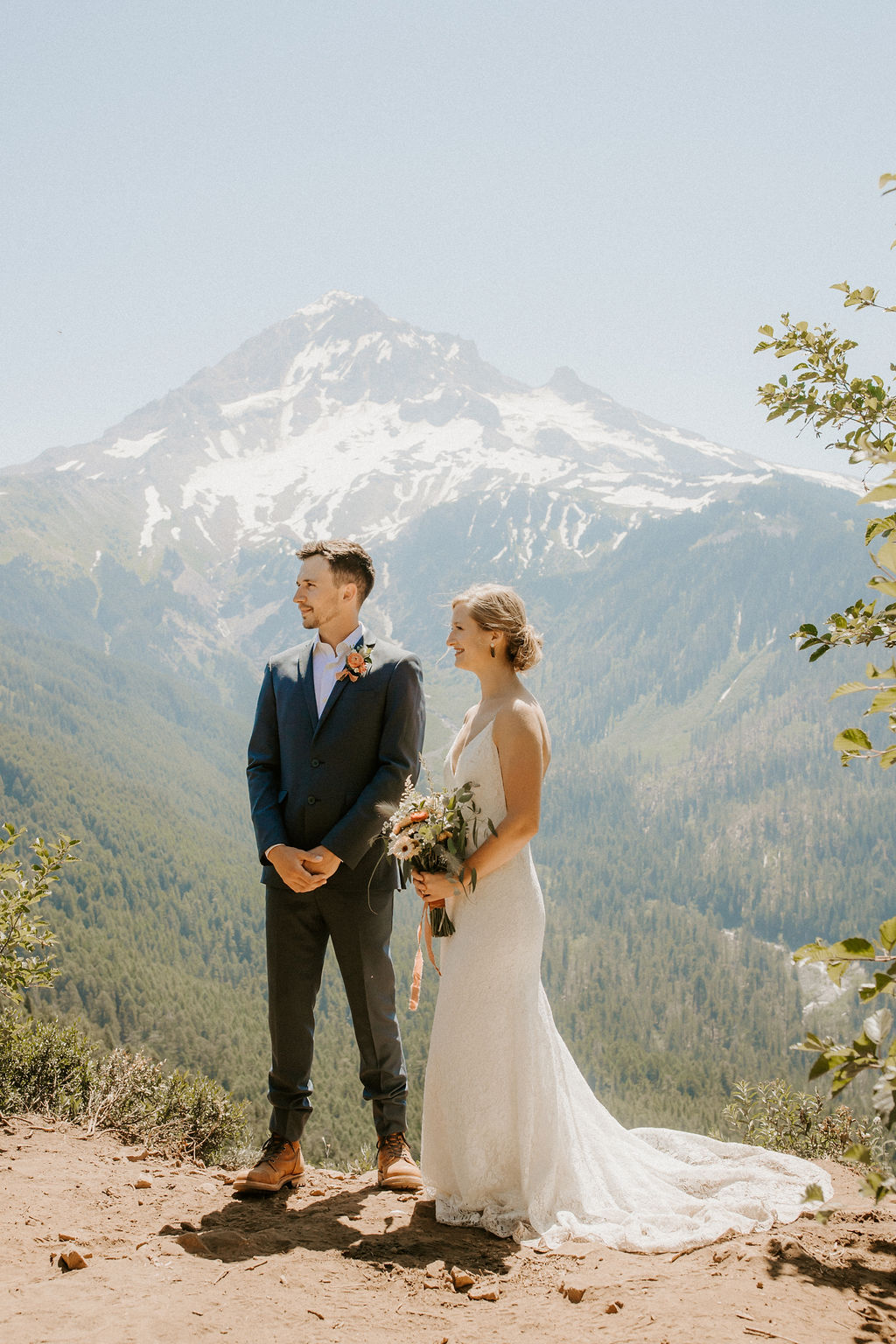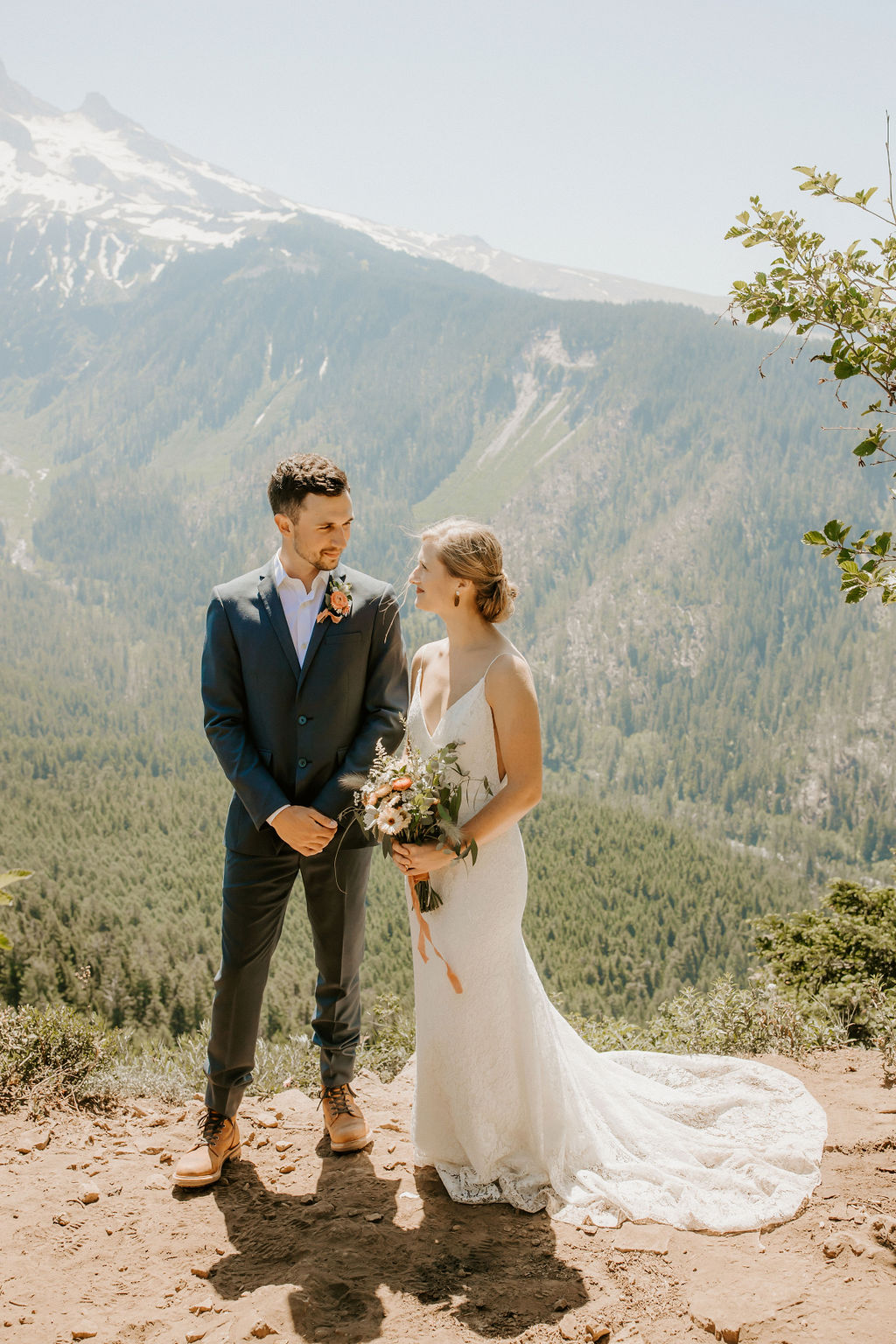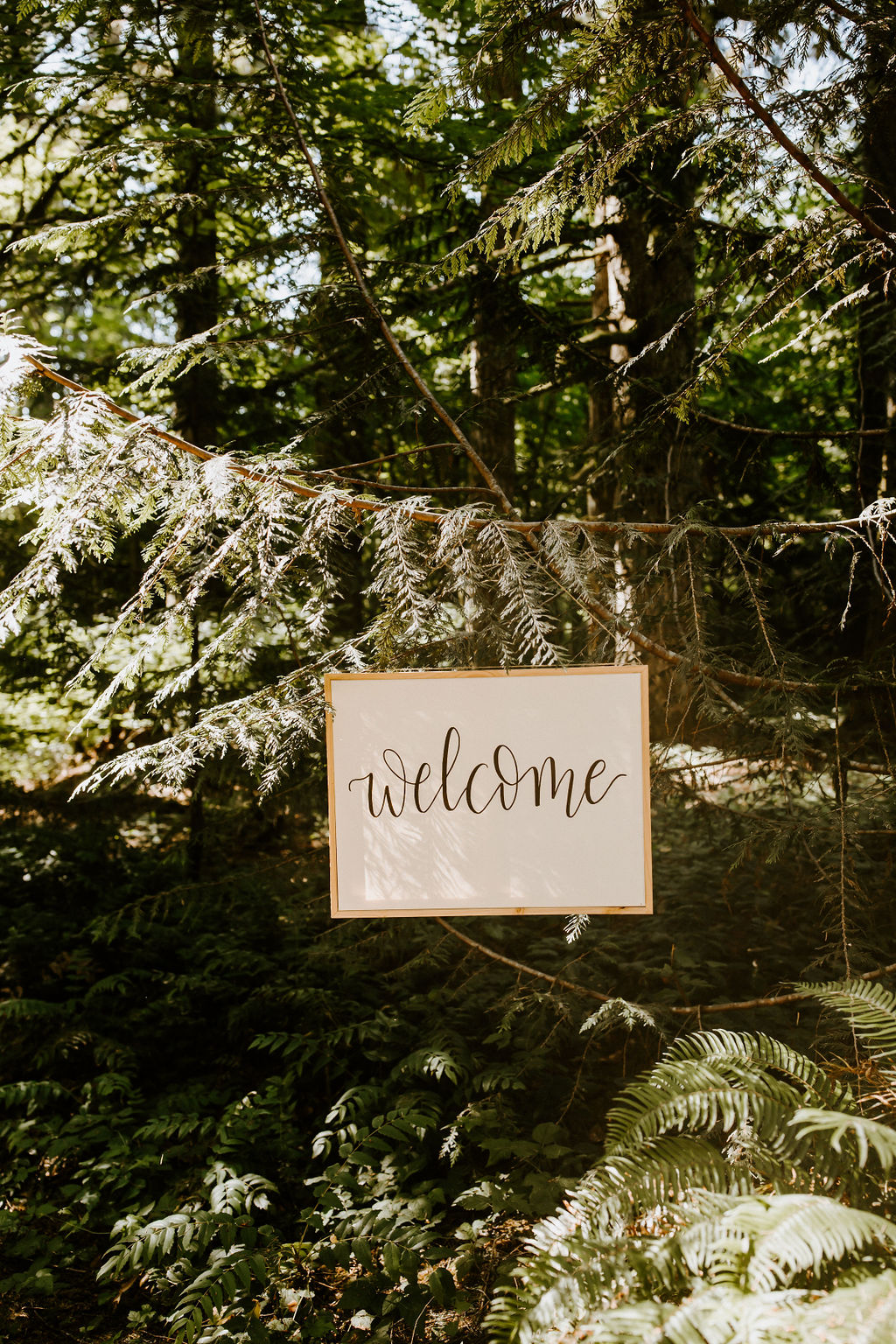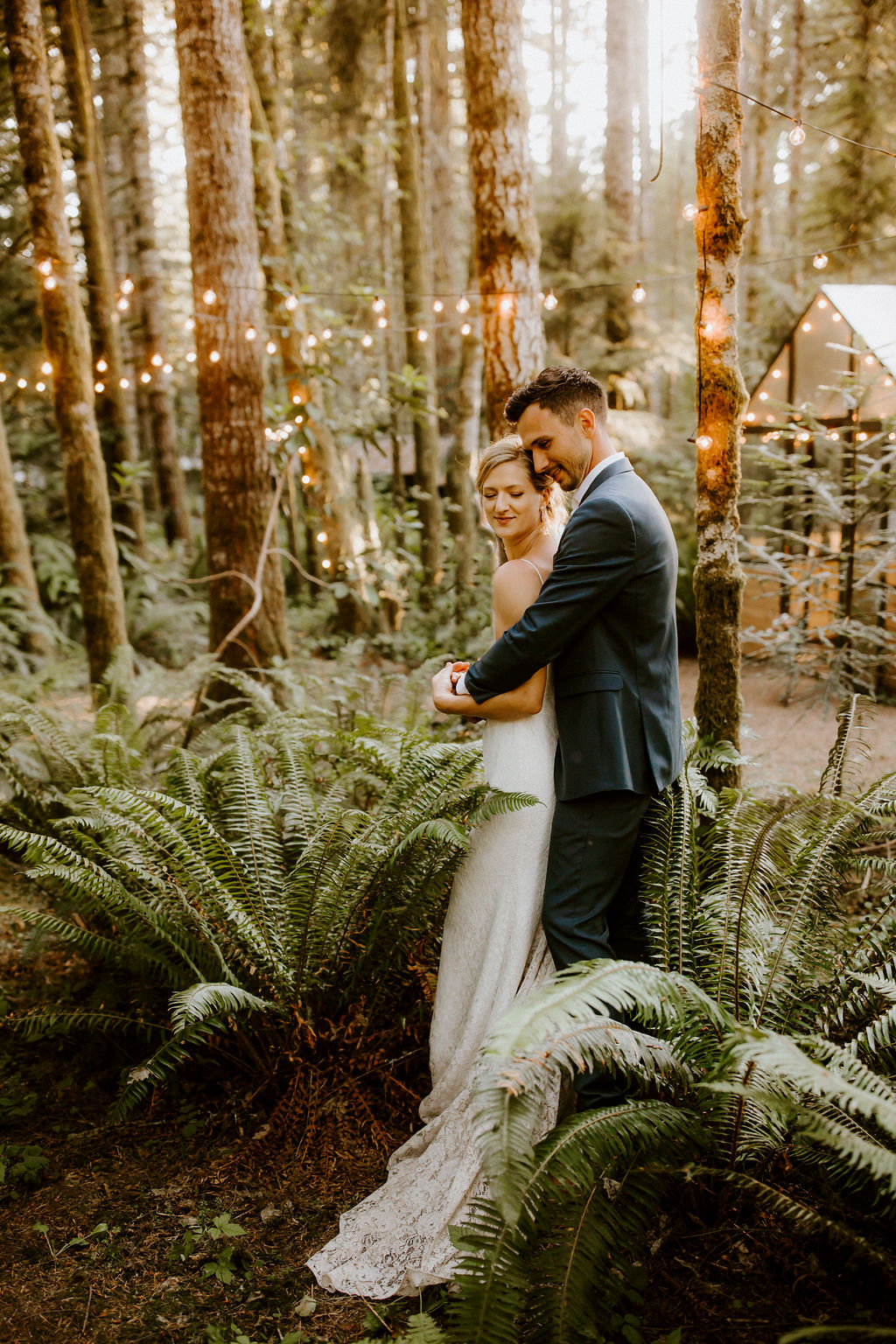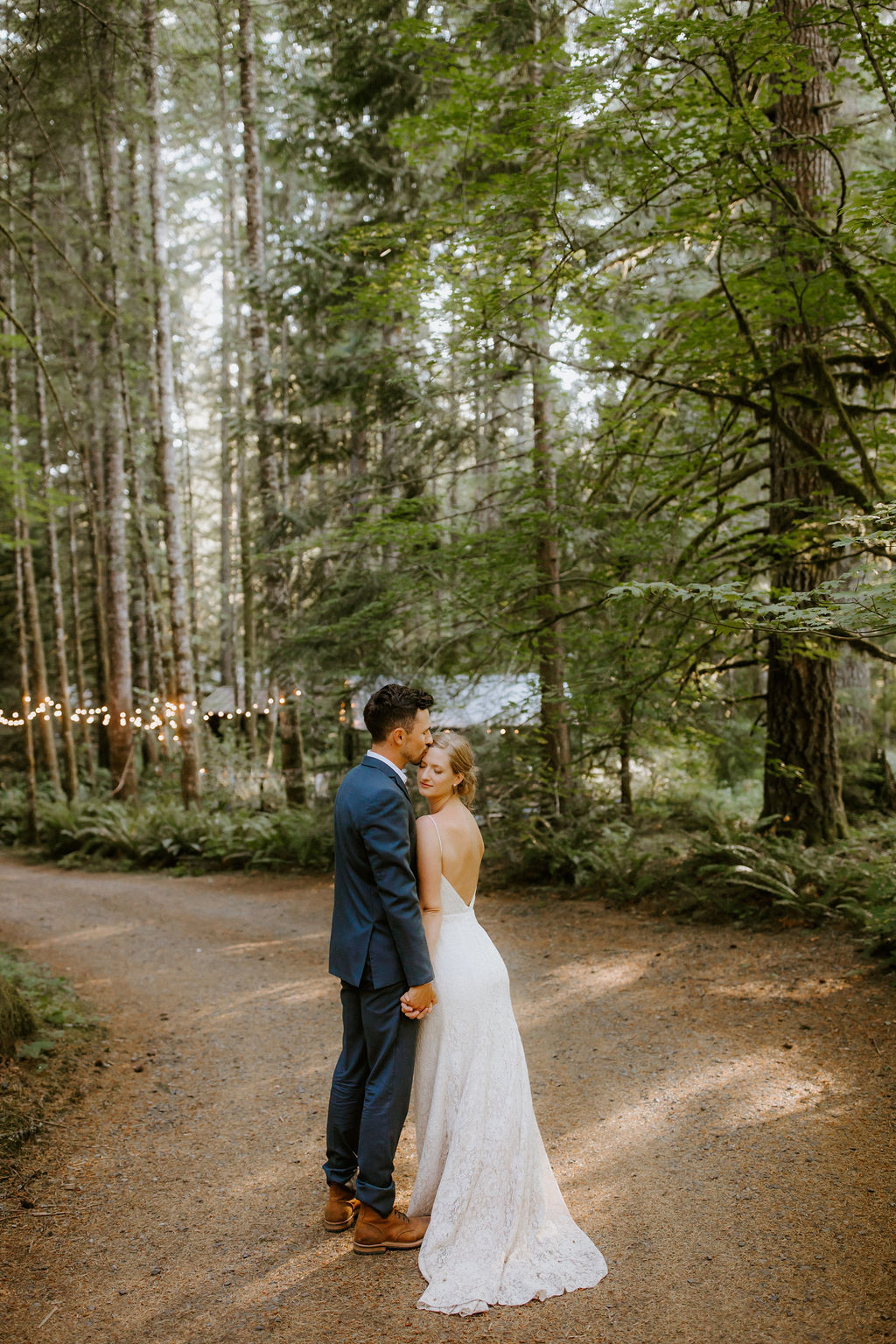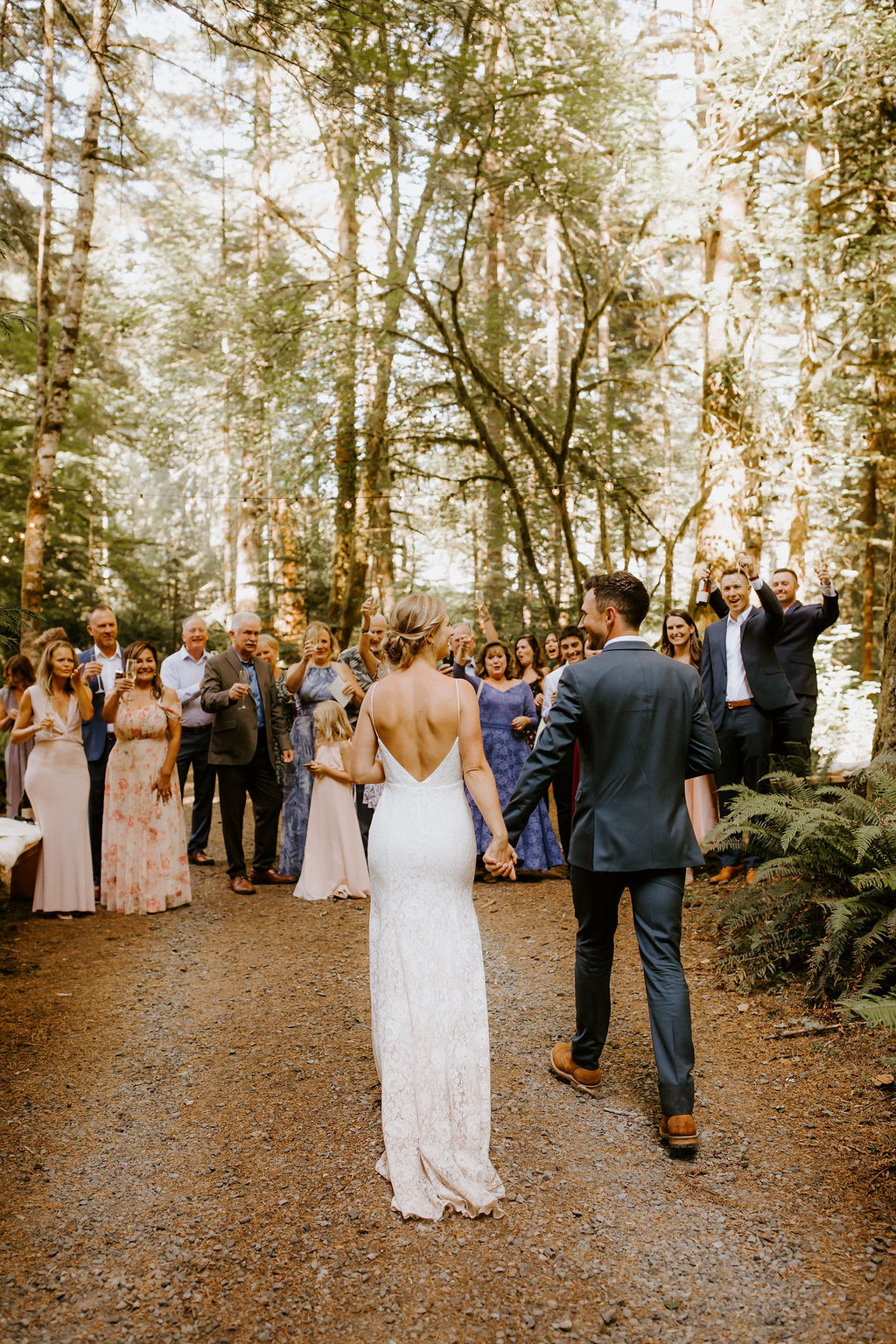 How did you meet?
We met on freshman move-in day at Edgewood College in Madison, WI almost 10 years ago! Andrew sat next to me during freshman orientation. He was a total flirt and I wasn't having it initially, but he was persistent and eventually I was hooked.
What is your proposal story?
We live in Seattle now, but in spring of 2020, we went back to Madison, WI to visit our friends and family. Andrew recruited the help of my best friend (also our wedding photographer) to lead me to the quiet campus boardwalk where we shared our first date, for a "photo shoot." Much to my surprise, he was waiting there looking handsome AF with the most stunning Kasia ring. Turns out it was a proposal shoot!
Tell us about your attire choices.
Megan: I wanted to wear something simple, sexy, and timeless, and it had to be super comfortable because I planned to hike up Mount Hood wearing it. I chose a classic Sarah Seven gown that I had altered to fit my vision, paired with Danner hiking boots and handmade wooden earrings.

Andrew: I spend most of my time in functional workwear, so instead of buying a custom suit I'd never wear again, I decided to rent a suit and buy a pair of local handmade leather boots that I'll wear forever.
What were your favorite parts of the day? (memories and stories)
Megan: This question gives me butterflies, there were so many! Drinking coffee in bed together before all the chaos began, feeling all my nerves melt away the minute we got to the trailhead, spending an hour alone together after our elopement and before our reception tipsy on champagne and scotch. Oh and eating leftover wood fired pizza after the reception was over.

Andrew: The feeling I had when I finished my vows, being married, toasting with champagne and scotch, our mountaintop picnic, the hike back to the trailhead, the alone time we spent before our reception, looking at her across the forest, celebrating with friends and family. She was striking and so happy.
Do you have any advice for couples planning their weddings now?
Megan: Before you do anything, grab a bottle of wine (or two) and dream up your ideal wedding day together. Write it down and look back at it when you're overwhelmed with choices, you'll thank yourself when your wedding day feels like an extension of you!

Andrew: If you're planning an intimate elopement, hike all the potential trails (multiple times) before you decide on the one, only bring who you want to be there, and if it's not your family, tell them far in advance and give them plenty of time to process, and wear good boots.
Credits
The below wedding pros made this amazing event happen. See more of their work by visiting their website.