My head sank into my hands in embarrassment and despair. It was 2012 and I was casually scanning my Google Alerts digest for Colorado Weddings when I saw news stories of *that* Colorado baker. The one who refused to bake a wedding cake for a gay couple based on the baker's religious beliefs.
I was immediately embarrassed and heartsick.
I thought of some of the stereotypes and generalizations I've dealt with regarding mountain people.
Are you all hicks? No.
Do you all listen to country music? No.
Are you all bigots? Hmmm, well yes, I guess some of us are.
I recalled the Atlanta couple who emailed me to ask if it was safe for their African American family to travel in western North Carolina for their wedding.
I thought of the small home in Madison County where a "scarecrow" dressed in the white hood and robe of the KKK sat on the front porch, a year-round beacon of hatred and violence in the southern mountains. While these attitudes are not universal in western North Carolina, the couple's concerns were nevertheless legitimate. I crafted my response with real information regarding where they would feel genuinely welcomed and treated fairly in western North Carolina, and where they might not. All the while, trying my best not to dissuade them from celebrating their wedding in a place I love dearly. I wanted to be helpful but also realistic about where they would have the best time.
So embarrassing!
The truth can hurt.
And the truth is, the mountains are easy places to navigate if you're straight and white.
But if you don't fit into that dominant culture, you might want to assemble your allies and scout out the scene to avoid harmful, dehumanizing and sometimes threatening situations.
I'm not saying that all mountain communities or mountain people are scary, violent bigots, but there are pockets of hatred in the high country. I know plenty of equality-minded mountain people and mountain wedding vendors. But the fact remains, not all of us are,
Which brings me back to the bigotted Colorado baker.
Now, granted, Lakewood is not actually in the mountains. It's a suburb of Denver, which feels a lot more like Kansas to me. But Colorado is so closely associated with mountains, and there are plenty of pockets of bigotry in rural mountain communities. Lakewood became close enough to the mountains for me.
It was a nasty time for Colorado, for our Nation and for anyone who cares about equality and human decency.
So a few weeks ago, when another email hit my inbox, an email asking me to review an LGBTQ+ wedding planning book, I jumped at the chance. One, because I had some of my own questions about making my blog more LGBTQ+ friendly and two because I wanted to see if it could be a good resource for LBGTQ+ couples planning a mountain wedding.
Book Review: Equally Wed
Equally Wed by Kirsten Palladino, is a practical, block-and-tackle wedding guide that loses the heteronormative language and offers Dear-Abby-style answers that are at once practical and heartfelt.
The book was inspired by Palladino's own wedding planning experience in 2008 when the love of her life proposed on a magical day in Central Park.
They dove into the standard assortment of wedding planning books and resources and found themselves disappointed by the heteronormative language and lack of real information about LGBTQ+ weddings. The LGBTQ+ community didn't need a "gay weddings chapter," they needed a comprehensive resource that would help couples getting married navigate a variety of diverse preferences and situations. For example, much of the gay weddings information they found assumed that non-heterosexuals only included lesbian cisgender women or gay cisgender men. In fact, the LGBTQ+ community is diverse and multi-faceted, with many people living on a gender spectrum, are genderqueer or identify with no gender at all.
So Palladino set out to create an inclusive wedding planning book that offers practical, block-and-tackle wedding planning advice that caters to the LGBTQ+ community in meaningful, supportive and wholly celebratory ways.
As far as wedding planning books go, Palladino covers all of her bases with all of the checklists, details, and endless things that go into planning a wedding. The 272-page book is divided into three parts covering budgets, timelines, setting a date, firming up your guest list, wording and sending invitations, planning your ceremony, hiring vendors, choosing attire, managing legal documents, and living happily ever after.
You'll also find compassionate advice for dealing with difficult situations regarding homophobia and transphobia, as well as fun tips for customizing and fully enjoying your engagement, wedding, and honeymoon. You'll find everything from LGBTQ+ fashion advice including suit selection for masculine women and gown fittings for trans women to how to choose the perfect champagne and the hidden meanings behind flowers. Palladino left no wedding-planning stone unturned.
Who this book is for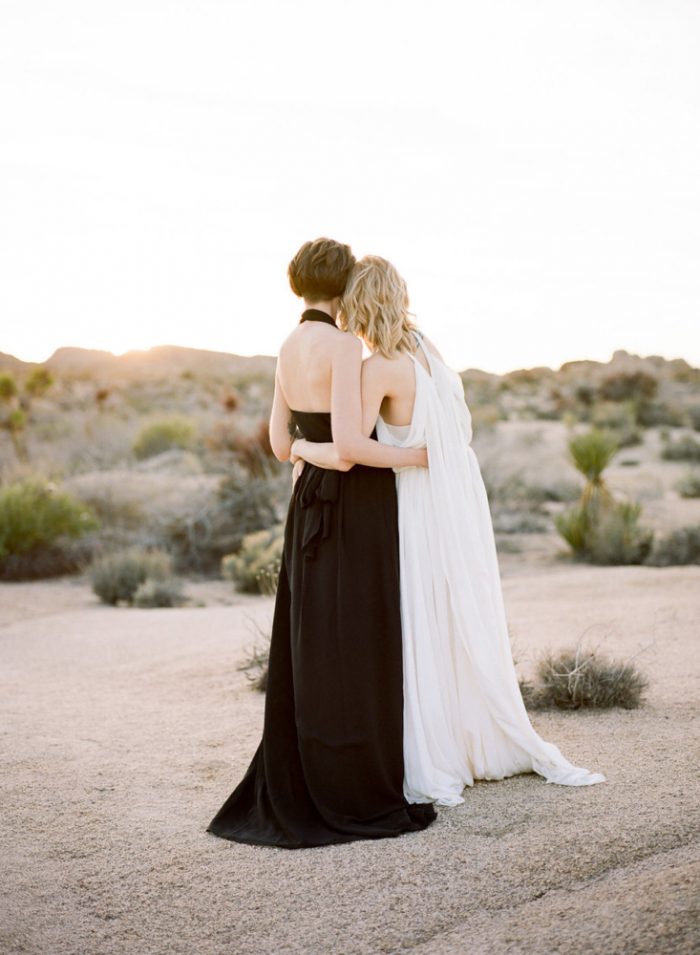 I think this book should be read by every LGBTQ+ couple planning a wedding. It's also a must-read for equally-minded vendors as well as friends and loved ones of LGBTQ+ couples.
For couples, Palladino offers solid wedding planning to-dos and tasks in a comprehensive book that includes inclusive language and insider tips for creating a beautiful and meaningful celebration of who you are and who you love.
While friends and vendors are not Palladino's intended audience, the stories and resources she shares will no doubt deepen your understanding of the LGBTQ+ community and offer fresh ideas of how you can be a part of the celebrations in loving, supportive and joyous ways. She even offers a handy list of frequently used, inclusive terms the LGBTQ+ community use and that vendors and friends can employ to break the mold of heteronormative terms used in so many wedding books and blogs. If you are an equality-minded person, get this book. I promise you'll learn something.
Tips for Finding Equality-Minded Wedding Vendors
Given the rural and sometimes socially conservative nature of mountain communities. I thought it would be good to share some tips for vetting vendors.
A good starting place is to visit equality-minded websites and directories who vet their members. Sites like Equally Wed (yes, that's the author's website) Love, Inc (who loves and includes EVERYONE) and Catalyst Wedding Co are a few places to start.
However, not all directories are created equal, and just because a vendor says they do LGBTQ+ weddings, doesn't mean they will treat you the way you deserve to be treated.
Here are 3 tips from the Book for finding and vetting wedding vendors.
Look for vendors who are proud and public about celebrating LGBTQ+ weddings. They advertise in LGBTQ+ wedding media outlets, use SEO and keywords like "LGBTQ+ weddings," "gay weddings," 'lesbian weddings," and "same-sex weddings", are members of equality organizations and display badges on their storefronts and websites, and they feature real LGBTQ+ weddings they've worked on their website and social media channels.
Ask Questions. Ask potential vendors if they have ever worked with an LGBTQ+ couple before. If they have, ask how it went. If they haven't, ask them what their thoughts are on marriage equality or what their thoughts are on working with an LGBTQ+ couple. Keep quiet and let them answer. The longer you wait to speak, the more they'll share.
Pay attention to how they talk to you. Look for any underhanded, heteronormative or offensive comments that make you feel less-than, disrespected or belittled. Even small, off-color comments that make you feel uncomfortable should raise the red flags. For example, if the planner who claims to offer services to LGBTQ+ couples sarcastically asks, "who's going to carry the bouquet?" (you both are) and diminished your choices or makes you feel like your decision is somehow abnormal, run. Do not pass go. Do not put down your deposit. It's not enough to just take your money and do "a job." You should be treated with the kindness, dignity, respect, and joyfulness they would give any of their clients.
Talk to other vendors. Ask vendors you're already comfortable with to give you recommendations.