Jodi and Steve wanted an authentic, adventurous elopement focused on just the two of them. They have always loved Great Sand Dunes National Park, which became even more appealing due to wild Colorado weather in late May.
Only a few days before their elopement, a snowstorm dumped snow all over the dunes and surrounding mountains, and flooded the airfield. But that didn't stop them, in fact it made them more excited for the beauty they were about to witness. They started their day with an airplane ride to see the Dunes and mountains from up high, followed by getting ready, and then a ceremony and fun at the Dunes.
They wanted a whole day of intimacy and joy, so they made sure to include a charcuterie picnic and star-gazing. As the sun dipped below the horizon, they were treated to endless stars and the faint whispers of the milky way. It was their perfect day, celebrated exactly how they wanted.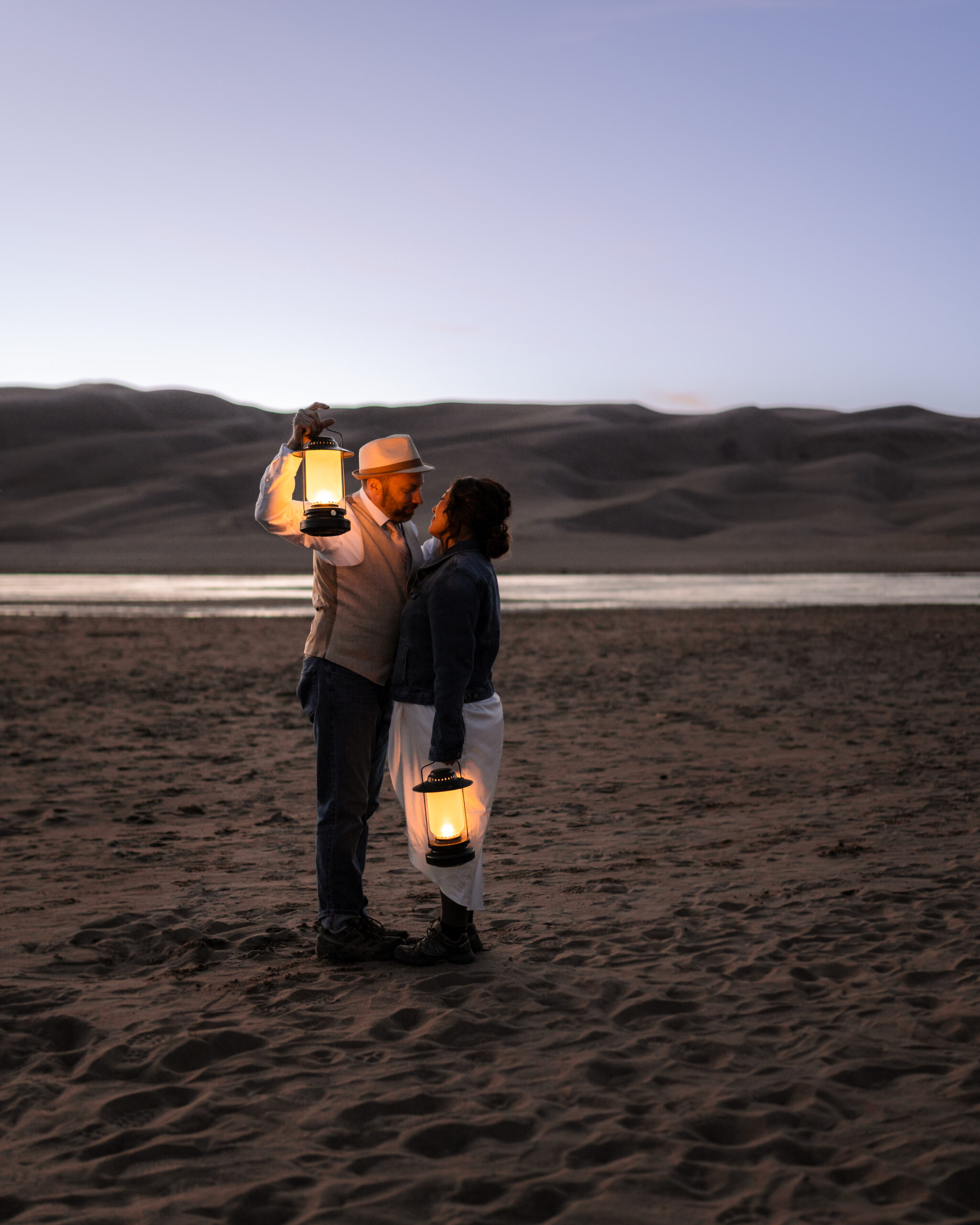 How did you meet?
We met on Match.com when we were both living in the Washington, D.C. area, prior to moving out to Colorado.
What is your proposal story?
We were on vacation in Colorado Springs when Steve took me on a hike up Pulpit Rock which overlooks downtown and has gorgeous views on Pikes Peak. It was there that he proposed.
Tell us about your attire choices.
We both aimed for something casual and economical but that still had a traditional wedding-type feel. We needed clothes that would be comfortable yet appropriate for the environment of the sand dunes. I wanted a dress that would be easy to climb high sand dunes in and also walk through a creek in. I spent most of the day barefoot. Because the dunes were known for moderate to strong winds, I also opted for a veil for optimum effect.
Steve went for a mixed casual and formal look with a hat, a sand-colored vest and jeans.
What were your favorite parts of the day?
The pre-ceremony private plane ride was memorable because the Great Sand Dunes and nearby Sangre de Cristo Mountains received moderate snowfall the night before, making for some dramatic and rare landscapes. Being able to see all this in an airplane provided unique views and also some fun time together before the ceremony and elopement photo shoot.
Another memorable moment was the photo shoot session after dark when we were on the sand dunes with this incredible starry sky right above us.
Do you have any advice for couples planning their weddings now?
Don't be afraid of adventure elopements. One thing Steve regrets is the fact that his view of adventure elopements was too conservative when we first started planning. We eventually learned that with adventure elopements, there are so many options couples can consider that can't be done with traditional weddings. With that being said, we do feel we made the right choice doing a pre-ceremony plane ride and getting married in the Great Sand Dunes National Park — not many couples can ever say that about their wedding/elopement day!
Credits
The below wedding pros made this amazing event happen. See more of their work by visiting their website.